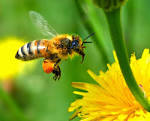 BY ELAINE KLAASSEN
Daily emails to my inbox plead with me to "save the wolves, save the polar bears, save the bees … !" Two environmental films I saw recently at Transition Longfellow warned me of the fragile state of our Earth. I am still shaken.
I know the Earth may not be able to support its projected population of 9 billion by 2050, not because it isn't capable, but because it has too many human detractors. Personally, I have always loved the Earth and I want it to continue to be home to my grandchildren and their children and on and on.
So, what can I do? I decided to focus on the pollinators around here— bees (the wild ones, mostly different species of bumble bees) and butterflies, some wasps, some flies, hummingbirds, beetles, moths, and other creatures who carry pollen from one plant to another—because they are kind of being starved out. And of course we need the pollinators if we like food. As a symbolic gesture—maybe—I planted a pollinator garden beside my house in my Minneapolis neighborhood.
The pollinators struggle because they don't have a healthy food supply. Huge swaths of agricultural land are planted with crops whose seeds are treated with pesticides, including neonicotinoids, which are believed to cause bees to lose their ability to learn, to navigate and to reproduce. Also, a large part of the world is covered in cities, and cities tend to have monocultures—much of our agricultural land is monocultural as well—so there doesn't exist the diversity and abundance of plants the pollinators need. Native pollinators need the plant species with which they have co-evolved, not the many incompatible, imported urban plant species found in cities, which, while attractive, provide diminished nutrition. When pollinators do find compatible plants they don't find them in high concentrations, the plants they need are often far away from each other, and people tend to manage (mow or take down in winter) their plants, leaving pollinators without homes.
Sara Nelson, a plant-lover in the Corcoran neighborhood, is also trying to do her part, on a larger scale than I am.  She has started the Corcoran Pollinator Project. Last spring she and a fellow plant-lover called a meeting and about 15 people showed up. Soon an email list was established and by fall of 2017 they had planted 10 pollinator gardens in Corcoran neighborhood. They did a thing called "crop mobs" where groups would bring their trowels, work gloves and energy to one person's house and put in a garden in no time. Thirty-four people altogether formed the crop mobs; 11 people donated plants from their gardens; individual experts appeared; Wild Ones, a native garden society, gave plants and knowledge; and Corcoran Grows has helped promote the project. All in all it has been an enthusiastic, committed collaboration. This year they hope to put in 10 gardens again, by September. Eventually they plan to saturate the Corcoran neighborhood with pollinator gardens.
Sara showed me one of last year's new gardens, on the boulevard in front of Katie Wahl's house, on 21st Avenue. It has about 15 species of native plants, including columbine, yarrow, hoary vervain, echinacea, ironweed, prairie blazing star, nodding onion and black-eyed Susan. Although with high hopes, the new garden is not quite as flashy yet as Dillon Fried's pollinator garden down the street, which is already a few years old (and serves as inspiration for the Corcoran Pollinator Project)—4 to 5 feet high with vibrant foliage and multi-colored blossoms.
The main thing about these gardens is that they supply much-needed variety to the urban landscape, and create a paradise for pollinators. By using native plants, the pre-urban ecosystem is imitated. Since all the plants are pesticide free and no fertilizer is used (native plants don't need much, and that is their strength), the pollinators are given a big boost.
This work makes you "feel like you're doing something," Sara says. "When you see a monarch now, [you say] 'yay,' it's working.' "
If anyone would like to develop a pollinator garden on their property, Sara is a seasoned guide to call upon. Since finishing her college degree in philosophy, she has steeped herself in plants. In fall she will start a master's degree in conservation science at the U. In spring she went on a plant expedition to Costa Rica and from there was hired to go to Miami to work on a study to determine the level of plant diversity in various urban environments across the country. She has produced a zine about local weeds, some of which are bees' favorite native plants—others are edible, or medicinal. She is working on digital maps of the Corcoran neighborhood (about 43 square blocks) indicating the properties that don't already have pollinator gardens but potentially could, as well as the existing level of pollinator-friendly plant diversity on each property.
Contact her at [email protected]. It's not too late to plant in August, she says. And it's perfectly fine to plant perennials even into October.
– – – – – – – – – – – – – – – – – – – – – – – – – – – – – –