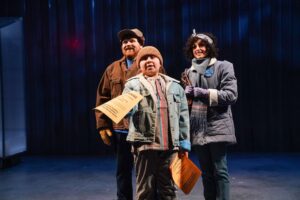 EVENTS:
World Premiere of 'Spamtown, USA' 
Feb. 16 – April 5 
Children's Theatre Company
2400 3rd Ave. S., Mpls. 55404
Children's Theatre Company (CTC) is proud to announce the world premiere production of "Spamtown, USA," running Feb. 16 through April 5, written by Philip Dawkins and directed by Will Davis. The playwright met with and interviewed 25 people who were children in the city of Austin, Minn., during the P-9 Strike against Hormel in the 1980s to gather their stories and perspectives. The play explores how pivotal events that occurred during the strike affected relationships inside and between three families. While five kids dream of space camp, tennis teams, and out-of-state college, they find their families and community suddenly divided by picket lines and opposing agendas. This is the story of having the strength to stand up for what you believe in, the challenge that comes in disagreeing with those you love, and the humor that helps keep friendships alive.
"My wish is for our audiences to leave the theatre inspired to collaborate with their neighbors for the good of their communities," stated the director Will Davis.
The show is recommended for everyone ages 9 and up. Ticket prices range from $15 through $71 (subject to change) with ACT Pass tickets for $5. For more information, visit us online at childrenstheatre.org or call the ticket office at 612-874-0400.
---
February at Bryant-Lake Bowl Theater
810 W. Lake St., Mpls.55408
*'Moth,' Written by Declan Greene (THEATER)
Fridays, Feb. 28 and March 6, 7 p.m.
Saturdays, Feb. 29 and March 7, 7 p.m.
Sunday, March 1, 7 p.m.
Monday, March 2, 7 p.m.
This 90-minute play follows Sebastian and Claryssa, two friends brought together by their mutual misfit status. They take a warped journey through their past, re-living their most horrifying memories. This play isn't your standard kitchen-sink drama– it's more like a wild fever dream on a playground. Produced by Ben Lohrberg and Sophina Saggau, directed by Ben Lohrberg, featuring Luke Myers and Sophina Saggau. More info and tickets:
https://www.bryantlakebowl.com/theater/moth/?mc_id=1680.
---
LoLa's 2020 Winter Fine Art Exhibition 
Exhibition: Feb.29 – March 1, noon to 5 p.m. 
Squirrel Haus Arts
3450 Snelling Ave., Mpls. 55406
The League of Longfellow Artists (LoLa) welcomes everyone to the third annual Winter Fine Art Exhibition at Squirrel Haus Arts in Longfellow. Meet the artists and enjoy refreshments and music at the opening, Feb. 22, 5–7 p.m., during which a DJ from Solsta Records will spin vintage vinyl. Libations at the reception include wine, beer and nonalcoholic beverages, and the table will be spread with an array of sweet and savory snacks. Gallery hours are noon to 5 p.m. each day. All events are free, family friendly and open to the public. Artwork will be for sale at the discretion of the artists, who set their prices and receive all proceeds from any sales. Exhibited works span a wide variety of media and styles, including paintings (oil, acrylic, watercolor) on canvas, board and paper; photographs on paper and metal; printmaking, mixed media, mosaics and sculpture. More info at https://lolaartcrawl.com/
---
Challenges for the United States and Iran and the Middle East 
Saturday, Feb. 29, 9:30 a.m. (social); 10 a.m. (presentation and Q&A) 
St. Stephen Lutheran Church (chapel)
8400 France Ave. S., Bloomington
Since World War II, the United States has had a troubled relationship with the states of the Middle East, especially Iran. American involvement with Iran began with mutual cooperation against the Soviet Union during the Cold War, but ended abruptly with the Iranian Revolution of 1978-79 and the ensuing "Hostage Crisis." Since that time, U.S. administrations have had a continuing decline of relations with the Iranian government, culminating in current open hostilities between the two states. In this talk, Professor Bill Beeman, professor of anthropology at the U of M, will explain how we have come to this point, and what the United States might do to ameliorate this situation.
William O. Beeman has conducted research in the Middle East for more than 40 years with special expertise in Iran. His expertise has been widely sought as advisor to the U.S. State Department, the Department of Defense, the United Nations, and the European Union. He is author or editor of more than 100 scholarly articles, 500 opinion pieces and 14 books, including "Language, Status and Power in Iran," and "The 'Great Satan' vs. the 'Mad Mullahs': How the United States and Iran Demonize Each Other."
Organized by Middle East Peace Now.
---
Militarism and Climate Crisis
Saturday, Feb. 29, 10 a.m.
4200 Cedar Ave. S.
Sue Ann Martinson is an activist and writer who edits the blog Rise Up Times, Media for Justice and Peace. This upcoming Saturday she is giving a presentation on the connection between the climate crisis and U.S. militarism. We all know war is destructive. This is another way to look at it. Picture the Greenhouse Gas (GHG) emissions going into the atmosphere every time a military action takes place. Picture the GHG emissions from factories where arms and missiles are manufactured. Martinson will address the question "Why is an understanding of militarism necessary to address climate crisis and environmental Issues?"
The program is sponsored by the WAMM End War Committee and Veterans for Peace Chapter 27.
---
Louise Erdrich at 
Literary Witnesses
Sunday, March 1, 4 p.m.
Plymouth Congregational Church (sanctuary)
Franklin & Nicollet, Mpls. 55403
Louise Erdrich, internationally acclaimed author (and Plymouth neighbor), will premiere her highly anticipated new novel, "The Night Watchman" (HarperCollins). The event is free, with a reception and book signing following the reading. Copies of her book will be available for the first time anywhere in the country. We expect a large attendance so consider arriving early.
Louise Erdrich is the author of 15 previous novels as well as volumes of poetry, children's books, short stories and a memoir of early motherhood. Her novel "The Round House" won the National Book Award for Fiction. 'The Plague of Doves' won the Anisfield-Wolf Book Award and was a finalist for the Pulitzer Prize, and her debut novel, 'Love Medicine,' was the winner of the National Book Critics Circle Award. Erdrich has received the Library of Congress Prize in American Fiction, the prestigious PEN/Saul Bellow Award for Achievement in American Fiction, and the Dayton Literary Peace Prize.
Erdrich is the owner of Birchbark Books, the founding book-selling partner of Literary Witnesses.
"The Night Watchman' is based on the extraordinary life of Erdrich's grandfather, who worked as a night watchman and carried the fight against Native dispossession from rural North Dakota all the way to Washington, D.C. This powerful novel explores themes of love and death with Erdrich's trademark mastery of lightness and gravity, elegant prose, sly humor and depth of feeling. In "The Night Watchman," Erdrich creates a fictional world populated with memorable characters forced to grapple with the worst and best impulses of human nature. "The Night Watchman' is a majestic work of fiction from a revered cultural treasure. Publisher's Weekly writes, "Erdrich's inspired portrait of her own tribe's resilient heritage masterfully encompasses an array of characters and historical events. Erdrich remains an essential voice."
---
"Interstate"
March 6 – 29
Wednesday-Friday, 7:30 p.m.
Saturdays, 4 p.m. and 7:30 p.m.
Sundays, 2 p.m.
Mixed Blood Theatre
1501 S. 4th St., Mpls. 55454
Mixed Blood Theatre will premiere the new musical "Interstate" as the headliner of its 44th season. Written by Kit Yan and Melissa Li, and directed by Jesca Prudencio, "Interstate" is a Queer Asian-American pop-rock musical about two trans people at different stages of their journeys, navigating love, family, masculinity, and finding community in the era of social media. It charts Dash, a transgender spoken word performer as he goes on a cross-country tour with Adrian, a lesbian singer-songwriter, as the activist band, Queer Malady, fueled by the allure of fame and a desire to connect with the Queer Asian community. The band's fiercely political and deeply personal music touches Henry, a transgender teenage blogger living in middle America, who finds solace in their art as he struggles with his own identity and family.
Tickets can be obtained in two ways: 1) Through Radical Hospitality, admission is FREE on a first come/first served basis starting two hours before every show, or 2) Advanced reservations are available online or by phone for $35 per person. Visit www.mixedblood.com or contact 612- 338-6131 or boxoffice@mixedblood.com for more information.
---
Dan Pfeiffer presents
"Un-Trumping America"
Tuesday, March 10, 7 p.m.
The Parkway Theater
4814 Chicago Ave., Mpls.
Dan Pfeiffer, New York Times bestselling author and co-host of "Pod Save America," comes to the Parkway in celebration of his new book, "Un-Trumping America: A Plan to Make America a Democracy Again." Join us for this energizing reading and book signing! Each ticket includes a copy of Pfeiffer's new book. "Un-Trumping America" is a sharp political playbook for how Democrats can take on Trump, McConnell, Fox News, and the rest of the right-wing circus dominating American politics. The book dismantles toxic Trumpism and offers a way forward. The event with be moderated by special guest Alyssa Mastromonaco. Sponsored by Magers & Quinn Booksellers. For more info and tickets: https://www.magersandquinn.com/event
---
"Redwood"
March 11-April 11
Tuesdays-Saturdays, 7:30 p.m.
Sundays, 2 p.m. and 7:30 p.m.
The Jungle Theater
2951 Lyndale Ave. S., Mpls. 55408
The Jungle Theater is excited to present "Redwood," an astute new play brimming with comedy, wit and dance. Written by Brittany K. Allen and directed by H. Adam Harris, this singular American story is about learning to live and love in a present that's enmeshed in a dark past. In this razor-sharp, humor-filled tale, a Hip-Hop dance class Greek Chorus and opinionated long-dead ancestors help guide the relationship between Meg and Drew, an interracial couple whose lives are rocked when Meg's Uncle Stevie discovers Drew is from the family that enslaved her relatives in antebellum Kentucky. Tickets and more information are available at 612-822-7063 or www.jungletheater.org.
---
The Fight for Women's Rights
Thursday, March 12, 7 to 8:30 p.m. 
Holy Name Church (Garvey Hall)
3637 11th Ave. S., Mpls. 55407
Everyone is welcome to attend Neighborhood Night. This month we honor Women's History Month by viewing and discussing the documentary "The Fight for Women's Rights," which looks at the stories of two women—one who is one of the first female commercial airline pilots and one who is part of the early women's rights movement. This documentary shows how women used talent and persistence to overcome obstacles. Come, learn and get to know neighbors!  Coffee and snacks included.  Bring a friend!  No cost/no registration. For more info: www.churchoftheholyname.org; 612-724-5465.
---
Stories of SEVEN Women
Monday, March 16, 7:30 p.m.
The O'Shaughnessy
St. Catherine University
2004 Randolph Ave., St. Paul 55105
In honor of celebrating women's vital role in history, The O'Shaughnessy is proud to present "SEVEN," a riveting documentary play by seven female writers based on personal interviews with seven remarkable women who faced life-threatening obstacles before bringing heroic changes to their home countries of Pakistan, Nigeria, Ireland, Afghanistan, Guatemala, Russia and Cambodia. Produced by LA Theatre Works, the play makes the powerful and timeless statement that even in the darkest times, one person, one voice, and a single act of courage, can change the lives of thousands.
"SEVEN" will be on The O'Shaughnessy stage for one performance only at 7:30 p.m. on Monday, March 16. The presentation is part of a five-stop Minnesota tour, including the Page Theatre at St. Mary's University in Winona (March 11), the Sheldon Theatre in Red Wing (March 13), Stephen B. Humphrey Theater of CSB/SJU in Collegeville (March 14) and the Historic Holmes Theatre in Detroit Lakes (March 19).
Playwrights Carol K. Mack (who conceived the play), Anna Deavere Smith, Paula Cizmar, Catherine Filloux, Gail Kriegel, Ruth Margraff and Susan Yankowitz collaborated to create a tapestry of stories that weave together the words of the seven women, dramatizing their struggles and triumphs over resistance, death threats, entrenched norms and pervasive violence. Since the premiere in 2008, the piece has been translated into 27 languages and performed worldwide in over 30 countries, sharing with an international audience these inspiring tales of bravery and perseverance.
Tickets are $25-$29 (discounts for students, seniors, military, TPT, MPR).
Box Office: theoshaughnessy.com or 651-690-6700
---
Sick Lit: A Writing Workshop
Saturday, March 21
11 a.m. to 2 p.m.
Nokomis Library
5100 34th Ave. S., Mpls. 55417
An open writing workshop for artists and writers interested in writing and reading around chronic illness. No previous experience needed. FREE. Workshops will be led by writer, editor and teaching artist Lara Mimosa Montes in the library meeting room. For more info and to RSVP, please write: MplsWritingWorkshops@gmail.com.
Lara Mimosa Montes is the author of "Thresholds" (Coffee House Press, 2020) and "The Somnambulist" (Horse Less Press, 2016), and is a senior editor of "Triple Canopy." Lara is a fiscal year 2020 recipient of an Artist Initiative grant from the Minnesota State Arts Board. This activity is made possible by the voters of Minnesota through a grant from the Minnesota State Arts Board, thanks to a legislative appropriation from the arts and cultural heritage fund.
---
 ONGOING:
Renegade-ism: Artists on the Edge 
Thursdays – Saturdays  
Through Feb. 29, 7:30 p.m. 
Pillsbury House Theatre
3501 Chicago Ave. S., Mpls.
renegade-ism (n): The creation of art outside of an institutional setting, or three weekends of performances featuring local independent artists. In this series, nothing is off the table. You'll experience art outside the box, including puppetry, dance, improv and more.
Feb. 20 – 22: "Call to Remember" by Leslie Parker and collaborators Amara T. Smith, mayfield brooks and Vie Boheme.
Feb. 27 – 29: Blackout Improv Troupe 
This series opens Pillsbury House's 2020 season. More info at pillsburyhouseandtheatre.org
---
Ruby: The Story of Ruby Bridges
Feb. 15 – March 1
Saturdays, 7:30 p.m.
Sundays, 2 p.m.
The Conn Theatre
1900 Nicollet Ave. (corner of Franklin & Nicollet) 55403
For a show that combines thrilling true-life stories and inspiring Motown hits of the day, don't miss Christina M. Ham and Gary Rue's story and music in Youth Performance Company's exciting Black History Month production.
In 1960, Ruby Bridges became one of six black children to integrate all-white schools in the city of New Orleans. With songs inspired by The Shirelles, Sam Cooke and Smokey Robinson, this musical explores a little girl's unbeatable courage in the face of adversity as she helped lead the Civil Rights Movement into the classroom. "Young people today are making their voices heard more than ever," says Youth Performance Company's founder and artistic director Jacie Knight. "This show about the courage of one key figure in the Civil Rights movement is perfect for school groups, clubs and family outings. Because our tickets are priced as low as $7, we're an affordable option for people who want to enjoy a theater experience without spending a fortune."
The show is recommended for third grade and older.
Youth Performance Company fuels the creative spirit of youth by developing, empowering and advancing young artists. Through direct programming that includes productions, classes, in-school residencies, community appearances and a leadership development component, YPC provides affordable and meaningful arts experiences for Twin Cities families, children and teens. For more information:  youthperformanceco.org or 612-623-9080. Tickets are $7 to $15.
---
Joshua Cunningham and Charles Lyon
Feb. 1 – March 7
Opening Reception:
Saturday, Feb. 1, 2 to 5 p.m.
Groveland Gallery
25 Groveland Terrace, Mpls. 55403
Groveland Gallery is pleased to announce the opening of "Getting There," an exhibit of new paintings by Joshua Cunningham, and "Out West," an exhibition of new paintings and pastel drawings by Charles Lyon. The artists will be present at the opening reception Saturday, Feb. 1 from 2 to 5 p.m. Both shows continue through March 7. For more information please call 612-377-7800 or visit www.grovelandgallery.com.
---
'Expression: Raw Emotion'
Feb. 1 – April 24
Art Works Eagan
3795 Pilot Knob Rd., Eagan 55122
The exhibit "Expression: Raw Emotion" encourages artists to submit work that is reactionary in nature to bring focus to human emotion, whether it be subtle or extreme, things that make you laugh out loud and ugly-cry. or that reveal a mischievous side. www.artworkseagan.org
---
Safe Place: Homework Help
Monday – Friday, 3:30 to 6 p.m.
Trinity Lutheran Congregation
2001 Riverside Ave., Mpls.
Adult students and children are all welcome. Tutors are available for all levels. If you are interested in being a volunteer or tutor or if you need more information, contact tutoring@trinitylutherancongregation.org or 612-333-2561.
---
Makers Mornings
Tuesdays, 10 a.m. to noon
American Swedish Institute
2600 Park Ave., Mpls.
Join other makers for this new weekly opportunity to work, share and learn in a relaxed, communal setting. Whether you knit, carve, weave, sew, spin, crochet or do some other fascinating thing with your hands, we invite you to bring a project to work on. All are welcome, regardless of level of ability or craft of choice! Come for as long as you like and bring your own works-in-progress, materials and tools. This group will meet in ASI's Lindberg Stuga.
---