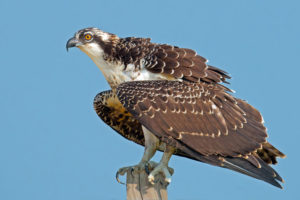 BY JOHN KARRIGAN
White-throated Sparrows were among the regulars in the backyard birds for the first third of May.  This is unusual in the backyard though they (White-throats) are fairly common in the park most summers.
The rest of the back (and front) yard is going quite normally, with lots of American Goldfinches, House Finches, Northern Cardinals, Black-capped Chickadees, Downy Woodpeckers, American Robins, English Sparrows, some Blue Jays and, more than usual, Nuthatches.
The park and lake are doing OK but not as good as I would like in some ways.  I would like to see way more song birds and small birds, but maybe this will improve soon.
In the meantime, water birds seem to be doing fine.  Great Egrets have, or at least one has, been rather regular since May 10, and May 10 is the first day I saw Mallard ducklings, 12 of them, and Canada Geese goslings, 12 of them also, in the lake.  Now there are various groups of young ones.  One group of Mallard ducks were hatched between a small house and a moderate apartment building on the east side of our block on May Day, that is, our neighborhood's celebratory May Day.  All the ducklings, except two eggs that failed to hatch, and the mother proceeded to the park the next day.  On Memorial Day, a group of 14 Wood Duck ducklings, and of course their mother, were observed waddling near 35th Street and Bloomington Avenue.  They proceeded to the lake and seem to be doing fine as the first Wood Duck ducklings on the lake this season.
Ring-billed Gulls have also returned to the lake.  They are everyday fixtures (almost every day) on the lake most summers.
Back to smaller birds for a while.  My best day for small birds (in May) was also one of my best big bird days.  But back to the small.
In one moderate hardwood tree southwest of the lake, on May 17, I had Cardinals, Chipping Sparrows and (I thought) four kinds of warblers.  It turns out I only had three kinds of warblers:  Yellow-rumped, Yellow-throated and American Redstarts.  The fourth, which temporarily fooled me, was the female Redstart.
Also on that day, I saw Great Egrets, Green Herons, Cooper's Hawks and an Osprey!  I saw the Osprey again today (May 30) for the third time this month.  When the Osprey is there, it is in charge.  Earlier in the month, the Osprey, nicknamed the "fish hawk," caught a large Goldfish and was flying around the lake, showing it to any bird that would watch. The Osprey is a unique species and some experts say it should be placed in its own family separate from hawks and eagles, as I and Don Trump feel we should each be put in separate families from humans.
Back to normal.  There is one male Red-winged Blackbird that keeps track of the whole lake from a high tree spot on the northwest part of the lake. On the west edge of the lake on May 23, I got to see a "first summer" Black-crowned Night Heron with an adult Black-crowned Night Heron.  On the evening of May 26, I got to see many Nighthawks, near or over the Mississippi River, while I was on my yacht.  Oh, wait.  It was not my yacht.  It was a KBEM radio jazz cruise.  Nighthawks are not real hawks but are members of the Goatsucker species in the family of  caprimalgidae.  A few years ago we had many of them in this area but for some reason they have all gone away.
Comments and observations are always welcome. Send them to me, in care of Southside Pride. Thank you.