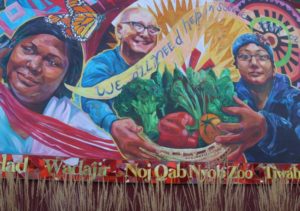 BY DEBRA KEEFER RAMAGE
Although primarily a residential avenue, Bloomington Avenue has a plethora of small businesses, quite a few of them dedicated to wellness of one kind or another. There are also a few venerable but unconventional churches on or near Bloomington, which adds up to many varied resources for healing the body, mind or soul.
Right at the beginning of the Avenue, where it starts from Franklin at its northernmost point, is Community-University Health Care Center, or CUHCC (pronounced kook). CUHCC was founded by the University of Minnesota Medical School in 1966 as a pediatric clinic for patients from birth to age 21. Over the years, the clinic first incorporated care for Native Americans of all ages in the neighborhood, then adult care, dental care, mental health services and legal services for medical patients. Supported by both government funds and charitable donations and grants, it has maintained a cultural orientation to serve successive waves of immigrant populations—Southeast Asian, Latin American and East African being prominent. All patients must report and prove their income, and for those low enough to qualify, a sliding scale fee structure keeps it very affordable, so it's a vital resource to the Phillips neighborhood, which has one of the highest concentrations of poverty in the region.
Just a few blocks south is the All Nations Indian Church, now a major site of the Council for American Indian Ministry (United Church of Christ). Started in the MN Church Center on West Franklin in 1981, the church moved a couple of times before building its present home on Bloomington Avenue, which is built to resemble a longhouse. The first service there was Christmas Eve 1987. Founding pastor, Harry Stroessner, resigned in 1990, and in 1992, Rev. Marlene Whiterabbit Helgemo, a pastor in the Evangelical Lutheran Church of America, became the first Indian minister of the first urban Indian Church of the UCC. Her leadership has brought a rich ceremonial and social life to the congregation, which spills out into the surrounding community. The church's many ministries (according to its website) include a worship service with a fire circle on Sundays (11 a.m.), a weekly drum night for the community, a Veterans' eagle feathers program, and community celebrations for Christmas and other sacred events.
Another well-loved Phillips neighborhood religious institution is St. Paul's ELCA (Evangelical Lutheran Church in America), a block west of Bloomington Avenue at the corner of East 28th Street and 15th Avenue. Housed in an old but sturdy traditional church building of off-white stucco with narrow windows and a square bell tower, the church is surrounded with food gardens and art, and sits across 15th Avenue from a Lutheran-sponsored housing complex for extremely low-income seniors. The congregation is very diverse, with a preponderance of Latinx members. It is led by Revs. Patrick and Luisa Cabello-Hansel, and offers services in both English and Spanish. In addition to the usual church ministries, St. Paul's also is home to the Semilla Center for Healing and the Arts, a program that offers gardening, arts and writing to youth and families. Pastor Patrick is also a poet and storyteller and author of a blog called Spiritual Wounds. St. Paul's collaborates with In the Heart of the Beast to produce the unique South Minneapolis community participation Christmas puppet show/play "La Natividad" approximately every other year, and often the Holy Family is played by congregation members.
Another neighborhood church, this one located slightly farther south in Powderhorn, Walker Community UMC (United Methodist Church) also has ties to In the Heart of the Beast; in fact the puppet theater was founded in its original basement. Walker Church still has a unique form of worship service that includes none of the traditional Methodist liturgy, apart from reading from the Bible before the sermon, and even that is optionally replaced by other spiritual traditions at times. More sacred to Walker is the reading from the Tao Te Ching and a full five minutes of silent meditation. Through the years, Walker has offered many extracurricular healing ministries, from massage therapy to 12-step groups. Current offerings include both of these, plus several movement classes, such as Rosen Movement and Aware Dance. Walker Church is probably most well-known, though, for its social justice ministry, which has included draft counseling, harboring Central American refugees, and vigorously defending the rights of GLBTQIA people, and for its music. Walker is a church that attracts musicians and music lovers, and has a small but excellent a cappella choir, a grand piano and "pickup band," which can stretch to nearly 20 members. Of course, the Methodists have known for nearly 400 years that music is the best spiritual healing.
Previously located about halfway between St. Paul's and Walker Church, in the Plaza Verde building, was Southpoint Community Acupuncture. They recently moved a few blocks away from Bloomington Avenue and can now be found at 1828 E. 38th St. Community Acupuncture is a nationwide network of small clinics and practitioners that offers extremely affordable care. Southpoint's sliding scale for treatments starts at just $15!
A relative newcomer to the neighborhood is Svasti Yoga Center for Transformation and Healing, which also offers Ayurvedic and other healing services as well as yoga instruction. Located at 3751 Bloomington, Svasti was founded in 2011 by Laurie Endris, who is a member of MAA (MN Ayurveda Association) and has trained in many yoga and healing modalities, including attaining a yoga teaching and therapy certification in India. Just as Svasti Yoga's treatments include more than Ayurveda—such as Reiki, Craniosacral Therapy, and plain old massage—Svasti Yoga's teaching includes more than just yoga instruction. You can also learn to be a yoga teacher, or learn Reiki healing or other types of treatment, so in addition to healing for yourself, you can build a career healing others if you're so inclined, and Svasti Yoga may be a good place to start.
And what's this Ayurveda thing anyway? Ayurveda is the traditional medicine of the Asian subcontinent and is linked to yoga, and therefore is also thousands of years old. Here is a summation of Ayurveda from the MAA website:
"Ayurveda is often called the 'Mother of All Healing,' and the principles of many of the natural healing systems now familiar in the West have their roots in Ayurveda, including Homeopathy, Acupuncture, Aromatherapy, Massage therapy and Polarity therapy. The aim of Ayurveda is to provide guidance regarding diet and lifestyle so that healthy people may remain healthy and those who have health issues will have a way to improve their health. Ayurveda, a Sanskrit word, is a combination of two words, Ayuh, meaning life, and Veda, meaning knowledge."
Ayurveda and yoga together can help you to take charge of your own health without totally abandoning so-called Western medicine. (In India, many doctors are qualified and practice both modalities.) An Ayurvedic proverb sums it up, in terms of just one facet of Ayurveda (but probably the most important one), diet: "When diet is wrong, medicine is of no use. When diet is correct, medicine is of no need." And the good news is, well, there are two pieces of good news. First, Ayurvedic dietary recommendations are not weird and extreme, and are highly customized to your own "dosha," or type of body and mind. And second, Svasti Yoga's mission is to make Ayurveda, yoga, teaching and treatment all accessible, including in price, with sliding fees and membership packages.
PHOTO CAPTION: Mural by Greta McLain at Community University Health Care Center.