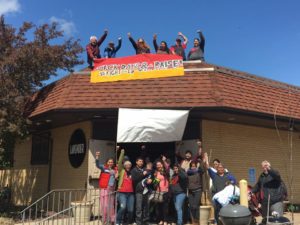 BY DEBRA KEEFER RAMAGE
The corner of 38th Street and Chicago Avenue is a little world of its own. There is a strange mixture in the businesses there, a clash between the quotidian and the exotic, the aspirational and the gritty. It's not all art and food, but there are unusual examples of both. From the no frills facade of Smoke In the Pit (which has really good barbecue) to the sleek elegance of Covet, from the ancient retro mural art on the auto body shop to the crisp and relevant murals on the new CTUL headquarters, so up-to-date they aren't even finished yet.
And then there's food art—a studio for food artisans. City Food Studio is a major player in the nexus of new ways of doing food—as a living, as art, as a driver of social change, and sometimes all of these at once. Opened in March 2014, City Food Studio has seen, for such a small space, a huge number of food artisans and creative food workings come and go in its commercial kitchen, a renovated former restaurant at 3722 Chicago Ave. Organizations can rent the space short-term or long-term, for a class, a video, a one-time event, or to sustain a growing new food business. All users of the space have to be properly licensed and insured, of course. But for many well-known local brands, City Food Studio was or still is their incubator kitchen.
Among the brands that incubated there: Kabomelette / Vittles, YouBetcha Kimchi, Fierce Elements (kraut, curtido, kimchi and tonics), Green Bee Juicery, The Sweet Boutique (wedding cakes), Tempeh Tantrum, and Isadore's Nuts. A new business that moved in recently is Hepp's Salt Company. City Food Studio has what it calls a pop-up retail store, which means that the times when City Food Studio is open to the public are limited—Tuesday evenings and a few hours on Saturday. Darling Pickle Dips was working in the kitchen when I visited and purchased and enjoyed a small bottle of interesting juice from Green Bee Juicery.
Eat for Equity, an organization that does catering for benefits for progressive causes, is one of the ways City Food Studio intersects food with social justice. Two examples of an innovative intersection of food and art: Mixed Precipitations' "food preparation shifts," and the class in casting rosette irons that occurred last December. Mixed Precipitations is a performing arts organization that produces "Picnic Operettas." These are mashed up genre-blending outdoor light opera, based loosely on classic operas in many cases, accompanied by an al fresco tasting menu of finger foods and strange beverages. The picnic part of these performances is put together by hosts of volunteer "Kitchen Ninjas" working under the direction of a head chef at City Food Studio. And last December, City Food Studio partnered with Chicago Avenue Fire Arts Center, across the street at 3749 Chicago, to offer a class in casting rosette irons, a kitchen tool used to make a Scandinavian deep-fried pastry that is a favorite at Christmas parties.
In the food and drink realm, mostly drink in this case, the other place of note is Blackeye Roasting Co.'s second cafe at the former Blue Ox Coffee Shop space at 3740 Chicago Ave. (They started as just a roastery in a residential basement in Saint Paul and opened their first cafe in downtown Minneapolis in April 2016. The Chicago Avenue location opened that summer.) They are the people responsible for you seeing this weird stuff called Nitro Cold Brew almost everywhere you look these days. Even though I am trying to kick the caffeine habit, I allowed myself just a sip of a free sample of this stuff at Blackeye's own store from the friendly and chatty barista—and it is amazing. If you are a coffee lover you have to try it, preferably the way I did, on tap. Although you can also buy Blackeye's cold brew, plain or nitro, in cans at places as diverse as convenience stores or co-ops and upscale grocers like Lund's or Kowalski's. Or if you work in an office, you can get a coffee service with taps. Blackeye cold brews are also served at a number of restaurants. At the Chicago Avenue cafe, you can buy and refill growlers of cold brew.
Turning to the art world, there are two beautiful spaces—one mainly a consignment retail store and one mainly an art gallery—positioned between Blackeye Roasting Co. and the City Food Studio. The gallery is celebrated local photographer Wing Young Huie's Third Place Gallery. It's not simply an art gallery in the usual sense, but is literally a "third place," with the first place being one's home, and the second place being one's workplace. Two quotes from Wing Young Huie's website describe the type of place this is: "Third places, then, are 'anchors' of community life and facilitate and foster broader, more creative interaction." "As an extension of his public art installations that create informal communal spaces, in spring 2011 Wing opened The Third Place Gallery. Housed in a building that previously sat empty for 47 years,Wing has turned the space into an urban living room for guest artists, social conversation, karaoke, and ping pong."
The other arty spot next door is Covet Design and Consign. This elegantly appointed shop looks too posh for the corner, but although it is pricey, it is not overpriced, and offers high quality home furnishings and accessories in an art gallery-like setting. Showcasing a combination of consignment pieces and repurposed or custom-designed pieces, it also features artwork by local artists for sale, custom framing, furniture made to order, and home staging services for home sellers.
Across the street, as mentioned before, is Chicago Avenue Fire Arts Center. What are fire arts? Blacksmithing! And metal sculpture. And glass. Anything that is made in the fire. The CAFAC offers classes in all of these and more. They also offer studio rental for established artists, and run a gallery of artworks for viewing and sale, and host events periodically. Including a very interesting event this month—the Hothouse Rodeo—a Weekend Extravaganza, Sept. 22 through 24. This will feature an artists' market, an open house with demos, food and entertainment, and a slew of workshops—blacksmithing animal heads, blacksmithing bottle openers, scratch (bronze) tile making, glass bead making, neon tube bending, and pewter casting. See the website at www.cafac.org for details and to register for a workshop.
Near CAFAC is an organization dedicated to changing the world through raw activism rather than art, but they make space for art as well—Centro de Trabajadores Unidos en Lucha, or CTUL, pronounced "say-tule." CTUL is a combination labor union and immigrant rights organization that also adds an element of the old idea of immigrants' cultural center and general support of families and community. Hence the art. There is a gorgeous mural, several murals in fact, although maybe they will all blend into one by the time they're finished, in progress at CTUL right now. CTUL moved into its new offices at 3715 Chicago Ave. this past spring. They are always open to more hands on the painting of the murals, so check their Facebook page for notices of community painting times. And while you're there, you can also go inside and check out the awesome resistance and labor organizing work they are doing and maybe get involved in that too.