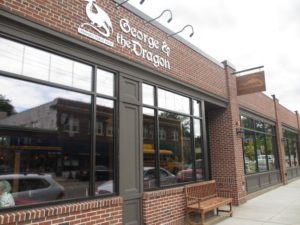 BY DEBRA KEEFER RAMAGE
The George and Dragon
813 W. 50th St., Mpls. 55419
612-208-1047
http://www.ganddpub.com/
This isn't really eating for England. This is eating in a vain attempt to assuage my mounting "homesickness" for British food, which is the presenting symptom of my general homesickness for England. Now don't get me wrong, I consider Minneapolis Minnesota my home, and probably always will. But I lived in England 13 years, and that leaves a mark.
"Doing x for England" is sort of a sports metaphor. Like if you whine a lot, someone may slyly say, "She could whine for England." It's not quite the same as those situations where a woman doesn't enjoy sex with her husband and is told to "Lie back and think of England," but it definitely comes from the same place of national self-regard.
I know of four places that make a stab at the British pub (the kind with food, which is probably in the majority now, but definitely was not in 1998 when I first arrived there) and none of them quite do the trick. Three of them I had visited and partaken of already—Merlins Rest on Lake Street, and two downtown establishments, Brit's Pub and The Local. New to me was The George and Dragon, certainly the one with the most likely name. I probably visited a George and Dragon in its native habitat at some point, although I don't remember. The pub name I most remember is also the oldest one I know of—12th century!—The Trip to Jerusalem in Nottingham, which was sadly rebranded Ye Olde Trip to Jerusalem, in the early 2000s, I think.
In the spirit of responsible restaurant reviewing, I shall now turn my almost full attention to the food and drink at the George and Dragon (G&D) and other amenities that go into the restaurant, or pub, experience.
The G&D does not claim, on its website, that they have authentic British food. They say they are trying to recreate the ambience of a British pub, and mention how many pubs in Britain are like community centers, places to hang out, meet your friends, gossip, play games. This is all true. One of the things the G&D does to foster the community vibe is weekly Vinyl Night—I noticed a substantial shelf of old LPs behind the bar.
The G&D is also cozy and welcoming, like a pub. Yet, it's really not much like a pub. Most pubs don't even have barstools at the bar. Almost no pubs, apart from those in urban centers, have table service. They don't have decor, or cloth napkins. They don't have hosts and hostesses and bus persons. They are not restaurants with bars. They are pubs. If they get very restaurant-like, they are called gastro-pubs, and the people who went there for community stop going there because it's become a restaurant with a bar. So the G&D is trying (and to be fair, mostly succeeding, it looks like) to do a uniquely American balancing act: maintaining the service-oriented hierarchy (and the jobs, and the expected American level of service) of an American restaurant, but using trompe l'oeil and simple deceptions sort of like optical illusions to make you think you're in the casual environment of a British pub. I expect it works very well for those who haven't experienced actual British pubs that much. One thing that helped me maintain the illusion: I think the guy working behind the bar, serving drinks and ringing up checks, was the owner (in Britain he would be called the landlord).
In my opinion, the most authentic thing any of these restaurants-trying-to-be-pubs have to eat is the Ploughman's Lunch and the various meat pies at Merlins Rest. The G&D has a dish quite similar to Ploughman's Lunch, but they call it The Elizabeth and list it under the salads. Ploughman's Lunch is not really a salad. Its requirements are bread and Cheddar cheese, and then accompaniments may include green salad, pickles or chutney, a piece of fruit, usually an apple, and possibly a boiled egg, pickled egg, or Scotch egg. On the entrees portion of the G&D menu there are two things that look pretty authentic—Bangers and Mash (sausages with mashed potatoes and gravy) and Fish and Chips. And under sandwiches there's another one, called here Curried Chicken Salad. In Britain, chicken salad means a green salad with chicken on it. But since 1953 there has been a very popular sandwich filling called Coronation Chicken, which is finely chopped chicken in a curry mayonnaise dressing with sultanas (golden raisins) and maybe nuts. G&D's sandwich looks pretty close.
I opted to go for the Fish and Chips, because this was something I had tried at the other restaurants, so I could do a comparison based on memory. Pubs, at least the small town locals that I was mostly used to, did not traditionally serve Fish and Chips, although they almost universally do now. You have to understand, the British, especially the English among whom I lived, are very compartmentalized. You get Fish and Chips at the chippy, you get Curry at the curry place, you get Coronation Chicken sandwiches, pre-made and wrapped, at Boots (the pharmacy) or Greggs (the sandwich shop) or Marks and Spencer's food hall (the department store). At the pub, you get beer and a packet of crisps. There may be pickled eggs on the bar. They may do a hot dinner, no choices, order at the bar same as the drinks. At least that's how it was for many decades. Now everything is everywhere and it's more like the USA all the time, but that is capitalism. At the same time, the British people are not changing that much. The compartments and their contents may change a little, but there are still compartments. The Fish and Chips at the George and Dragon are quite good. The fish is the right kind (cod), although it's cut into little mini-fillets and not hanging off both ends of the plate like it should be. The chips are cut pretty thick, so that's good. Chips in the UK are often quite greasy, but that's more of a bug than a feature, so I liked the G&Ds chips for not being the slightest bit greasy. The option of malt vinegar was offered. The only thing missing was of course the mushy peas and sliced white bread with margarine. I don't miss the white bread at all, but oh, how I miss the mushy peas with a generous dollop of sharp, vinegary mint sauce. A small but very welcome consolation was G&D's homemade tartar sauce, of which I can only say I wish there had been more of it. (I'm sure I could have got more if I asked, but I was doing a selfie Tarot reading at the time and was a little distracted.)
Since this is a pub, I should say a word about the drinks. They have a very well-curated list of beers, ciders and wine. Mostly local, but the British choices there are good ones—especially Old Speckled Hen ale, and the alcoholic ginger beer. The local choices are good too, but alas they were out of the thing I had my heart set on, and which, oddly, goes well with Fish and Chips—an oatmeal stout from Iowa. So, ironically, I had a Lift Bridge Root Beer. I say ironically, because root beer is one of the few American treats that is just never going to catch on in the UK. Most Brits utterly despise it, to which I have one heartfelt retort—Irn Bru (the Scottish shudder-worthy soft drink). Anyway, the root beer was good. I also ordered a dessert—key lime pie, which was made with a crust of crushed pretzels instead of crushed graham crackers. They don't have graham crackers in the UK either, so that was a possibly unintended point of authenticity. Also quite British was the presentation, drowned in real whipped cream, with a lime slice and a dusting of icing sugar. Sorry, confectioner's sugar, forgot where I was for a second there.
The George and Dragon opened in 2012 and its popularity has remained strong. They have a lot of special food programs and as a dining establishment, there is a lot more to it than just the British pub theme would suggest. The owners have Filipino roots, so some of the food is informed by that and other Southeast Asian cultures. Also it is apparent that seasonality and local food producers play a big part in the menu selection, as well as local brewers being well-featured in the selection of ales and ciders. The George and Dragon has a very high score on Yelp and other customer review sites. If you haven't tried it out, I suggest you do, even if you're not pining for England.
Dishing it: (ratings are 1-terrible to 5-excellent)
Friendly efficient service – 5
Food taste – 5
Food quality – 5
Food selection – 4
Vegetarian/vegan selection – 3
Social responsibility – 4.5*
Bathrooms – 5
Beer and wine, etc. – Y
Liquor – N
Credit Cards – Y
Parking – difficult
Transit/bike/walk accessibility – so-so
*Social responsibility: Points added for local sustainable food, community support, being a good employer, recycling, considering kids, disabled, other special community needs. Points off for being too meat-centric, giving me a straw I didn't ask for, or utilizing apparently wasteful practices.