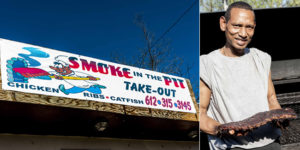 BY DEBRA KEEFER RAMAGE
I grew up in a suburb of Atlanta, Ga., and then at age 17 set up as an independent young woman in a neighborhood as close to downtown Atlanta as possible. (Atlanta famously had and still has almost no residential downtown.) I have always loved food—cooking it, growing it, eating it and learning about it. While my earliest interests revolved around "the new," there is definitely a place in my heart for "the old," which is about 20% the ethnically German and Scotch-Irish food of my birth state, Pennsylvania, and about 80% the Southern comfort food I mostly grew up on. From the deep, sense-based memories of childhood foodways, I have culled memories of my native Georgian peers eating strange junk foods and quick snacks, such as the sausage biscuit with grape jelly or the iconic "RC Cola and Moon Pie." Barbecue was the one fast food (although it's very slow to make, of course) you could always get in Atlanta. When we first moved there in 1956, they didn't even have rye bread or Swiss cheese in the supermarkets, and pizza and Chinese takeout were hard to find. Tacos only arrived in the late 1960s.
Barbecue was pork, and it was "barbecue-and-Brunswick-stew," one word, just like that. You never ate one without the other. Barbecued chicken was a thing, but a lot of BBQ places didn't carry it, or carried it only for the tourists. Fish, too, was a Southern thing with a built-in sidekick. Fish-and-hush-puppies. Black-eyed peas were cheap food, what you ate when you were broke. I hated them until I was a teenager and made them myself. Instead of putting in some "boiling meat" and a lot of salt, I salted them sparingly only when done, included lots of sauteed onions, and a selection of Mediterranean herbs. It wasn't Atlanta-style, but it was a lot better than the muddy-tasting gray mush I had been getting at school for years. Hoppin' John was more of a Charleston thing, but they had it in Savannah. No one had heard of it in Atlanta. There were Waffle Houses; they had not yet attained cult status, but they were our go-to place for breakfast, and later as a young adult, for the last stop before home on a boozy night out. This brings me to a couple of things Midwestern and other Yankee restaurants get wrong when they try to do Southern. Grits—you make grits kind of soupy, and serve them in a warm puddle next to the eggs, not in a little dish by themselves. You put about a pound of butter on them and nothing else. I'm talking to you, Tiny Diner. The other thing is iced tea. You don't drink iced tea with a straw, so please stop putting one in. Thank you. If restaurants outside the South could get these two things right, and bring in Brunswick stew with the BBQ, and hush puppies with the fish, we would be good.
This brings me, two long paragraphs in, to the actual restaurant reviews. My plan for this column was to compare Funky Grits, 3801 Chicago Ave., with one other new soul food restaurant—Mama Sheila's—and two long-standing mostly BBQ places: Smoke in the Pit, and Ted's 19th Hole. Both of the BBQ places are take-out only, although Smoke in the Pit has recently introduced a micro-park sidewalk dining option. (On Chicago Avenue? Thanks, but no thanks.)
I started with a solo visit to Funky Grits. It was a strange combination of delight and disappointment. I will slide over the disappointments—commercial iced tea from a self-serve machine, an unsettled ambience made worse by funny cleaning product smells—hoping they are early day problems that may improve, and focus on the delights. There are a lot of interesting chef-y things on their menu that I want to try in future visits, but for my first one I had the Hoppin' John burger and a side of praline sweet potatoes. I loved both of these. The Hoppin' John burger incorporates the legendary Carolina Gold rice (you can really taste the difference, even in a mixture like this) and well-seasoned (which is to say, in my opinion, not over-seasoned) red peas with red sweet peppers and herbs. The burger is dressed with a vegan curry aioli, Bibb lettuce and crunchy caramelized shallots. The praline sweet potatoes I had expected to have lots of pecan in them, like my mother's Thanksgiving casserole dish, was instead smooth and souffled, with a strong molasses-y taste. It worked well as a side dish. Another major delight was seeing they have Brunswick stew! Although they don't really have BBQ, so I'm not sure what it's for. I made a mental note to get some as an add-on to one of the BBQ meals.
Next was Ted's 19th Hole on 38th Street near the LRT, sampled by Mary and me. I got black-eyed peas and cornbread and pecan pie, and she got a half a barbecued chicken and a third slab of ribs, to be shared back and forth. I wanted greens, too, but they were out. So we dropped by Funky Grits and got vegan greens, more cornbread, and a cup of Brunswick stew to-go. Mary liked it all except the black-eyed peas. I thought the black-eyed peas were OK. I liked Ted's cornbread better than Funky Grits' because it was less sweet. The pecan pie is probably bought-in, and was just average. Both BBQ meats got high marks from Mary and even higher marks from her young adult son, Daniel, who is, it turns out, a huge fan of Ted's. I tasted the barbecued chicken. Unlike Funky Grits' Brunswick Stew, which really carried me back, it tasted nothing like the BBQs of my Southern youth. But apparently this is what people here and now who are BBQ fans really like, and I was never a fan of BBQ to begin with, even though I ate it as a kid because that's what you did. So don't listen to me, listen to Daniel. Ted's 19th Hole is the bomb, apparently.
Mama Sheila's makes no pretense at being chef-driven. It's a steam table buffet with over a dozen choices, very Baptist church basement social. And yet, hard as it is to believe, they don't even have iced tea at all! I don't get why all these Southern food experts, some of whom are even African American, don't understand how central to a Southern restaurant's reputation for excellence their iced tea is. Iced tea is cheap with a big margin, and makes or breaks that Southern hospitality feeling. All Southern-aspiring restaurants need to up their iced tea game right now! This is your official restaurant reviewer talking. I dropped in to Mama Sheila's twice in a vain attempt to try their catfish. This is still in the realm of myth. The first time, they told me they only had it on Fridays. The second time was a Friday and they still didn't have it. But we got take-out, which is serve yourself from the buffet, at $8.95 a pound. Between my friend Julie (who also lived many years in the South, mainly Mississippi) and me, we tried three chicken entrees, black-eyed peas, mac-and-cheese, red beans and rice, mashed potatoes, collard greens with smoked turkey, and corn on the cob. We both agreed that every one of these things was very well-prepared, especially considering it was from a steam table. Even without the catfish, pretty authentic, solid comfort, and great value for the money.
Smoke in the Pit can be delivered via Bite Squad. I did that and got some catfish with a side of fries and an extra side of collard greens. My comparison plans having been thrown into disarray by availability issues, I can only compare things to themselves, except for cornbread (Ted's is best, but they're all good) and the greens (Smoke in the Pit by a mile.) Smoke in the Pit is another incredible value for the money: for just $9.99, you get two huge fillets of lovely catfish, and one generous side. Extra sides are $3.95. I don't know if the BBQ and other foods are equally upsized, but it was way too much food for one meal, and way under $20.00. Smoke in the Pit's food is all highly seasoned in a very Southern way, subtle, salty, with a mysterious hot sauce afterburn. The greens were especially good, really took me back to Atlanta. All I was missing was a quart-sized glass of sweet tea, lots of ice, no straw.