BY CRAIG WOOD
On May 19, author/activist and cofounder of the anti-war group Code Pink, Medea Benjamin, had her phone knocked out of her hand by an angry protester she was videotaping at a South Minneapolis event where she'd been invited to speak. When she told me, "They've got my phone," I got involved. After all, I was not only a member of one of the groups that invited her to town — she was our house guest.
Nobody said anything when I walked up to the group of about a dozen protesters and told them to give the phone back. The crowd who didn't agree with Benjamin's idea of starting a negotiated settlement now between warring Russia and Ukraine instead of waiting for things to get worse was becoming increasingly edgy.
I didn't "bullrush" the crowd as one protester later wrote. I entered the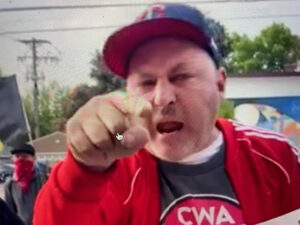 group slowly to look for the stolen phone. Yes, there was some back-and-forth jostling, and I tore a couple of paper scraps off signs that were pushed toward me, but I didn't push anybody to the ground or hit anyone, as was alleged by a few.
From there things got ugly quick. I found myself flat on my face, wondering if I tripped or was pushed. Steve McKeown of Veterans For Peace, who was protesting on the side of those in solidarity with Ukraine said, "You went down hard." He was in the catbird seat and later mentioned, along with many others, that he saw two protesters jump on me. I knew there were at least two because I felt repeated punches from four fists while trying to protect my head and ribs with my hands and arms.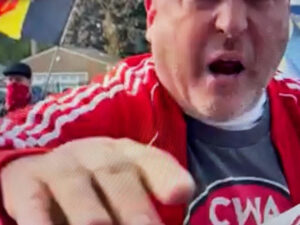 Luckily, Benjamin spotted her phone and said she pulled it out of Kieran Knutson's pocket while he was pummeling me. Soon after that, I was driven to the ER with a dislocated shoulder and black eye. I learned later that Knutson called the decidedly non-violent Benjamin a coward.
Other remarks from pro-Ukrainian supporters have been less than objective and some have been defamatory. Emmett Doyle wrote in this newspaper's online comment section, "Mr. Craig Wood did not attempt to retrieve the phone and then fall into the street." Excuse me, Mr. Doyle, but how would you know what I was attempting to do? You never asked.
Doyle went on to accuse me of assaulting Knutson: "He then threw himself onto Mr. Knutson and began throwing punches at him. When I pulled Mr. Wood off of Mr. Knutson (during which I did not 'pummel' him, as this article slanderously states), I held out my hands to Mr. Wood and said, 'Are you done?' He then grabbed me by the coat, tore my coat, punched me, and then lunged at me."
Doyle's claim of the assault on Knutson and me punching him and/or missing a swing directed at him are distorted exaggerations at best. It's true Doyle said, "Have you had enough?" when I was getting up, but he said it in a snarky tone. Suffice to say I wasn't in a good mood having just had my butt handed to me by a couple of goons. That's why I motioned to him with the arm that wasn't dislocated to scram. We don't consider an arm motion that signals, "Go away," to be a punch or missed swing where I come from. And he didn't pull me off Knutson – I was never on top. It was Mike McDonald from Veterans For Peace who helped get Knutson off me.
Terry Burke, who is part of the leadership team of the Minnesota Alliance of Peacemakers (MAP), used five paragraphs in the online comments to denounce Benjamin with no mention of the May 19 assault on her. You can see Burke standing right behind Knutson with the other protesters while he was knocking the phone out of Benjamin's hand in the link below or on my Facebook page. I guess she didn't think this was important enough to mention.
https://www.google.com/url?sa=t&rct=j&q=&esrc=s&source=web&cd=&ved=2ahUKEwiire_Bx_f_AhW8MTQIHRb7AEY4FBC3AnoECB4QAg&url=https%3A%2F%2Fwww.youtube.com%2Fwatch%3Fv%3DfRklQzrsZwU&usg=AOvVaw2JnImZBqW1-b1u9bAFsdDu&opi=89978449
Perhaps more damning, though, is what every one of the commentators above didn't say – which was nothing about how a 51-year-old, 200-plus-pound man assaulted a 70-year-old, five-foot tall woman who came to town to talk about a book.
And if those people are OK with that – well, I guess there's really nothing else I can say.