BY STEPHANIE FOX
Open Streets is a Minneapolis tradition, a series of summer street festivals where, for an afternoon, neighborhood thoroughfares are blocked off to motorized traffic and open for pedestrians, bikes, skaters and skateboarders (and dogs on leashes).
Organized by Our Streets Minneapolis, Open Streets is a program of the city of Minneapolis, supported by sponsors and community partners. Each route has unique community programming, but this will be the first Open Streets at Cedar-Riverside, one of the most diverse communities in Minneapolis. With four entertainment stages partnered with local restaurants, and 150 booths featuring crafts, nonprofits and city organizations, Open Streets Cedar-Riverside will reflect that diversity. The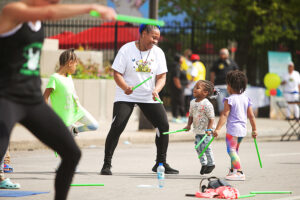 stages will feature entertainment including music, poetry, dance, theatrical presentations and other community-based performances.
Mixed Blood Theatre is bringing its season out into the streets on a stage outside the Red Sea Restaurant. "You can see art created, live. Artists come from 12 different communities across the Twin Cities," said Mixed Blood's Alejandro Tey. Performances last about 15 minutes, and range from a community sing-along, spoken word, a cooking demonstration by Yia Vang, figure skating and modern dance, opera, a theatrical walking tour and communal crafting.
The Cedar Cultural Center will present musical acts in conjunction with Palmer's Bar, featuring a mix of genres. "We'll have something for everyone. We start off the day with a big brass band, Colonel Mustard's Orchestre Mecanique," said the Cedar's Robert Lehmann. "We'll also have Somali DJ Fawzi. She's great and has a strong connection to the neighborhood. We're bringing in a Palestinian punk band from Duluth. And we'll have an Indigenous hip-hop artist, Jada Brown."
At the Tamu Grill and KFAI Fresh Air Community Radio stage, the opening act will be Shalita, a marimba band. "Later, Fanaka Nation, a Minneapolis-based rapper, dancer and DJ, will perform," said Nora Doherty, KFAI's executive director. "The restaurant will have a booth serving Tamu's Kenyan food. It'll be a wonderful, energy-filled day." The presentation is part of KFAI's MinneCulture Live from Minnesota, which spotlights original content by artists living in Minnesota and features performances by people representing an expansive range of experience and career levels, age groups, musical genres, cultural identities, and members of the LGBTQIA+ community.
Theatre in the Round's stage will be moved to their parking lot, where Art in Arms, a school that teaches stage combat, will be demonstrating their craft. "Some of the actors from the show 'Sherwood' will be showing people how to do stage combat. It's exciting to show off some of the skills our artists have," said Larisa Netterlund, managing director of Theatre in the Round.
Open Streets Cedar-Riverside will also feature the debut of the I-94 in Minneapolis mobile museum, a collaborative project of Our Streets Minneapolis and the University of Minnesota's Heritage Studies and Public History Program. The exhibit examines how the highway was designed and built in Cedar-Riverside, the decision to put the highway there, and who was left out and behind as a result. "The museum will celebrate the diverse history of the Cedar-Riverside neighborhood as a center for cultural expression, art, protest and entertainment that has persisted and evolved while being squeezed by the highway, the university and new development," said Ember Rasmussen of Our Streets Minneapolis.
Open Streets Cedar-Riverside continues the neighborhood's rich history of solidarity and celebration, standing on the shoulders of past events like Cedarfest, said Rasmussen. "This tight-knit neighborhood is the most diverse in Minnesota and has long been a welcoming home to generations of new immigrants, activists, artists and entrepreneurs. Though the route is among the shortest by length in Open Streets history, it leads the pack in the number of organizations that are collaborating to plan the event," they said.
Come, bring your friends, your bike or skates, the kids and the dogs. There's plenty of things to do, see and eat for everyone. Open Streets Cedar-Riverside will be held on Sunday, Aug. 20, from 11 a.m. until 5 p.m. on Cedar Avenue from South 3rd Street (by the Corner Bar) to South 6th Street and on Riverside Avenue from Cedar to 19th Avenue South. For more information, go to www.openstreetsmpls.org.