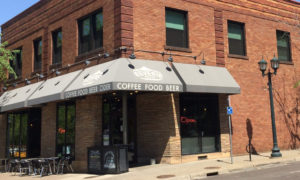 BY DEBRA KEEFER RAMAGE
Kirstin Wiegmann lights up when she talks about the cafe, bar and music venue Reverie that she and her partner, Jeff Therkelsen, co-own and run. And it's good to love the work you do, to have a dream, to share a dream, and to make it come true. That seems to be the story behind Reverie, a cafe-bar that's equally famed for its stellar beer taps list, its completely plant-based,  very innovative cuisine, and its eclectic lineup of musicians and artists that appear there most  evenings. There are competing rumors that Reverie is closing at the end of July and that it's just moving to a new location, and Wiegmann confirms that the second is true. They haven't got their new location locked down yet, but fans of the place, and they are many, should expect an announcement soon.
Wiegmann and Therkelsen met in 2011 and had been talking about their soon-to-be a shared dream of a "plant-based foods" restaurant for years before it came to fruition. Therkelsen is a chef with more than 15 years experience. He made omnivore food for most of that time, and he also makes vegan food so good that even dedicated ominivores like to eat it on a regular basis. Wiegmann's background has been in the arts and nonprofit management. They first bought out the Nicollet Cafe in 2015, continuing on with the existing menu for some months. Then in January 2016 came the official opening with the new name, Reverie, and the new menu, all plant-based whole foods, mostly made from scratch. Wiegmann quit her "day job" in January 2017 to work full time at Reverie. Besides food that was out of the ordinary, the Reverie endeavors to be different in its entertainment too, so the couple hired as booking manager Heath Splitt, a friend with booking experience and knowledge of alternative, jazz, experimental and many other genres of music.
For drinks, the watchword is local, especially for the remarkable lineup of beers and ciders. Most are Twin Cities local, and the farthest afield they go is contiguous states. There are twelve  beer taps, including one that's dedicated to gluten-free, and then about twice as many bottled beers available, and about eight brands and varieties of cider. They like to feature the different ones here too. They always have a sour on tap, and the featured beer right now is a smoked malt style. There are also delicious non-alcoholic cold drinks (I had a hibiscus lemonade), and a full coffee drinks, loose leaf tea and kombucha selection. The coffee menu is just like any other coffee place, but all the milk and cream is non-dairy. The only sweetener I saw available was a stevia product—maybe they have others if you ask?
Just to get back to the food a bit—how does a slow-roasted jackfruit as the basis for a carnitas taco grab you? Also scratch-made in the kitchen are salsas, either mild or hot, a cashew- based sour cream that might be flavored with poblano or maybe lemongrass, a portobello "bacon" and a vegan Caesar salad dressing. The full breakfast menu (seven days a week, starting at 7 a.m. weekdays or 8 a.m. weekends) includes polenta rancheros, scratch-made biscuits with scratch-made gravy, and several other innovative takes on a healthy breakfast. Breakfast is also one area where they send out for some vegan loveliness, to Herbivorous Butcher for sausages, to be precise.  For happy hour, you can get a meal-sized taco and a pint for $11.
You can tell from these tidbits that Reverie is the furthest thing you can imagine from a preachy, "strict" vegan restaurant, and yet it is a real boon to struggling Twin Cities folk who are vegan, or vegetarian with dairy allergies, or gluten free and vegan, or just sensitive to processed foods. Any and all of these people are welcome here as well as ordinary iron-stomached omnivores who just like to eat and drink. And it's about time, too. The Twin Cities may be streets ahead in the parks department, and neck-and-neck with Portland (oh, sorry, PDX) on bicycle chic, but we lag way behind in the vegetarian and vegan restaurant stakes. For heaven's sakes, Kansas City has five vegan restaurants, which is three more than both of our cities put together. It's shocking, really, so we should thank and cherish Reverie, not that that's a sacrifice.
With all this goodness—the music, the food, the drink—it's no wonder not only neighborhood vegans are panicking at the thought that Reverie is going away. And come what may, they are going away from their cozy neighborhood home at 1930 Nicollet Ave., since the owner of the building didn't renew their lease. But Wiegmann says there is a bright side to their move, even though they didn't choose it. Despite all this high-end cuisine coming out to the front, there is not a full kitchen in the back. And they are becoming so popular they could probably use a bigger front as well. In the spirit of making really good lemonade with the troubles of life, Reverie will have more than one big closing-down party. Also, they will be serving food at the Red Hot Art Festival, a neighborhood event in Stevens Square Park, on July 22 and 23. (Look for their page on Facebook under Red Hot Art.) Reverie is also having a couple of those wonderful crazes, pop-ups, in late June and early July; one will be Totally Baked Donuts and the other will be PLNT BSD, Lino Lakes-based makers of vegan apparel. Go to Reverie's website, www.reveriempls.com, and sign up for its email newsletter to keep abreast of the move and other fun events, such as Jazz Night on Thursdays, and Open Mic Night on some Tuesdays.