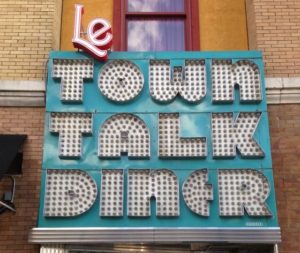 BY CARLA WALDEMAR
Town Talk
2707 E. Lake St.
612-353-5398
towntalkmpls.com
Farm to fork. Old news, right? These days, that credo has become table stakes (thank goodness) in restaurant kitchens. Freezers are for ice cream, not broccoli or fish.
Yet it's embraced at Town Talk, the rejuvenated East Lake Street diner, like a fresh manifesto in staff's eyes and patrons' palates, and hurrah for the results on the table. That their "Honor Thy Farmer" mission statement is rolled out in a relaxed, spacious, bright and cheery setting doesn't hurt, either.
A plate of house-made (well, everything here is) focaccia, served with a yummy, creamy garlic spread arrives, compliments of the kitchen, to ease us into the evening as we study the menu. Three apps (starters $9-15), we decided, leading off with an easy-to-love tart plump with smooth, suave goat cheese, whose hint of acid is balanced by sweet caramelized onions. It's served aside a salad of peppy arugula brightened with half-moons of watermelon radish and a shower of cider vinaigrette.
Next, the crispy Heritage pork belly. What's not to like (besides your doctor's frown) when diving into those deliciously fatty slices, balanced by bits of kraut and pickles? Finally, the kitchen's gnocchi—chewy, straight-arrow nuggets served with snips of spinach, chives and Parmesan in a brown butter sauce. Satisfactory, if not terribly interesting.
Main courses ($24-28) are intelligently paired to pique interest while complementing the headliner protein—in our case, a crispy (but salty) duck leg abetted simply and suitably by spring's asparagus and the season's early, garlicky ramps in a broth of both, abetted by duck jus and citrus.
Even tastier—the evening's fish selection, halibut: tender, well-timed, fresh as the lovely weather, served with more springtime in the form of curls of fiddlehead ferns and a toss of tiny peas. They're settled on a cloud of creamy, mascarpone-enriched polenta with a saffron-lemon-white wine sauce. We added a side of roasted beet chunks tossed with intensely-flavored preserved lemon (genius!), toasted pine nuts and creamy blue cheese ($10).
Dessert? If churros appear as a prime choice, they're mandatory, trust me. Tender, sugar-dressed, still-warm doughnut lengths ready to dip in a pool of dark chocolate, they take me back to Spain. An order of a berry crisp was equally yummy and well-suited to the kitchen's way of thinking. As my companions asked, "Why don't more restaurants serve this?"
To drink? You name it. Lots of local beers on tap, plus inventive cocktails and a wine list that doesn't rely on bold names, but little under $10 a glass—a small quibble in a place that's become, once again, the talk of the town.