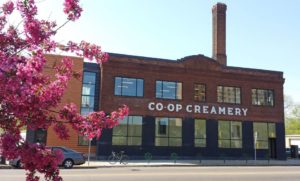 BY DEBRA KEEFER RAMAGE
When Sean Doyle, general manager of Seward Co-op, gets me on the phone, he agrees with me that Seward Co-op is currently the biggest news item on Franklin Avenue. It all happened very quickly, with little warning, so the board and managers have understandably been busy, managing their message. On June 7, co-op staff, union representatives from United Food and Commercial Workers (UFCW) Local No. 653, and a few supporters—a little less than 100 people in all—marched between the Seward Co-op's locations. They were demanding a starting wage of $15 per hour and union representation for the staff of Seward Co-op. Management had had less than 24 hours notice that a march would occur and no notice that an ask for immediate voluntary recognition of the union would be part of it. Doyle received this request at the offices in the Creamery building, and he declined to recognize the union, stating that the board and management had no information at that point as to whether a majority of the staff wanted it.
The next day, Thursday, June 8, they received the notice from the National Labor Relations Board that the petition for an election had already been submitted and an election was scheduled for June 22. Note that successful unions such as the UFCW will not submit a petition unless they are very confident they can win the election, so a win is a fairly sure thing at this point. Especially given that, unlike many purely capitalist employers, the co-op does not plan to fight the union, but to maintain a neutral position and enable their staff to discuss and choose what they think is best. On June 9, all co-op members who are signed up for it received an email from Doyle and Mary Alice Smalls, the current chair of the governing board. "Seward Co-op recognizes the fundamental right of any group of people to form legal associations to meet their collective needs," they said in the email, and indeed, this is not only a Seward Co-op position, but one of the fundamental principles of cooperatives everywhere. As Doyle said later, "Why wouldn't we apply that to our own staff?" If the union is chosen to represent the staff, Doyle says, it will just become "yet another partner"—along with the current ones, including owner-customers, staff, producers and community—that "make Seward Co-op a great place to work."
Seward is not the first consumer co-op, nor even the first one in Minneapolis, to face a unionization campaign. In 2016, the Wedge Community Co-op ratified its first union contract with a different UFCW local after a successful election in 2015. Earlier this year, Local 653 concluded successful organizing drives at Eastside Co-op in NE Minneapolis and Linden Hills Co-op in SW Minneapolis. In all three cases the unionization effort proceeded in good faith and relatively peacefully. Of the Wedge, the first co-op in the state to be organized, UFCW Local 1189 officer Jennifer Christensen said, "The Wedge's willingness to honor their workers' desire to have a union … sets them apart from … other co-ops in the state." At Linden Hills Co-op, too, the management was at least neutral and the vote was 51 out of 74 "yes." Farther afield, just a week before, Viroqua Food Co-op in Viroqua, Wis., became the latest Wisconsin co-op to unionize. (The very first co-op in the U.S. to organize was Milwaukee's Outpost Natural Foods—in 1979!)
The last few years have seen seismic changes in the grocery industry, and have also been a time of major changes for American labor unions and for cooperatives. For co-ops, it's no longer just them and Whole Foods Market and a few tiny health food stores in the whole and organic foods business, and this has drastically changed the economics. Where these three movements all come together, in progressive consumer food co-ops facing stiff competition from unionized traditional grocery chains on the one hand, and aggressive non-union chains such as Trader Joe, Aldi and HyVee on the other, employees have begun looking to the unions to offer them more stability and a stake in the decisions coming up.
From other areas of the country, different stories unfold around the co-ops and their unionization attempts. After a small flood of unionizations at a number of food co-ops, mostly in the New England area, a Massachusetts UFCW local hosted the first "Co-op Workers' Summit" in 2015. It has already become an annual event. New structures and relationships between unions and co-ops are also springing up. Some consumer co-ops, including most in Minnesota, were also "workers' collectives" in their early days, but as they had to shift to becoming "more economic and less social" in their focus, this gave way to the hiring of professional managers and more hierarchical structures. Now a new generation is reinventing the social activism inherent in cooperatives. Two new forms this takes are the so-called solidarity cooperative, and the union workers cooperative. Central Co-op of Seattle and Tacoma, Wash., is an example of a solidarity co-op. The workers there are eligible to be represented by one of two unions—UFCW and IWW—and also to buy co-op workers' shares and participate as worker-owners, distinct from consumer-owners in having more of a say in the operations and working conditions. Our Harvest Cooperative in Cincinnati is a union worker cooperative—a producer cooperative rather than a consumer one, and unusually for co-ops, these co-ops incorporate as for-profit businesses. An organization called Mondragon USA, an offshoot of the famous Mondragon industrial cooperative complex from the Basque region of Spain, partners with U.S. labor unions to create these entities.
Not all co-ops have a smooth ride to unionization though. When Whole Foods of Duluth, Minn., (no relation to Whole Foods Market, the anti-union anti-co-op) began their drive, the management resisted. Quoting from an AFL-CIO newsletter: "All efforts to ask Whole Foods board and management to recognize the union or at least stay neutral … were met with 'that's against our belief system' from them," said UFCW organizer Abraham Wangnoo. The union won the imposed election, but only by a single vote. Fortunately none of the Twin Cities co-ops, including Seward, shares that questionable "belief system." A co-op in Portland, Ore., Food Front, suffered from unsustainable growth just before the 2008 crash, then stiff competition from local healthy grocery chains, and a bad case of something like founder's disease—an autocratic manager who ruled the co-op (badly) for over 25 years. This co-op actually had a revolt from its previously weak board to allow the unionization to proceed. Fortunately the manager retired, the economic slump was survived, and the union was voted in. An unusual thing occurred in the case of Bloomingfoods of Bloomington, Ind. When the unionization drive began, the board and management consulted their lawyers, who recommended a labor law expert firm from Indianapolis. This firm was notoriously anti-union, advertising on their website that they could help clients "remain union-free." But the progressive folks of Bloomington, Ind., and the consumer owners of the co-op particularly, were having none of that. The next board meeting, in October of 2014, was packed, and members demanded the board remain neutral and allow the process to continue without the union-busting law firm. Several members threatened to withdraw their shares and their patronage if the co-op resisted the union organizing. After a month of talking and reconciling, the board agreed to remain neutral, allowing for a speedy election which was won by the union with a decisive majority. (This story is greatly condensed from an in-depth article by Robert F. Arnove in a local magazine called The Ryder.)
It appears that unionization of staff is one way that 21st century food co-ops are reconciling the legacy of their social justice commitment with the stringent economic climate of today's grocery industry. We applaud Seward Co-op for taking a sensible stand to remain neutral to the organizing work and to work with the union if it succeeds in the upcoming election.