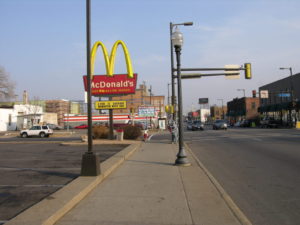 BY CAPTAIN JACK SPARROW
[Editor's Note:  Southside Pride has been concerned about safety on Lake Street. We feel there is a need for some kind of foot patrol to talk to people who walk and work on the Street and who live in the neighborhood and find out what's happening. We don't have the money to hire a private security firm, and C.J. Sparrow doesn't have the money to buy ads for his campaign for mayor, so we agreed to publish ads for C.J. in exchange for him walking up and down Lake Street and talking to people on the Street about what's happening. Our arrangement with C.J. is in no way an endorsement of his candidacy.]
On Tuesday, June 13, while on the light rail, on my way to patrol Lake Street, I noticed an African-American man on the floor of the train car. He looked like he was in his mid-30s. After observing him for a few seconds to see if he was breathing I started toward the operator's cabin to get his attention. The operator opened the window before I got there and told me a police officer was on the way.
When the train arrived at the Lake Street station at about 2:30 p.m., two Transit Police officers met the train. One of the officers said to the other that he "had this guy before."  He said he was a heroin user. They then woke him up and helped him off of the train. I got off too and watched the situation for several minutes.
On the way, while still on the  upper level of the train station, on my way to Lake Street, I observed about eight or 10 people under the Hiawatha overpass. This time about four of them were lying down on blankets or quilts of some kind and they appeared to be asleep. When I came out of the station, on the lower level I saw a few more people on the cement ledge near the west exit from the station. Two more people, a man and a woman, were lying down there too, but they were not on blankets. They were lying right on the ground. I hung around that general area for a while to observe the situation. Eventually a couple of paramedics arrived. The paramedics helped the woman up and walked her away. Some other medics also arrived and they loaded the guy up onto a gurney and wheeled him to an ambulance they had parked nearby. All of the people under the Hiawatha overpass and near the cement ledge coming out of the train station appeared to be Native American.
I then got on a bus heading west on Lake Street. I talked to a middle-aged African-American woman who said she was originally from Kenya. When I asked her about crime in the area she said she was frightened by a group of African-American youth nearly every morning while waiting for a bus at Park and Lake Street. She said that they would surround her and pester her for money or drugs almost every day. She said that she calls the police, but they never arrive while she is still there so she is at a loss as to what to do about it. I gave her a card with my number on it and told her to call me when she is going out to the bus so I could observe and photograph it. I continued to patrol Lake Street on foot and by bus between 35W and Hiawatha until about 6 p.m. without further incident.
On Thursday, June 8, I began my patrol at about 1 p.m. Nothing interesting happened until I was ending my patrol at about 3 p.m. While at the bus stop on Lake Street and Bloomington, waiting for a Southbound 14 to go home, I observed a man in his late 30s also waiting for a bus. He said he had been waiting for about 28 minutes. He sounded frustrated and he said he didn't see why the bus should be this late. I agreed with him and I told him the #14 bus was supposed to run every 15 to 20 minutes that time of day.
I also told him I write a monthly piece for SSP called Pirates on Patrol and I showed him one of the articles and told him what it is about and what kind of stories I am interested in. As the bus was arriving he confided in me that he is a male sex worker. He used the word "hooker." He said he was going to go down to Powderhorn Park to use the restroom to put on his makeup. He said he had two clients who had appointments to see him at 5 p.m. at a bar near Lake Street and Bloomington. I asked him if I could interview him and he said I could but he was in a hurry now to get ready for his clients. After we entered the bus and he was giving me his phone number he said he was ashamed of what he was doing. He said he worked downtown and if the people he worked with found out what he was doing here it would be very embarrassing. He didn't say for sure but I got the impression that he might work at one of the gay bars downtown, probably as a cross dressing entertainer. I assured him that I would keep his identity confidential and that I would not use his name. He then asked if he could use my bathroom to put on his makeup, but I respectfully declined. He then got off at the bus at 34th or 35th Street and I continued on to my destination.