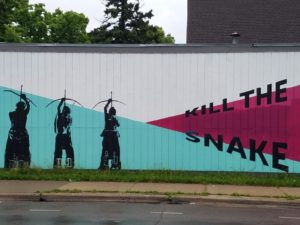 BY DEBRA KEEFER RAMAGE
Cedar Avenue from the West Bank to Lake Nokomis does not, at first glance, seem to be a cultural corridor. Its houses are modest, its restaurants and other businesses not trendy or pretentious. But nevertheless, it is home to a few unique art spaces and on the avenue and nearby are some very interesting pieces of public art, including murals both large and small as well as sculptures.
Starting at the north end, the two LRT stations—Cedar-Riverside and Franklin Avenue—both have public art installations that reflect artists' conceptions of the pride and concerns of their neighborhoods. (Neither station is on Cedar Avenue, but we are including locales that are just a few blocks in either direction.) The Cedar Riverside LRT station features an installation by Dick Elliot, Aldo Moroni and Janet Zweig, with architectural direction from Julie Snow, architects, and Thomas Rose, architectural design team artist. It features a transparent canopy etched with images of the constellations, paving with Somali textile patterns, and a decorative steel fence that reflects the area's ethnic diversity.
At about 25th Street and Cedar, the housing project and urban multi-nation Little Earth of the United Tribes features several beautiful examples of public art on and around the pedestrian bridge across Cedar Avenue. (We were not able to find artist attributions for these works, due to a lack of personal contacts there exacerbated by the fact that their website has been hacked.) As you precede southward along Cedar Avenue, you will be sure to notice a mural on the side of the small commercial building at Cedar and 31st Street. An excellent example of modern agitprop, it features a slogan Kill the Black Snake, which will be familiar to those who have followed, supported or participated in the struggles against oil pipelines.This fantastic mural was completed in October 2016 by Olivia Levins-Holden, Jeremiah Bey, Jordan Hamilton, Alizarin Menninga-Fong, Nell Pierce, Ashley Fairbanks and Donald Thomas (with a little help from Thomas's very young son). Pierce, Levins-Holden and Thomas do art together in a studio called Studio Phthalo (or Studio Thalo, accounts vary) somewhere in the Powderhorn neighborhood. Ashley Fairbanks is a well-known Native-American artist and activist based in Minneapolis. Several of the artists in this group are part of the Million Artists Movement, an art-based offshoot of the Black Lives Matter movement. And most of them were also involved in the 4200 Cedar mural, about which more below. The building on which this mural sits was, back in 2015 when MinnPost ran an article about Cedar Avenue artists, the studio space of local artist Mike Hoyt, now working with Pillsbury House and HECUA (Higher Education Consortium for Urban Affairs).
There is a real live art gallery still in business that was also mentioned in that 2015 article when it was fairly new. Housed in the former window blind space at 34th and Cedar, it is called The White Page. It is a blank and clean white space with uncovered large display windows and a striking white-on-white sign in between shows. When there is a show, it throngs with art patrons of the often young and local kind. Apparently it also functions as a rented yoga studio when it's not being an art gallery, a canny use of space. The White Page is hosting a Summer Art Market on Saturday, July 15, and Sunday, July 16, from 11 a.m. to 5 p.m., featuring over 20 local artists and artisans. That might be worth a look in. At 3441 Cedar we find the Susan Hensel Gallery, once a full-time art gallery, where Hensel now houses her part-time business, Sue's Luxury Fiber and now offers a form of "window gallery." Hensel is "semi-retired" but still working as an artist and exhibits her own work elsewhere, while the gallery features a single artist or small group for two month periods. Only open occasionally for receptions and special events, most of the time the art is displayed in well-lighted and temperature-controlled windows that art patrons can view from the sidewalk at their leisure. May and June just saw the work of artist Betsy Dollar. For July and August, you can see works by Patricia Haynes and Pauline Mitchell, and in September through October, the featured artist will be Gwen Schagrin. Just a block down the road is the law firm of Susana DeLeon and Bruce Nestor. Their attractive office building is graced by a lovely mural facing onto 36th Street, painted in 2008 by Mexican artist Santos Molina Garduno. (See the July 2015 article by Ed Felien for more details about this work.)
If you turn at the next block, heading east on 37th Street, three blocks away you will come to the yard on the south side of Folwell School—Performing Arts Magnet. There are two large multi-story walls here covered with an intricate and meticulously painted mural. Each of the two walls holds two murals measuring 50 by 100 feet, and each of the four murals comprises eight 25-by-25 foot panels which are permanently attached to the brick facade and finished with heavy clear acrylic to protect them. These are part of a project called Connections, completed in July 2015 and dedicated at the August back-to-school celebration the following month. Noted local muralista Greta McLain was the lead artist, and the actual painting was done by scores of community members of all ages at public events in places like Sibley Park and the Midtown Farmers' Market. You can see these murals and loads of others throughout the neighborhoods in the photo-blog All of Minneapolis (https://allofminneapolis.com) by Max Hailperin.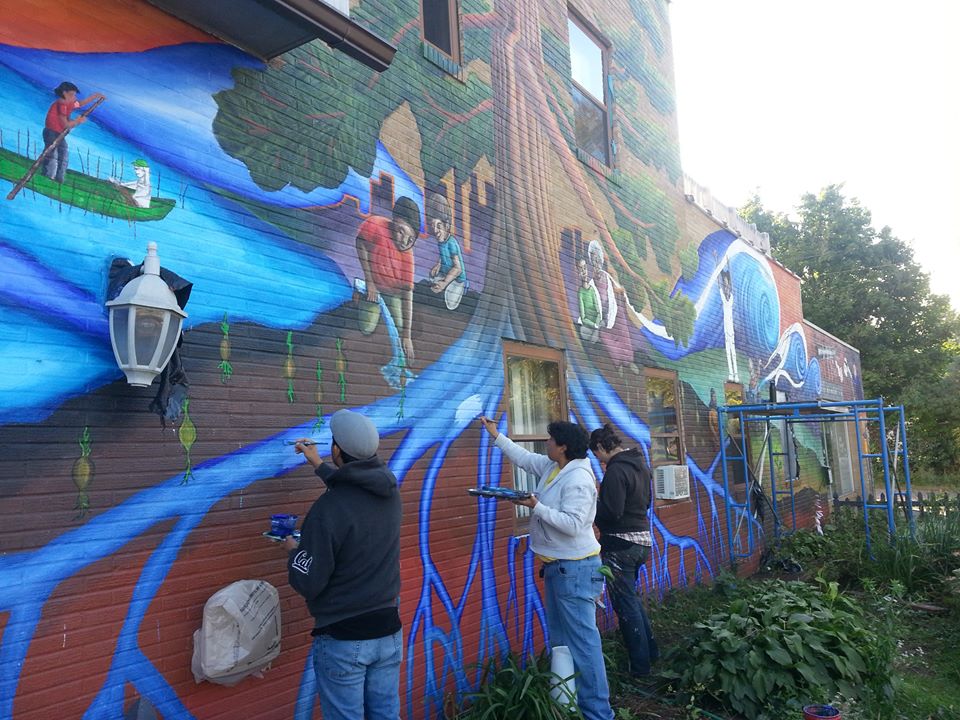 Finally at the southwest corner of 42nd Street and Cedar, you will find the multi-purpose 4200 Cedar building, a shared office and meeting space for a half dozen of Minneapolis's most visible progressive and radical groups. This has a most fitting mural, featuring a cedar tree surrounded by waters, plants, animals and people. The people are engaged in building community, working for peace, or protesting against injustice, just like the tenants of 4200 Cedar. A community effort, guided and coordinated by Olivia Levins-Holden, recipient of a 2015 Project Grant for Emerging Artists, the mural has become central to the neighborhood's self-image and brought many artists of similar outlook together. Dozens of emerging or established Twin Cities artists had a hand in planning, designing or painting it, and Courageous heARTS, an educational art collective, also got involved. (Courageous heARTS was at the time across the road from 4200 Cedar but has now relocated to a larger space on 38th Street in the Standish neighborhood.) There were several big community painting days when any community member could come by, grab a brush, and fill in some painting. The 4200 Cedar mural, which is titled Waves of Change / Oleadas de Cambio, was begun in July 2014 and completed some time in 2015. You can see a film about it at the Forecast Public Art Review website / Artist Services / Grantee Projects / 2015 Recipient Olivia Levins-Holden.