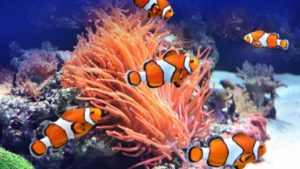 BY DEBRA KEEFER RAMAGE
Southside Pride, well, OK, me, that is I, took advantage of the long Independence Day "weekend" (flexible day Monday, off Tuesday) to visit some alluring businesses that I had heard about lining the mixed residential and shopping hub corridor that is 66th Street, just over the city line between Minneapolis and Richfield. I visited multiple shopping hubs and stand-alone locations, but I am going to highlight three of them.
First, speaking of shopping hubs, there is this one called the Hub, at 66th and Nicollet. The Hub is very suburban in its feel, being a "strip mall" that curls around sinuously in the midst of its huge (by city standards, hardly even big by suburban standards) parking lot. It felt also a little bit rural on the day we visited. There was a massive canopy in the parking lot with some kind of gaudy displays and all festooned with stars and stripes hangings, not actual flags, but suggestive of flags. It gave me a flashback to my time in England, where the provincial working class shopping hubs often have semi-permanent settlements of canopied unlicensed merchants selling all sorts of semi-desirable merchandise. This one turned out to be fireworks, which I should have anticipated, since it was two days before the Glorious Fourth. Fireworks are something that are utterly alien to me, so I briefly routed the displays, concealing my bafflement beneath a politely patriotic facade, before heading off for my real objective at the Hub.
Rainbow Foods. I am still nostalgic for "our" now long-departed Rainbow at Lake and 27th. I had heard praises of this Hub Rainbow, so expectations were high. I approach unfamiliar grocery stores in hunter-gatherer mode, having a secret wish list of the things no longer or never stocked by my usual suppliers of food. On this score, the results were mixed. One food unicorn I am after is an unsalted butter vegan alternative. I am about 0 for 12 on that one and I guess I still am, but Rainbow provided two very near misses—an unsalted margarine that is tasty enough but has whey in it, and a dairy-free new version of a well-known margarine that is lower in salt by half than most of them. One of the other objects of my desire, oddly, was a total strike. They had no imported marmalade at all, let alone thick-cut or anything fancy. The Hub, which opened in 1954 and has seen many changes, nowadays has a few interesting shops to make a visit there worth the trip. There are two small independent diners tucked away in the corner farthest from Rainbow—one Asian and one Mexican. There is a low-cost women's clothing shop called, confusingly, Rainbow. The biggest store after Rainbow Foods is the Michael's hobby supplies store. A lot of anchor stores have closed in the Hub—Hallmark, Blockbusters, and most recently, Hub Jewelers—but it seems to be hanging on with a smattering of less traditional businesses, and also Walgreens and Marshalls for the mainstream needs. Another store there is GameStop, which normally I would check out, but I was headed for something more interesting in that genre of shop.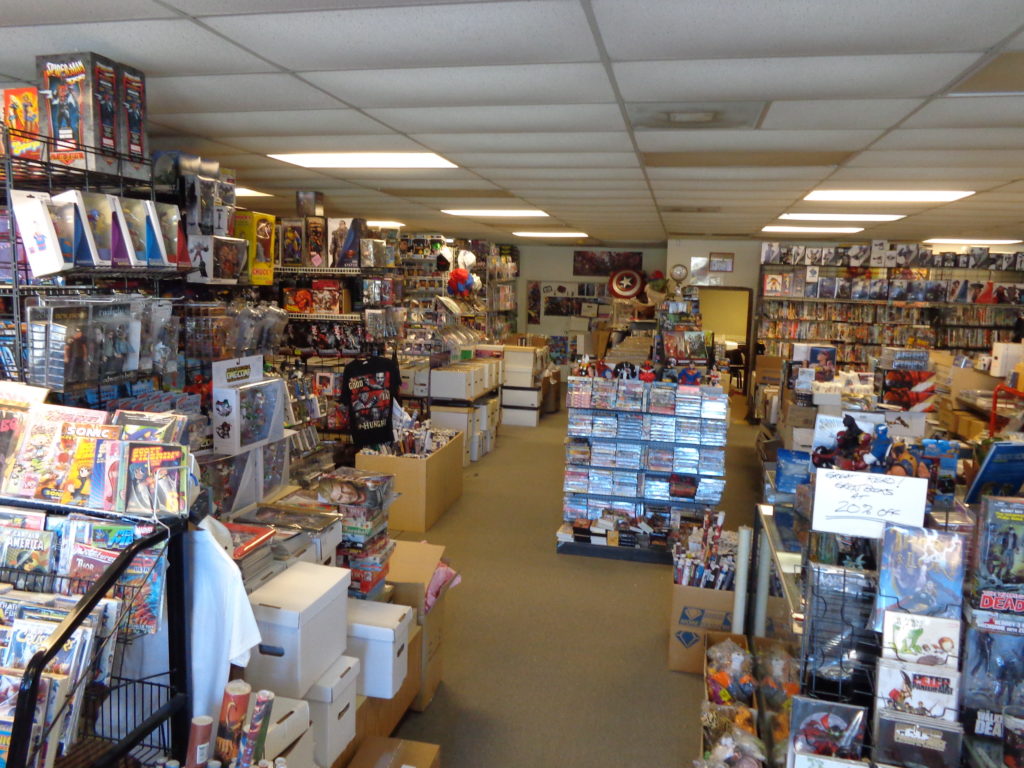 Hot Comics. This was a hit; a few impulse purchases were made. Hot Comics is now the last local chain of comics and collectibles (and a few books and games) left standing since the sad demise of Shinders. The array of things for sale there is pretty staggering. The chain is small—there are two other locations, one in New Hope and one in Jordan. And the space of the Richfield store (6609 Nicollet Ave. S.) is not huge, but it is fully utilized. Premium comics and graphic novels, including, I promise you, loads you have never heard of, greet you when you come in the door. Around one wall are the current comics, and where they finally run out, hundreds of them, the collectibles continue to line the opposite wall. In the center of the store are racks of more quirky action figures, games, books, back issues and used comics in boxes, and serials and fanzines for everything from comics to TV shows to classics like Sherlock Holmes. Hot Comics has been around for multiple decades—it had more branches at one time, but they contracted to the present three—and has a loyal following, many utilizing its pre-order system to get reserved issues of their chosen comics. And my purchases, if you're interested, included two Doctor Who serials, a hardbound B&W graphic novel by Ian Rankin (!) and a quirky issue # 1 of a new comic. Because I love exploring new things. Which leads into my third and final shop visit.
A World of Fish, 1516 E. 66th St., just west of the Bloomington Avenue roundabout, is a Richfield legend. It's the best aquarium store in the metro area. It was founded in 1974 as a single room shop carrying tropical fish, and grew into its present size, that of a small bungalow, with multiple rooms. I got a tour from a very helpful and knowledgeable sales associate, who brimmed with information about the fish, the corals, the business and the history of the store. You should visit, because I really can't convey in mere print the intriguing experience. From the outside, the shop looks very downmarket. It sits close to the road and is surrounded by empty fields dotted with a few other businesses. Inside, however, it is stocked to the gills and humming with life. There is a room of just corals and live plants. One of tropical fish, all the usual suspects and some weird ones. Another room of saltwater aquaria, where I learned about the effect of Disney movies on the aquarium trade and saw a rainbow of clown fish. And there is quite a large koi tank, with healthy, sleek koi in various shades of orange and red. The young man giving me the tour told me that their offerings range from a simple startup aquarium with plastic plants and few fish to advanced requirements for advanced and experienced aquarium owners. He said they saw a lot of families where the kids were just getting out of grade school, and the parents maybe had fish when they were kids, and got nostalgic for it. (And I can attest from my own experience, keeping fish is a great family participation hobby.) We stopped by the cash register to admire and discuss the betta fish (those pretty ones that will fight each other to the death if you put two together, though they are fine with other fish). I got a chuckle at one aquarium where I spied a bright orange crayfish, and my tour guide pointed out a blue one lurking behind the aerator. The sign on the tank advertised Red Lobsters and Blue Lobsters. Do they ever eat the fish? I asked. Of course, but we just tell people to keep them well fed and put fast fish in with them. That's nature for you, "red in tooth and (lobster—really crayfish) claw."