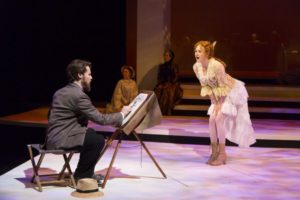 BY ADAM MICHAEL SCHENCK
Theater composer Stephen Sondheim is known as iconoclastic because his musicals do not lend themselves easily to memory. One won't find oneself humming the songs from the Guthrie's production of "Sunday in the Park with George."
Multiple catchy tunes are the expectation for the musical, but Sondheim offers his audience complexity in both feeling and form. This Joseph Haj-directed production is by turns maddening, brimming with bravura, and epic—in other words, true to its creator, Sondheim.
More accurate would be the plural "creators." In the early 1980s, James Lapine taught design at Yale. Lapine collaborated with Sondheim on "Sunday in the Park with George" through fictionalizing French new-impressionist Georges Seurat and his 1884 masterpiece, "A Sunday Afternoon on the Island of La Grande Jatte," which portrays the various social classes of late-19th century Paris enjoying a park near the River Seine.
The plot of the drama centers on the artist's dedication to his craft, which conflicts with his human relationships. Randy Harrison of "Queer as Folk" fame portrays George with presence and gravitas, while Erin Mackey skillfully portrays George's mistress Dot. Mackey's impressive vocal on the opening number, with her staccato elocution, struck me like the work of a talented rapper's. "How can she do that?" I thought.
The maddening element comes as we enter this large cast's interpretations of the painting's many figures. My co-critic, interlocutor and better half, Rebecca Halat, commented on the difficulty of caring about the fates of the various characters.
This is not to say the cast missteps. South Minneapolis native Emily Gunyou Halaas shines in her comedic portrayal of the proverbial ugly American, and the many cast members fill out the Wurtele Thrust Stage energetically. Musicians led by Mark Hartman never miss a beat.
Simply put, Harrison's George and Mackey's Dot do not find the pathos that won a Pulitzer Prize for the play in 1985. The original run had Mandy Patinkin and Bernadette Peters in the lead roles, both of whom have had storied careers on stage, film and television.
What is not difficult to pinpoint—if I may point out a pointillist pun—are the high production values that the Guthrie brings. Light and visual design (the former from Jane Cox and Caite Hevner, the latter from Jan Chambers) comment on Seurat's oeuvre with aplomb. I was convinced that the production had merely copied and projected the canvas that gives this show its title, but the show's program shows how Laura Hohanshelt and Denise Dooley recreated the masterpiece dot by neo-impressionist dot.
After an intermission, I was surprised to see the play change setting from 1884 to 1984. The artist's internal conflict finds new expression in the cynical and venal Go-Go Eighties, but costume designer Toni-Leslie James puts shoulder pads on characters from whom my partner and I already felt distant. Gone was the somewhat interesting love triangle and in was Aqua Net hairspray. I expected satire, yet the second act offered more deep ruminations on the artist's role, purpose and craft. Yet, by the end the compelling parts of this production did not add up to a satisfactory whole.
Georges Seurat and his mistress, Madeleine Knobloch, and the many characters of "Sunday," both of this musical and the painting, were all French—a people who take pride in their language and culture famously to the point of insufferability. Director Joseph Haj and creators Sondheim and Lapine create in this play a conflict between the demands of work and life—not art and life.
The delineation may seem minor, but not to a French person, who envisions life in its totality as a work of art.
In the final analysis, the problem with "Sunday in the Park with George" is simple: It places an American vice—overworking oneself—on a French story.
"Sunday" imagines its characters as American instead of French, and forces American themes onto what should be a French story. Randy Harrison's George character works too much, like we contemporary Americans do. I find it unlikely that the Frenchman George would neglect his personal relationships because of his devotion to work. Harrison interprets George as a meek up-and-coming artist. If George is a true Frenchman, then he would neglect his relationships perhaps because of a titanic ego and an overwhelming need, not because he is devoted to round-the-clock work.
Georges Seurat and Madeleine Knobloch were real (French) people who both died in their 30s. Seurat died of an unknown illness and Knobloch died of cirrhosis of the liver, a disease common to alcoholics.
In "Fear and Loathing in Las Vegas," Hunter S. Thompson inscribes the imperative of the writer: to "cover the story, for good or ill."
It may have been the creators, or this production team, but somewhere the story got lost.
Why? Seurat and Knobloch died not of being too American, but of being too French.
"Sunday in the Park with George" runs from June 17 to Aug. 20 at the Wurtele Thrust Stage at the Guthrie. Find guthrietheater.org for information.
Contact Adam at [email protected].
PHOTO CAPTION: Randy Harrison (George), Emily Gunyou Halaas (Nurse), Christine Toy Johnson (Old Lady) and Erin Mackey (Dot) in the Guthrie's "Sunday in the Park with George"
Photo by T Charles Erickson