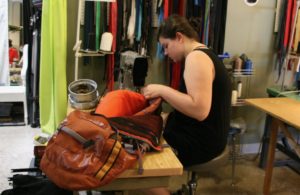 BY STEPHANIE FOX
A camping box, made out of a wooden file drawer, has just arrived at the Repair Lair and owner Nancy Ford is checking each item. One piece catches her interest. "It's a massive cook set with a one-burner stove," she says. She turns the stove over in her hands. "This is cool. It's a 413G camp stove. It's older than me. They stopped making these in the 1970s. And it uses LP gas fuel, unavailable anywhere."
The antique stove, she says, could be sold to a collector. Some of the rest—a lantern, some small folding camp stools and a few pieces of cooking equipment might end up on the sales floor at her shop.
The Repair Lair is a tiny, cramped consignment store near the corner of 33rd and Lake Street in Minneapolis, specializing in reused and refurbished outdoor and camping items. The consignment side brings in about 70% of the shop's revenue. The other 30% comes when customers bring in damaged or worn items for repair. Ford prides herself on being able to mend items that others won't even attempt. A sign hang above her desk that says, "If it's broke, fix it."
Ford and her staff repair backpacks, coats, boots, tents, sleeping bags—pretty much anything outdoor related. If they can't fix it themselves, they'll call around until they find someone who can.
She grew up sewing and has hired staff members who know their way around sewing machines. It's a special skill, she says. "Either you know how to work in three dimensions, or you don't." Customer Eban Korolera is a regular on the repair end. "I bring in all my clothing for Nancy to fix," he says.
The shop also carries new and nearly-new high-end outdoor gear, brands like Gore-Tex and Patagonia, but at steep discounts. You can find a $400 jacket for half the price or better, part of Ford's idea that loving the outdoors belongs to everyone, not just the well-to-do.
"People bring in cool stuff," Ford says. "We get a lot of regular stuff, but a lot of stuff that's unusual. We get things that have been sitting in people's attics for 30 years."
Mostly, people drop off outdoor clothing and equipment. You can find backpacks and sleeping bags, purses, coats, pants, shoes and boots, bike gear, lanterns, kayaks and even cowboy hats. Consignors get 50% store credit or 40% if they want cash.
"I used to work at Thrifty Outfitters," the discounted and closeout retailer located above Midwest Mountaineering, a popular Minnesota outdoor gear shop in Minneapolis. But, she says, "I got sick of selling people stuff they didn't need. It got harder and harder to work that way. The outdoor industry perpetuates the myth that you have to spend lots of money. You don't."
The Repair Lair has been open for only three years, but they're doing well, Ford says. She's never owned a retail business before, but during her college days, she'd scout charitable secondhand stores for cheap (but quality) items, then take them to consignment stores for resale and profit.
During an earlier life, Ford tried a variety of outdoor jobs: working as a deck hand on the Mississippi River in St. Paul; drilling core ice in Antarctica for use in scientific research; a couple of summers with the U.S. Forest Service as a fire fighter. "I never actually had to fight a fire," she says, "which is a good thing."
But, she says that it was a natural fit for her to run a successful retail consignment and repair operation. "I brought a unique skill set. I know the resale business and I know how to repair things."
Repair Lair has a bit of a social atmosphere; it's kind of a neighborhood hangout. It's busy, even on a Thursday afternoon, when the store is filled with customers and friends. Lucy, Ford's Redbone Coonhound and Australian Shepherd mix, hangs out under the clothing racks. Anyone who enters is offered a cup of espresso or some fizzy water. Ford seems to know everybody's name, part of her success.
Recently, Repair Lair got a write-up in Outdoor Magazine, which called it "the coolest gear repair shop in the U.S."
New customers—a mom and a couple of kids—come in, having heard about the shop while camping in the Apostle Islands a week before. The group shops for jackets and ends up taking one home with a promise to return the next time they need gear.
Another customer comes in looking for a sleeping bag. Ford shows him a higher-end $60 model, but that's too expensive, he says. "Well, how much do you want to spend?" Ford asks him. His limit is closer to $20. She finds him one and he leaves happy.
And then there are the regulars who come in simply to socialize. Mike Handley, a gaffer at the nearby Tasty Lighting Supply and Acme Stage, sips a cup of free coffee as he jokes around with Ford and the staff, at least until the place gets busy. "It's a place to chill out, to chat and have a laugh. She's really very funny," he says. "This is an easy place to hang out.
PHOTO CAPTION: Maria Dimeglio repairing a backpack