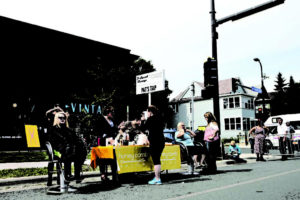 BY SARAH LINNES-ROBINSON, KFNA EXECUTIVE DIRECTOR
Roll and rock down Nicollet Avenue Sunday, Sept. 24, from Kmart to 46th Street between 11 a.m. and 5 p.m. for a two-mile celebration of our main street, with activities, music, food and more!
Organized and hosted by the three-neighborhood partnership of Kingfield, Lyndale and Whittier, Nicollet Open Streets has grown into our largest annual festival. Last year this event brought out more than 100 businesses and nonprofit organizations and over 15,000 people. To get ready for this year, the Kingfield Neighborhood Association (KFNA), Lyndale Neighborhood Association (LNA), and the Whittier Alliance have been working for months with Our Streets MPLS, as well as with local businesses and nonprofits, to bring the best of our neighborhoods to you. Although the event may be getting bigger each year, we seek to continue local involvement, so you will see many of your favorite local community partners along the route. So, pump up your tires or put on your walking shoes (or maybe your dancing shoes?)— as the street will be closed to motorized transportation— to see what's great about our neighborhoods from a totally different perspective.
Activities for the day will include live music, multiple stages and activities graciously hosted by our local event sponsors including:
Kmart and Wells Fargo Kids Zone: Nicollet Open Streets wouldn't be possible without neighbors like Kmart and Wells Fargo. Each year both businesses make the largest financial contribution to Open Streets, and Kmart (and the City of Minneapolis) are opening up their parking lot to extend the fun across Lake Street with a children zone, skateboard demos, bike polo and more!
Five Watt Coffee Stage: Swing by the Five Watt booth for a delicious cold press or stop in the shop to taste a selection of sweet and savory open-faced toast, with a side of serious jams. Five Watt is hosting Five Thousand Watts of LIVE MUSIC featuring Zak "Poppa Bear" Norton, Jeff Ray, Averil Bach and more on their outdoor stage!
Butter Bakery Café with KFAI Radio: Nicollet Ave's most progressive and worker friendly coffee shop is partnering again with KFAI Radio for a live music stage and radio broadcast featuring Daisy Forrester, J. Francis Olson, and Kingfield locals Wilkinson James and Edie Rae, plus others! Be sure to grab a drink and a treat at Butter and support workers' rights!
Driftwood Char Bar Music Stage: One of the City Pages' "Best Underrated Hipster Bars," our best little juke joint on Nicollet, is serving up great burgers and great music at Open Streets, featuring Sunday Funky Sunday Band and James Loney & Lolo's Ghost!
Hola Arepa's dance party: Hola hasn't forgotten their roots as an outdoor food truck, and every year at Open Streets, Hola flings open their doors and moves the party back outside for the hottest south-of-the-border drinks and coolest dance party along the route!
Ramen Kazama Rama: Ramen—it's all they do—except at Nicollet Open Streets! Lyndale Neighborhood's own little corner of Eat Street hosts a live music stage from noon until 7 p.m., featuring Vaz, Murf, Citric Dummies and some of the tastiest music along the route!
Nicollet Ace Hardware Petting Zoo: They have fidget spinners and pony rides! What else can you ask for on Nicollet Ave?! Stop by our favorite Ace Hardware to say hello to the new owners, Sam and Elena, pet some animals and check out their parking lot sale!
Be sure to visit the Facebook event page "Nicollet Open Streets 2017" to see the full lineup of all the bands on all the stages, as well as a complete list of special performances.
Also not to be missed: physical and mental health stations by lots of great partners, including the Blaisdell YMCA, InnerCity Tennis, Wellness Minneapolis, The Aliveness Project, and Yoga Sanctuary; a myriad of movement teachers and free classes brought to you by independent professionals who teach at the Center for Performing Arts; archery at MLK Park; the MG Museum curated by Quality Coaches; and a shared stage for candidates running for mayor, 8th Ward City Council, and the Park Board with the Theater of Public Policy. Plus, of course, our many fabulous restaurants will offer up their great street food and drinks.
Returning to the 3400 block of Nicollet: A local artist fair, with 10-by-10-foot spaces rented to artists for $30. We hope once again to reflect our community's love of art while providing local artists an opportunity to showcase their work. Applications are available at kingfield.org, and should be submitted with payment to [email protected].
More than 120 volunteers will be needed on Sept. 24 to help with all aspects of the event—crews to set up, intersection monitors, info booth sitters, neighborhood representatives, photographers, roving ambassadors (and cleaners), and volunteer leaders. If you're interested in volunteering, contact Aryca at the Lyndale Neighborhood Association, who is coordinating volunteers for the day of the event. E-mail or call at [email protected] or 612-824-9402 x 14.
As we get ready for another Nicollet Open Streets, we would like to give a special shout out to those local businesses that are taking it a step further and have made donations of cash and in-kind support; their contributions help cover the cost of port-a-potties and promotions and support the months of work that KFNA, LNA and the Whittier Alliance put into organizing the event. Our Event Sponsors have offered significant financial backing to make this event possible, while Neighborhood Sponsors are contributing musical staging, bands and hands-on activities. Be sure to tell these local businesses "thank you" when you visit them in the coming weeks, or when you see them at Nicollet Open Streets!
[The idea for Open Streets came from a young Colombian radical trained in the U.S. during the '60s, who went home to fight the growing tide of excessive motorized traffic and unlivable urban areas. Jaime Ortiz Mariño and a pro-cycling organization, along with Bogota's Transportation Department, convinced the city to close the streets for the first time in December of 1974. Citizens happily took over urban spaces previously the exclusive domain of motorized vehicles. In 1976 Bogota's Mayor Luis Prieto Ocampo signed the decrees that made cyclovía (cycleway) an official program promoted by the city government. Today certain main streets of Bogotá, Cali, Medellín and other municipalities are blocked off to cars for runners, skaters and bicyclists. Stages are set up in city parks. Aerobics instructors, yoga teachers and musicians lead people through various performances. Bogotá's weekly ciclovías are used by approximately 2 million people (about 30% of the population) on over 120 kilometers of car-free streets.
According to the PeopleforBikes website, Open Streets in the U.S. "have evolved into community celebrations that include people moving in any way that is non-motorized—walking, jogging, rollerblading, skateboarding, dancing—and usually add in classes, booths, food, and activities for kids and adults of all ages." Open Streets have spread throughout Mexico and Canada, Central and South America, Australia, New Zealand and Europe.
Cars are big. In comparison, bikes are small. A guy writing on the PeopleforBikes website says, "… there's something exhilarating about riding your bike RIGHT DOWN THE MIDDLE OF THE STREET and once you try it, you want to do it again."]
Event Sponsors:
Butter Bakery Cafe
Hola Arepa
Kmart
Ramen Kazama
Wells Fargo
Driftwood Char Bar
Five Watt Coffee