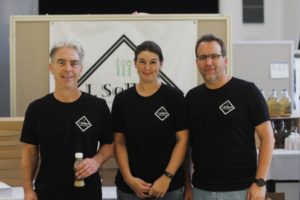 BY DEBRA KEEFER RAMAGE
Matt Clayton is describing how things are now at J. Selby's, which is buzzing around us even though it's their Sunday "quiet hour" from 2 to 3 p.m. when the kitchen changes from brunch to dinner and you can only order drinks and dessert. But to make the point, he switches back to the previous topic, the long 14-month path from concept to opening. "You know, when I was going to banks and asking for loans for this place, I got a lot of pushback from a lot of overweight, white male, middle-aged bankers. They said it was a crazy idea, there wasn't enough demand." He smiles ruefully and shakes his head. Clearly, those guys were fools. The demand has been overwhelming. I remember the palpable yearning in the vegan community throughout the Twin Cities for the place to open, and the gleeful rush to try it out when it finally did open in April of this year. In fact, after the first week brought eager hordes that they simply didn't have the infrastructure to serve, the restaurant closed again for a week to hire more staff and train for the large crowds. And then the only other plant-based restaurant in town, Minneapolis's Reverie, was forced to close this summer. J. Selby's probably seats fewer than 100 people, and they don't even have a parking lot. In short—demand? Are you kidding? The Twin Cities could use three or four more J. Selby'ses, and still there would be demand.
Matt and his life partner, Chloe, came up with the concept for J. Selby's in early 2016. At that point, the couple had been vegan for about three years, and, as Matt says, when they went out, they usually had to order the same thing, since most Twin Cities restaurants only have one totally plant-based meal on offer, if that. But they knew from the start that they did not want the usual "vegan restaurant," such as they experienced in other locales, which might be a delight to vegans, but which can be off-putting to their omnivore or flexitarian friends. "Most of them are 'quirky,'" Matt says, in a tone making it clear that that's not a good thing for a restaurant. He says they wanted to be more mainstream, and they avoid the term "vegan" for the most part, using the friendlier and more positive "plant-based eating." They found an enthusiastic collaborator in their chef, Rick Berdahl, who was already moving toward more plant-based cuisine for his own reasons, and being a passionate traveler who likes to sample the local food, he saw it as a challenge to borrow from various cuisines, make food everyone wants to eat, and still keep it 100% plants.
How did this end up looking in practice? Pretty appetizing, if the almost too-much-to-keep-up-with sales are any indication. Various methods were used to "trial" the food selections before the final menu and the grand opening. There was the tried and true "tasting event"—a couple of them in fact. For the plant-based soft-serve ice cream, Matt tells me they picked a strict critical sample group—omnivore construction workers (presumably the guys remodeling their space? I forgot to ask). Their panel liked a lot of the coconut-based ones, but said they were "good coconut ice cream." Not good enough. They didn't want it to TASTE of coconut. They finally settled on a soy-based soft-serve made in Chicago. There are two menus—a brunch menu for weekends from 8 a.m. to 2 p.m., and a main menu for all the rest of the times. At all times, drinks and desserts are available, even the period from 2 to 3 p.m. on weekends when the kitchen closes temporarily. About half of the menu consists of plant-based versions of diner classics like pancakes, sausage, bacon and biscuits with gravy on the brunch menu, and cheeseburger, chili and nachos on the main menu. The other half are very mainstream takes on some of the most popular vegetarian stand-bys—the vegetable brown rice bowl, "Buffalo" cauliflower, and a couple of tofu scrambles on the brunch menu. Most of the popular drinks are available, such as wine, beer, kombucha, Tiny Footprint coffee, and a super puckery lemonade that will really wake you up in the morning. (I like lemonade with my brunch, and I don't like it sweet. This was a very pleasant surprise.) They also carry a line of "dry" sodas called GuS which stands for Grown Up Sodas and wine—in cans.
J. Selby's has additional "social good" projects going on besides plant-based eating, as well. One of the first things you notice that's different about this place—no tipping. The workers are all paid a living wage. Another piece emerges when you scan the menu—the Community Bowl. This does not have a fixed price—it's pay what you can, between $2 and $9. It's a meal in a bowl (they have several of those, including the extremely yummy Asian Bowl, which I tried on my first visit) based on the most affordable plant-based protein—rice and beans. And then there are the "tokens"—a brain wave of Diane, one of the staff. At the Creamery Co-op Cafe, one of the few other no-tipping establishments, if you really want to pay extra (force of habit?) you can round up your bill to the next nearest dollar and contribute it to a monthly charity. At J. Selby's, it's more direct. For an additional $5, you buy a "token" that can be redeemed for a Community Bowl, and then either "pay it forward" (where J. Selby's passes it on for you) or give it as a gift or whatever. Also the restaurant sources as much as possible from local growers, including urban farms Shared Grounds and Spin City, and also as much as practical uses organic ingredients, and controls waste, using recyclables and compostables. And I couldn't help but notice—that wonderful tart lemonade? No straw! Yes!
Plant-based eating is a social good in more ways than one. Experts cite at least three compelling reasons to avoid eating animal-based foods: moral, environmental and health-related. Matt, who was a surgeon for many years before a health issue forced him to change careers (you can read all about this on the J. Selby blog), initially came to plant-based eating for the sake of his own health. He relates how the first wake-up call was when he was running a half-marathon, and struggling a bit, and was passed by a runner in a T-shirt that said "Powered by Plants." Soon after this, he saw the film "Forks Over Knives" in which he discovered that his medical training had left out a lot of stuff about diet, which led him to take some professional training in plant-based nutrition. As far as the other two banners, I suspect the groundwork was already laid in his outlook on life to take them up as well—the moral case for not slaughtering millions of animals per day after forcing them to live in the cruelest of conditions, and the environmental case that says animal agriculture as a sector contributes more greenhouse gas to the environment than transportation as a sector. I knew we were on the same page when I asked him about the no-tipping policy. He went into a speech about how we Americans are "suckers for hidden costs." He mentioned how gasoline in this country is grossly underpriced. Hey, that's usually my line. No wonder I feel like this restaurant "gets me."
J. Selby's is a great addition to the Selby Avenue scene, and there is some synergy going on with the neighbors. Golden Thyme Coffeehouse and owner Mychael Wright are among J. Selby's friends and allies in what they want the neighborhood to be. Golden Thyme is a main force behind the Selby Avenue Jazz Fest, which caused an even more enormous overflow of customers for J. Selby's this year. J. Selby's shares a building and some suppliers with Tori Ramen, and Matt confides that they (Tori Ramen) have chosen to increase their vegan options due to the pressure of the huge success next door. It's a good kind of stress, and a good set of problems, to have.