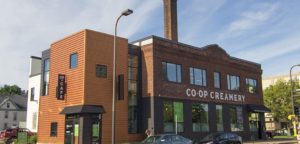 BY DEBRA KEEFER RAMAGE
Creamery Co-op Cafe
2601 E. Franklin Ave.
Minneapolis
Food co-ops may not come to mind as your first choice when looking for a place to eat where you don't have to do the dishes. But that should maybe change. Seward Co-op offers not one but three options for getting a tasty healthy meal.
The Co-op Creamery Cafe is the most like a basic restaurant experience. It has a similar setup to Birchwood Cafe and other popular casual dining options in South Minneapolis—order at the counter, then get table service. But the radical difference for CCC is—no tipping. The Cafe is one of the few pioneering venues in the Twin Cities for this idea that dates back at least to anarcho-syndicalist pre-Civil War (Spanish, that is) Barcelona. Servers, like all staff, are paid a living wage and the prices include the cost of service, not as a "service fee" but as part of the normal price. Servers as normal workers, what a concept! If at first you get a touch of sticker shock at the CCC, just wait till you pay your bill (round up to support the cause of the month) and compare to the final bill at a comparable restaurant. You may come out ahead.
One proviso—for dinner dining, the CCC is not available Sunday through Tuesday, when it shuts at 3 p.m. But Wednesday through Saturday, 3 p.m. signals the start of a three-hour happy hour, offering $1.00 off beer, cider and wine and sharing plates, and then the cafe is open until 9 p.m. And there are other cool specials—Wednesday has free premium ice cream for kids with the purchase of a kid's entree. Thursday, all day, is Owner Appreciation and if you're a Seward Co-op owner, you get a 15% discount. Saturday night is Date Night, when a couple can get a full meal with beer or wine, a sharing plate, two classic entrees, coffee and dessert for an all-in $50.
But what is the food like? It is very healthy, but also very tasty. Each day features a scramble, a breakfast sandwich, a farmer's salad, a fruit salad, a fritter, a kebab and a slider that changes ingredients with the seasons. The fritter, kebab and slider are part of the Sharing Plates menu, which also includes hummus and tacos. The salads menu also includes a simple green salad and a Caesar salad, classic except for the inevitable bacon. A majority of the ingredients for the whole menu are locally sourced and mostly organic. Local beers and ciders, and other drinks such as Kombucha and Nitro Cold Brew, locally roasted coffee, and baked goods from Seward's own bakery are always on offer. The Classics Menu is dominated by breakfast (which like all the menu, is served all day) and includes, besides the basic eggs and the daily scramble, Vegetarian Hash (a big favorite of mine and many omnivore friends), Chilaquiles, Chicken Tinga (a tortilla dish), French toast, and a Soba-noodle Stir-fry that can be served vegan and plain, or oomphed up with tofu, or chicken, or pork belly. The Sandwich Menu includes such intriguing offerings as a Smoked Beet Reuben and a Pork Belly BLT, as well as traditional fare—a big beautiful burger, a mushroom melt, and an elegant take on the Philly Cheese Steak.
At my last visit I had a very late breakfast of the Breakfast Hash (which comes with one perfect sunny egg) plus an oatmeal cookie and a huge pot of organic hibiscus tea. The Breakfast Hash is commendable for being not over-seasoned. The plate is ringed with one of the most delicious hot sauces you've ever tasted. The hash itself is the country style with big chunky potatoes and also includes broccoli, onions and mushrooms. It was all perfectly prepared and presented. I have sampled on previous visits the Smoked Beet Reuben and the daily slider, which was a crab cake on that day, and they were also very nice. The ambience is lovely—quarry tile floors, comfortable spacing and low noise levels, and big windows opening on to the Avenue and the side streets. There is also a seasonal patio, which is set back and shielded from the street, a practice of which I heartily approve.
The other options for co-op dining out are the hot bars and deli offerings at Seward's two retail stores—the original Franklin location at 2823 E. Franklin Ave., and the Friendship Store on East 38th Street, across the street from Sabathani. Both locations have an in-store eating area and an outdoor patio in season. Hot bar and deli food can be bought to-go, of course, but you can also eat in and you can "save the planet" and use real dishes. Hot bar options change daily and are too numerous to list. But they run to the ethnic tastes of the various neighborhoods served by the co-ops, with lots of Mexican, Ethiopian and pan-Asian flavors, or hot dish, chicken, vegetable medley, pilafs and risottos and mac and cheese. The deli offerings include sandwiches, quiche, pad Thai, sushi and much more. Prices are about average, but again, no tipping and the workers are paid a living wage, so take that into account. For my taste, the Franklin Avenue store has a better selection in its deli section, while the Friendship Store has a more interesting and varied hot bar.
Creamery Co-op Cafe
Dishing it: (ratings are 1-terrible
to 5-excellent)
Friendly efficient service – 5
Food taste – 4.5
Food quality – 5
Food selection – 4
Vegetarian/vegan selection – 4
Social responsibility – 4.5
Bathrooms – 5
Beer and wine, etc. – Y
Liquor – N
Credit Cards – Y
Parking – own lot
Transit/bike/walk accessibility – Y