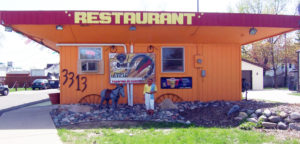 BY DEBRA KEEFER RAMAGE
The Dish visited two casual but popular Mexican restaurants for Part One (la Primera Parte) of our Mexican food exploration and rating report. The first, Dominguez Family Restaurant, is in South Minneapolis and is a full-service restaurant with beer and wine. The second, Andale Taqueria y Mercado, is as the name suggests, a counter service restaurant and does not serve beer and wine. It is located in Richfield.
J, my friend and neighbor who has lived in Mexico off and on over the past decade, came along as my dining companion and expert guide. She is very familiar, both as a cook and as a restaurant patron in Mexico, with a variety of Mexican foods and styles of cuisine. In Part Two, which will happen a few months from now when J gets back from her upcoming latest sojourn south of the border, we will explore more upscale and formal Mexican places.
At Dominguez, we were seated and immediately supplied with a basket of warm, homemade tortilla chips, wonderfully fresh and neither greasy nor overly salted. These were accompanied by a simple and not too spicy red salsa. These were complementary, and a very generous portion, and we decided to pay the modest additional price to add guacamole. J was surprised by the guacamole. Her own, which is excellent, is a fairly complex mixture of perhaps a dozen ingredients, but this seemed be just roughly mashed avocado with only a pinch of salt and a squeeze of lime. I can be quite a minimalist in my food tastes, so I loved it and I'm afraid I hogged more than my share of it.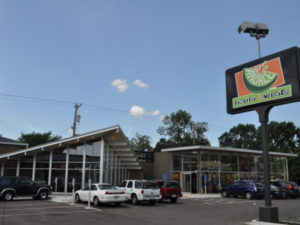 For my entree, I had a chili relleno, stuffed with cheese and topped with a piquant but not intense salsa verde—the vegetarian option. Again, the dish was neither greasy nor overly seasoned, and we both liked it a lot. I accompanied my meal with a drink called the Jamaica (pronounced Ha-Mike-Uh), which is a sweetened, iced hibiscus tea. It was also sweetened with a very judicious hand; J says the ones in Mexico are usually far sweeter, but I liked it just as it was. J, who had had a bad experience at this place once before and was not expecting much, had a vegetarian chimichanga. It was topped with what appeared to be the same salsa verde, and the pleasant surprise here was the interesting mix of veggies in the filling, which included chopped asparagus! J was rapidly re-evaluating her opinion and ended up enjoying every part of the meal. Both entrees were accompanied by refritos and Mexican style rice, both of which were totally acceptable. Even though we were very replete at this point (in fact I felt ready to pop) we wanted to try the menu's promised tres leches cake. Alas, they didn't have it, so we split a fried ice cream instead. This was sort of deconstructed, and served in a sundae glass with a drizzle of chocolate syrup over the whipped cream. Under the whipped cream, you had a middling-to-superior brand of vanilla ice cream, a simple "breading" of mostly corn flakes, and light swirls of more chocolate syrup and the very luscious caramel sauce called dulce de leche. And no fakey red cherry—more minimalism greatly appreciated. All in all we agreed that Dominguez was a great success.
Andales Taqueria is more casual and perhaps also more "authentic." Both restaurants had some apparently Mexican patrons dining there, but at Andales they predominated. Andales menu includes a lot of the dishes less familiar to gringo diners. Among the offerings we did not sample, but saw Mexican diners enjoying, were pozole (pork or chicken hominy soup, which J has cooked often), menudo (honeycomb tripe soup) and molcajete (a variety of meats on a bed of cactus leaves with a whole onion bulb and grilled queso fresco). J ordered two tacos: lengua (tongue) and a fish taco. There are no vegetarian tacos here. All the meaty meat ones come on two small corn tortiallas, soft, not fried, and are garnished with cilantro and onion. The fish taco is battered cod with mozzarella, lettuce and pico de gallo. I sampled that one, but not the tongue. J said it was excellent and tasted just like in Mexico. She had an Agua de Tamarindo to drink. I decided to try the served-all-day breakfast menu. I had huevos a la Mexicana, a simple dish of scrambled eggs with finely chopped jalapeno, tomato and onion, accompanied by the ubiquitous rice and beans and a stack of lovely warm and steamy corn tortillas. I decided to put the cutlery aside and eat the food using a torn piece of tortilla as my utensil, which I highly recommend. I drank a horchata with my meal, which was so sweet I couldn't finish it.
After our meal, we visited the adjoining Mercado and window-shopped. They have every single Mexican ingredient J was looking for, and some that were kind of new to her. Basically this is a good place to learn mammalian anatomy, comparing, for instance, the relative sizes of cow's versus pig's feet. You will also see goat, rabbit, octopus and other meats less common here in El Norte, as well as giant pastries, an array of Mexican dairy products, and exotic soft drinks. One warning—neither of these restaurants, nor the Mercado, have anything at all to offer a vegan. Well, that's a slight exaggeration. The produce section in the Mercado is quite good for its size, and the rice and beans and spices are affordable. So there's that. In Andales a vegan could order bare nacho chips and guacamole and any of the three soft drinks. I am pretty sure the rice and beans have chicken bouillon in them. Vegetarians OK with dairy have a slightly better selection, but only slightly. Dominguez, though it has less choice overall, has a slightly better profile for lacto-vegetarians, offering a cheese option for almost all dishes, unlike Andales Taqueria.
Dishing it: (ratings are 1-terrible to 5-excellent)
Dominguez / Andales Taqueria
Friendly efficient service – 4 / 4
Food taste – 4.5 / 4
Food quality – 4 / 4
Food selection – 4 / 4.5
Vegetarian/vegan selection – 1 / 1
Social responsibility – 2 / 1.5
Bathrooms – did not test / 4
Beer and wine, etc. – Y / N
Liquor – N / N
Credit Cards – Y / Y
Parking – own lot / own lot (both small)
Transit/bike/walk accessibility – bike OK otherwise not really / meh, possibly a bus?
BTW, Andales Taqueria y Mercado was favorably featured on the show "Diners, Drive-ins and Dives."