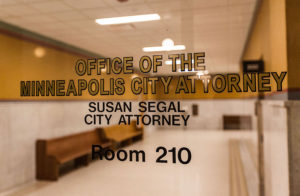 BY ED FELIEN
This is the interregnum—that period between regimes, when the new government begins to organize themselves and the old government packs up and leaves.
The new City Council will be deciding who will be president, who will be majority leader and who will head up the various committees.
One other thing this new council will determine is who will be the next city attorney. They could reappoint Susan Segal or find someone new.
According to a letter from the Minnesota Chapter of the National Lawyers Guild that opposed her reappointment in 2014:
"As City Attorney, Ms. Segal has allowed politics to determine legal advice that she has provided to the City Council, she has sought to restrict public access to government data essential to enable public knowledge of the Minneapolis Police Department, and she has pursued the prosecution of people engaged in political protest in a manner which wastes city resources and threatens First Amendment rights.
"As City Attorney, Susan Segal authored the public legal opinion maintaining that the provision of the special legislation for the new Vikings stadium that raised $150 million through a sales tax increase on Minneapolis residents did not conflict with the Minneapolis City Charter amendment requiring a voter referendum on any stadium funding over $10 million. Segal's legal opinion was critical in convincing city council members to approve the special legislation.
"In 2013, Ms. Segal's office insisted on prosecution of renowned American Indian Movement leader Clyde Bellecourt on a charge of trespass after he peaceably observed an Idle No More event and remained at the IDS Center to drink a cup of coffee. Even after a jury refused to convict and a mistrial was declared, Ms. Segal's office vowed to continue with the prosecution until finally dismissing the matter prior to trial a second time.
"Also in 2013, Ms. Segal's office charged two environmental protesters with gross misdemeanors for hanging a banner off the Washington Avenue bridge. The sole result of this action was to prolong the detention of the two protesters for two days while they were held on probable cause holds. The charges were ultimately resolved when a Hennepin County judge found them to be petty misdemeanors.
"In 2012, as Occupy Homes sought to protect longtime homeowners threatened with eviction by big banks, Ms. Segal used her office to file excessive and unwarranted charges. After protesters had initially been tab charged with misdemeanors, Ms. Segal's office filed written complaints charging numerous peaceful protesters with gross misdemeanor riot charges. These charges were then dismissed in several cases by Hennepin County Judges as lacking probable cause.
"Prosecution policies such as these simply waste limited city resources, seek to punish people for engaging in constructive political activity, and are not consistent with a city government that works in the interest of the entire community instead of for the protection of the status quo and business interests."
In February of this year, members of the Legislative Audit Commission found that Susan Segal's use of tickets to the new Vikings stadium "violated a core ethical principle."
She issued at her discretion opinions against the $15 minimum wage and police insurance charter referenda and fought them in court.
She pursued absurd and punitive prosecutions against civil rights attorneys Rachel Lang and Jordan S. Kushner.
She is currently prosecuting anti-pipeline protesters who unfurled a banner at the Vikings stadium on the absurdly exaggerated charge of burglary.
We believe the new City Council and the new mayor have a mandate to change City Hall from business as usual to a government that belongs to all the people of our city.
We want a new city attorney and a new head of the Criminal Division.
We want a full review of the police reports in the deaths of Terrance Franklin, Jamar Clark and Justine Damond to determine if at any time the civil rights of those victims were violated.
We want a city attorney assigned to handle citizen complaints against police misconduct, to confer regularly with the chief of police to recommend disciplinary action and to publish on the record the disposition of every complaint.
We want justice for all of us.
We believe you do too.