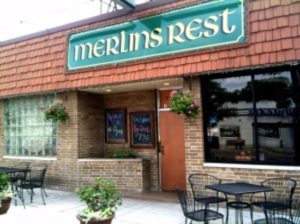 BY DEBRA KEEFER RAMAGE
Merlins Rest
3601 E Lake St
612-216-2419
merlinsrest.com
www.facebook.com/pages/Merlins-Rest/43488676171
Merlins Rest is a Longfellow mainstay and one of four area "pubs" that offer an interpretation of British and/or Irish food along with the beers and booze. Merlins Rest's main claim to fame is its impossibly huge single-malt whiskey selection, which would take you the better part of two years to sample at the rate of one per evening. But if you want to be more selective, they handily provide monthly tastings on the first Thursday of the month. The other two things they are famous for are the frequent and well-curated live music, mostly Celtic in style, and the weekly pub quiz, one of the toughest on the continent. So none of these things are food! And yet this is a restaurant column, so we must speak of food. Fortunately the food there is quite good, whether you're going for lunch or dinner.
The nice thing about lunch at Merlins is it's not quite so full, especially if you go a little later. I went on my own for this visit (all my dining companions are either ill or out of town it seems) and yet was seated in a booth made for six. Another bonus—happy hour prices on many drinks start at noon and run till 6 p.m. That's a pretty generous happy hour. The menu is mostly the same things they have for dinner, just not quite all of them. For instance, I was planning to have a Ploughman's Lunch for lunch, which I had had before, but alas, when I was there, they only had the Ploughman's Lunch for dinner. So I went for the Fish and Chips. I had a little side salad with that which was not actually on the lunch menu, but you can get it if you ask. I was briefly tempted by two other things on the menu. One was the healthy option salad, which is a full meal and changes from time to time. This one had roast chicken, mixed greens, fresh radish and boiled egg. That's a great combination; I know because I make a similar dish at home, on the rare occasions when I eat at home (just kidding). The other tempting thing, which I have yet to try but am definitely going to soon, is the Speyside Pie. The river Spey is a major river in the Scottish Highlands, along which are countless distilleries, so that there is a whole subgenre of single-malt Scotch called simply Speyside. It's also world-renowned for salmon fishing. The Speyside pie does not contain single-malt, nor salmon, but it is quite the sort of thing vegetarians would be offered at a Speyside gastropub—a puff pastry pie filled with a fontina cheese sauce with mushrooms, leeks and white beans and served with a side of "mash" (mashed potatoes) and other "veg" (vegetable side dishes).
The fish and chips at Merlins Rest can be served either British style (salted, vinegared, wrapped in paper) or Yankee style (not), but I don't like to have my food pre-seasoned and there is no point wrapping fish and chips in paper if you're going to eat it right there and it's already on a plate, so I went for Yankee style. (It wasn't going to have mushy peas in either style, which is a shame.) It was good. I think the fish was cod, which is the most popular fish for "chippies" (take-out fish and chip places). The chips were short and not too skinny. Skinnier than British ones, but nothing to complain of. The "pub sauce" was a house-made zingy tartar sauce, very nice on the chips (I don't do ketchup). It was almost too much food for lunch, so "good value for money," as we say in Scotland.
I just want to highlight some other praiseworthy points about Merlins Rest's food. In the U.S., there is an almost 100% tendency to call this dish with ground beef and tomato sauce topped with mash and baked like a pie "Shepherd's Pie." It may surprise you to know that Shepherd's Pie is actually called that for a very sensible reason: The meat in it is lamb. Lamb, like what shepherds raise, yes? It does have mash on top, but so do a number of other "pies" in British cuisine. For instance, fish pie, which is a medley of fish chunks and sometimes boiled eggs in a white sauce. Or stargazy pie, which is a fish pie with whole pilchards (the Cornish name for fresh sardines) poking their heads up out of the mash. Oh, and there actually is one with ground beef and tomato sauce and mash on top. That's called Cottage Pie. And Merlins Rest gets it right! For that reason alone all the homesick Brits and Anglophiles in the Cities should go there! Another point they get pretty close to right is the "pudding," which is what Brits call dessert. They have Sticky Toffee Pudding, although they put custard sauce on it, which is sweetness overkill. In Britain it's usually served with "pouring cream," which is a full-fat cream that isn't whipped or sweetened. Probably you could just pour some whipping cream straight from the carton and get the same effect, roughly.
The only thing I can fault the menu for, reluctantly, because I know it's not easy, is not having enough vegan options. However, set against the many delights of their food, music, whiskeys, ales and entertainments, it's not much to complain of. If I were like a normal restaurant reviewer, and just stuck with the food, it would be all good, but where's the fun of that?
Here's my non-gastronomical quibble. It's the ladies' room. Although there's nothing major wrong with it, and it looks very like many unpretentious "ladies' toilets" in many old British pubs. It has a single stall, the stall door locks, so of course, the outer door doesn't need to. The quibble is, the outer door doesn't really close, as there is no handle inside. Call me too fastidious if you want.
Everything else is super. The whiskey-tastings are a great experience; I have been to one in the past. You have to preregister and pay a deposit. You will have just missed the one on March 1; the next regular one should be April 5. However, on March 15 there is a yearly Irish whiskey-tasting in honor of St. Patrick. Contact the pub through their website or their Facebook page or by phone, see beginning of the article.
Other events of note: Every Monday except the fourth, there is an Intermediate Celtic Jam session at 7 p.m. The fourth Monday of every month is the Pub Sing. Tuesdays, September through April, it's the Blind Darts League, which is self-explanatory. The Pub Quiz, led by "Minister of Culture" Bill Watkins, is every Wednesday at 7:30, no reservations, but it does fill up quickly, so get there early. On the second Friday at 4 p.m. there are Drunken Knitters (drinking optional, knitting, I presume, is mandatory). And every Friday at 9:30 p.m., there is "open stage style" Irish music and Highland Pipers. Saturdays are for pre-scheduled Live Music, with no cover. On Wednesday, March 14, from 6:30 to 8:30 p.m. there's a beer and Bible group for those new to the Bible, new to beer, or well-versed in both—all walks of life and faith welcome. And on St. Patrick's Day, which is on a Saturday this year, the pub opens at 8 a.m. for "brekkie" (breakfast) and has special festivities all day.
In case you've been wondering, a merlin is a type of falcon, and a merlins rest is a place where the merlins rest.
Merlins Rest $$
Dishing it: (ratings are 1-terrible to 5-excellent)
Friendly efficient service – 5
Food taste – 5
Food quality – 4.5
Food selection – 4.5
Vegetarian/vegan selection – 2
Social responsibility – 4
Bathrooms – 3
Beer and wine, etc. – Y
Liquor – Y
Credit Cards – Y
Parking – street
Transit/bike/walk accessibility – on a frequent bus line, very walkable