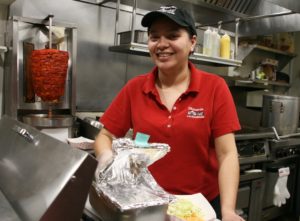 BY STEPHANIE FOX
At the corner of Bloomington and Lake Street is Mercado Central, recognizable by the bright blue awning above the doors and the always-crowded parking lot. The stores, restaurants and other businesses reflect a vibrant, flourishing marketplace. If you come to the Mercado on weekends you will have to weave your way through a crush of people.
The Mercado opened in 1999, guided by the idea of serving the growing community of Latino immigrants not by simply offering Latino goods and services, but by giving hopeful immigrant entrepreneurs a chance to open their own businesses. The building is home to about 35 commercial enterprises and was designed to be what has been called a small-business incubator. The focus is economic progress for the Latino community.
The collaboration came about with the cooperation of the City of Minneapolis, Whittier Community Development Corp., Project for Pride in Living, which helps train and fund new merchants, and the Neighborhood Development Center.
Organizing for the Mercado began in the mid-1990s at Sagrado Corazon church, to help the community overcome the barriers that a new but growing immigrant population faced. The city invested $320,000 though a community development block grant, with $350,000 coming from a federal community services agency grant.
"The idea was born out of community grassroots efforts to empower and open opportunities for Latino entrepreneurs who were eager to establish their dreams for owning their own small business," said Eduardo Barrera, the Mercado's director of economic development and operations. That was an exciting time for the Latin American community, he said. "Back then, there wasn't any one place where community members could purchase the products and services or the foods they wanted," Barrera said. But the 28,000-square-foot building became home to retail shops and restaurants on the ground floor, with offices catering to the community on the second floor. The market, he said, is similar to the small and crowded markets in Mexico.
Since the beginning, the anchor businesses have been restaurants like La Perla, La Loma and the juice bar Reyna do los Jugos. These draw in customers who then start shopping at the retail stores nearby.
Many of the businesses ended up being successes almost from the beginning. Only three years after opening, the Mercado as a whole reached its original sales projections. One restaurant, Manny's Tortas, a Mexican sandwich shop, took in a yearly half-million dollars, allowing it to expand to other Minneapolis locations.
Current tenants include a jewelry store, a bread and pastry shop, a tech store, a shoe shop, a sports clothing shop and a small grocery store, among others. Services include Molina Realtor, Noack Law Office, Progressive Insurance and the Imperios Beauty Salon. One service, Amigos Del Mercado, offers members of the community, especially those with limited ability to communicate in English, assistance in navigating their new lives in Minnesota.
Libreria La Paz, a small store carrying Catholic religious items, is busiest at Christmas and Easter, said Veronica Sanchez, one of the long-term tenants. There you can get statues of saints, holy cards and figures of the baby Jesus or of Niño Salvador Del Mundo.
Reyna do los Jugos is a juice bar with dozens of choices of fresh made-to-order juices, frappes and milk shakes, including concoctions with names such as "The Mexican Vampire" and "Beginning of the Day."
Video Mexico carries Mexican and Spanish CDs and DVDs, gifts for babies and children, as well as specialty candies, said owner Laura Sanchez. Sanchez said she was proud to be one of the original tenants, serving customers for 18 years. "It's a special place," she said. "On Friday, Saturday and Sundays we're very busy with many customers."
Ayde Vasquez sells teddy bears, balloons, party decorations and clothing for the fiesta de quince años (the a celebration of a girl's 15th birthday) and First Communions in her shop, Tienda Jhoaleymat. "These are traditional Mexican dresses, the kind for Catholic festivities," she said. She showed off some other colorful handmade dresses. "These are popular with Anglo customers in the summer," she said.
Mary Castillo, who works behind the counter at Taqueria La Hacienda, likes the Mercado because it gives her a chance to talk with customers. "It's special to work as part of a community," she said. "I like giving customers extra attention."
Taqueria sells a unique specialty, tacos al pastor, a Mexican take on a Middle Eastern shawarma or gyros, originally brought to Mexico by Lebanese immigrants. You can watch the piles of pork shoulder (instead of lamb and beef), roasted on a rotating upright spit, then sliced with the crispy meat stuffed into a taco. "It's our most popular dish," she said. "That's why people come here."
Barrera, director of economic development and operations, said that while most of the businesses that join end up being successful, not all do. "Businesses have cycles," he said. "Sometimes stores make it and sometimes they don't. From time to time we have a space available, but we have been lucky enough to have a very low vacancy rate, maybe 1 or 2%. Right now, we have one space open but are already in conversation with some people about moving in there. I don't think it will be available much longer."
Merchants who sign up are required to take instruction on how to write and implement a business plan through Neighborhood Development Center and receive guidance after that. Businesses focus on Latino culture making it, he said, a destination place for the community.
Since opening, Mercado Central became an anchor for the revitalization of Lake Street and has served as a model for other now thriving new businesses and public market places, including the Midtown Global Market a few blocks down the street, said Barrera.
Barrera sees a continued potential for the Mercado. "We have plans in the near future," he said. "We're beginning a renovation next month, with a very colorful and lively new façade for the outside." There will be a new mural on the Bloomington Avenue side, new painting, a new canopy and new signage, he said.
The changes, it is hoped, will continue to introduce Mercado Central to the larger community.
"We get business from everyone," he said. "We want to see many cultures and demographics come here. We have a lot to offer for everyone."
PHOTO CAPTION: Mary Castillo serves hungry patrons at Taqueria La Hacienda.