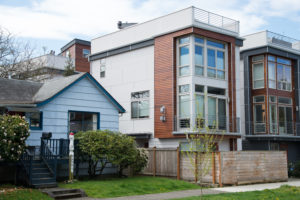 BY CAROL BECKER
The City of Minneapolis is updating its Comprehensive Plan to change the zoning for single family homes to allow for up to four units of housing on a single house lot from Lowry Avenue North to 38th Street.
Currently, higher density housing is zoned along transit corridors, in select locations and in downtown. Most single-family homes and duplexes are zoned so they cannot be converted to this larger housing without a zoning change from the city. The new Comprehensive Plan would allow any single-family home in the inner city to be demolished and replaced by a building with up to four units of housing in it.
In Seattle, new fourplex construction is typically 35 to 45 feet in height and takes up the whole lot from front to back and side to side. In addition, this housing is built without onsite parking, which has increased competition for street parking.
It is possible that the introduction of these buildings has affected the housing market. In Seattle, the median cost of a house is above $775,000. Tearing down single family homes and building fourplexes has possibly reduced the amount of single-family housing available. Also, if most of new multi-family construction is rental property, that means the opportunity for home ownership has decreased.
Given that the median home in Minneapolis is valued at about $275,000, and four condos could be easily sold for $800,000 (and much more in some parts of the city), this would be a goldmine for developers. It is hard to see an easier way to make a lot of money.
One needs to question why this has moved so quickly, in the first three months of the new City Council. Who is funding this pressure for change? It doesn't seem like grassroots advocacy.
For residents who want to provide comment, the city will be taking feedback from March 22 through July 22, 2018. Dates for public hearings are available on the city's website. Input can also be provided via email or on the city's website.
PHOTO CAPTION: Coming soon, next door to you, the Seattle experiment with neighborhood fourplexes / Photo by Navid Baraty