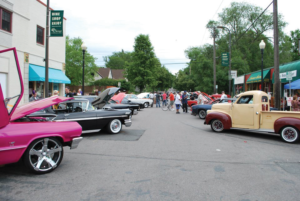 The South Chicago Avenue Business Alliance ("SCABA") will host its 9th Annual Classic Car Show on Sunday, June 10, 2018, from 10 a.m. to 3 p.m.at the intersection of 48th Street and Chicago Avenue in South Minneapolis. As in other years, the car show will feature a wide variety of classic cars and trucks from the 1940s through the 1980s—and hopefully some cars even older than that! Also as in other years, spectators will be admitted FREE to the show! Everyone is invited to stop by and "stroll through the past" while dreaming about the cars from yesteryear!
Mike Kmiecik, president of SCABA, welcomes everyone to this year's car show, which has become a true "summer neighborhood celebration." Kmiecik added that SCABA looked forward to receiving the support of the entire area to make the day a success. He also mentioned that after last year's show was rained out, everyone at SCABA was eagerly anticipating this year's show: "We've only had bad weather one year out of eight—so this year's show promises to be sunny and warm!"
All types of classic cars and trucks are welcome to enter the show, with just a small registration fee per vehicle ($8 preregistration; $10 day of show). Trophies will be awarded in various classes, and door prizes will be given away throughout the day. The car show will feature a "bounce house" for kids, as well as a D.J. "spinning" classic '50s – '80s tunes, plus a "paint truck" for the kids to work on during the show. SCABA is also hoping to again offer a dog adoption exhibition sponsored by the Minnehaha Animal Hospital, in partnership with Underdog Rescue, where people can meet dogs available to be adopted! (Actual adoptions would have to occur at a later date.) Last year's dog adoption exhibition was a big hit —in spite of the rain! Of course, all of that would be in addition to the great restaurants and stores around the 48th and Chicago business node that would be open that day.
Anyone interested in entering the car show should visit the SCABA website at www.48chicago.org for more information. People may also wish to check out the SCABA car show information in the "Events Calendars" in Autoswalk.com or MSRA.com. And, for more information on the dog adoption demonstration, please go to www.minnehahaanimalhospital.com. We hope to see you on June 10!