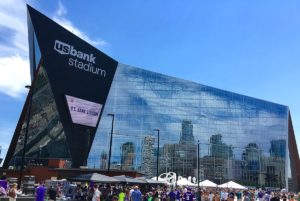 BY DAVE TILSEN
The Eagles beat the Vikings, so I hated the game. Didn't even put up all my banners, hardly had a party. It was more like a morgue at my place than a party, but that's just me. Perhaps you did let your Eagles fly, you ate your Philly cheese steak, took your 20-below zip line ride across the Mississippi with RT, maybe you loved it? I don't know, but here is the take from Scrooge McTilsen.
The Stadium cost $1.2 billion to build, not counting:
• interest on the bonds, which we also pay,
• the park, which the city paid for and might give to the Park Board,
• all of the changes to the freeways,
• light rail,
• downtown streets and
• other infrastructure.
This all is estimated at an additional $80 to $100 million, but who's counting?
The only money in this that came from the Wilf brothers was money they got from somewhere else:
• $225 million from a forgivable loan from the NFL,
• $75 million from US Bank for naming rights and
• $100 million for "seat licenses."
Seat licenses are interesting. The Vikings charged every season ticket holder about a third the cost of a new car for the "privilege" of purchasing a season ticket to the new stadium in perpetuity. Whether this was a third of a Ford escort or a Mercedes depended on if you wanted a nose bleed seat or a front row box, but everybody paid. I guess this was fair, but I wonder how many of SSP readers decided to pony up the $3,000 to $20,000 cost per seat up front? This is in addition, of course to the $3,000 or more annual cost for your season ticket. But anyway, this got us into the lottery for the Superbowl, and we won! (????)
So how did we do? Well if you owned a downtown hotel you did pretty well, they were full. If you worked at a downtown hotel, you had as much work as you wanted for the 10 or twelve days. Likewise for the downtown ground level restaurants pretty near the stadium. Also, most of the hotels in South Minneapolis were full. The Mariott at Midtown Global Market was full, so its employees did well.
What about people that did AirBnb or VRBO or the like? I talked to some friends that do that and they did OK. One person said that they normally rent a room for $75 a night and got $200 a night for four nights during the SuperBowl. The $800 was nice, but it didn't make him rich. Another had a sad story. Her room was booked early in June by a nice couple from Scandinavia. She was not a sports fan and did not realize that the weekend in February was Superbowl weekend and had not adjusted her prices. As a result, this couple got a real good deal, and my friend did not get any windfall at all. There are 1,300 AirBnb and Vrbo listings in Minneapolis, but there are certainly duplicates, as people often list in both sites. I estimate that about 600 of these are in South Minneapolis.
The real story is South Minneapolis restaurants. Any restaurants that are not right in the heart of downtown near the stadium were dead, dead, dead. Locals and regulars did not go out that week because they did not want to deal with the crowds, and the crowds, well, they did not stray far from downtown. Barbette, Burch Steakhouse, Tiny Diner, no restaurant that I talked to had any customers that week. Servers were sent home, less work for lots of people. Another story is the skyway shops and restaurants downtown. They were told by the host committee to staff up, that they should stock up on supplies and they would do well. They didn't. Most downtown business had their people work from home that week, so their regulars were not there, and the out-of-towners, well they never ventured up from the ground floor. A complete bust. Both for the workers, a lot of southsiders, and the owners, southsiders also.
Uber drivers, Lyft drivers, car service drivers, limo drivers—they were busy, when they could figure out the road closures, the security rules—so it was pretty good for them. How many? Well, best guess is there are around 6,000 such drivers in the Metropolitan area. Most of these are suburban, but let's be generous and say there are 1,000 in South Minneapolis. I believe that is high. The claims for what a good shift are range from $150 to as high as $500, but a good chunk of that gets sent back to the company you work for. Anyway, some of our readers did make some money for the few days the rich folks were in town.
Ad hoc entrepreneurs? Unlike at the State Fair you didn't see people selling merchandise from their yards, pop-up store fronts and the like. Why? It was illegal and strictly enforced. The NFL required all municipalities, from Minneapolis to St. Anthony to St. Paul, to St. Louis Park to promise that they would allow no one but the NFL or NFL-licensed businesses to sell any merchandise related to the game or to the NFL within a 10-mile radius of the stadium. No banners, signs or anything. WOW, and our city mothers and fathers genuflected and agreed to that.
They also agreed to give the NFL free golf course clubhouses, free bowling alleys, extra cell towers if they needed them, hundreds of free parking spaces, 20 free billboards, 20 color pages in the local newspapers (not this one) and lots more. The host committee did reimburse the city $7.4 million out of "private" donations for its costs for the event, but it is very difficult to know what the costs actually were. Anyway, whether the whole thing was worth it is really very subjective when it comes down to it, just like the stadium. One server I know well told me she worked a private party of very rich people. It included the Wilf family and an Italian guy who said he was the owner of Ducati Motorcycles. I asked if they tipped well. She shrugged and said not so much. I mean WTF, man? These guys are billionaires, they fly their private jets from Italy, spend thousands of dollars on a ticket to a football game and can't give a fat tip to the local help?
Cities build stadia, going back to ancient Rome right? We need a place to gather, to calm the multitudes, have our circuses, hear our rock stars, attract our athletes. Otherwise we will be a cold Omaha—I happen to have spent quite a bit of time in Omaha and I think it's a real nice city. There are people in this city who are doing fine, and have money to spend on fancy restaurants, expensive entertainments and pocket politicians. I don't begrudge then that, I really don't. The people I live with are working hard to raise their families, to live a good life, to spread joy, survive into the next month. I wish the people who have resources, have power, and make decisions would understand their lives and think about improving the city for all of us. I believe we need to rub their noses into it (figuratively).
Forbes magazine published a study this winter that said that events like the Superbowl and "final four" do not spur investment and are seldom worth the money. Other articles claim as much as a $350 million positive financial benefit. I just couldn't find it, at least not for us.
I did find a negative impact on homeless people. The downtown hospital was closed, homeless people were moved out of parks in the Twin Cities, public transportation was restricted to ticket holders only on game day (really, that's a real thing, you could not get on the light rail without a ticket to the game!), and more. If there was ever a day to shut down light rail, man this was it. If it wasn't below zero, even I might have sat on the tracks.
Anyway, I think a few folks in the hospitality industry might have had a few good days, and I certainly don't begrudge them that, but I know a lot of disappointed people who expected to do a lot better. And the zip line sold out way too soon. That would have actually been fun.