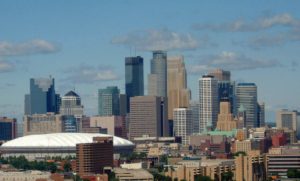 BY LARA NORKUS-CRAMPTON
Look around and it is not hard to see that Minneapolis is being transformed—corridor by corridor, neighborhood by neighborhood. This is a stated goal of the 2040 Comprehensive Plan. We are told that the special permits and upzonings to allow many of these oversized developments are necessary to provide more affordable housing "choices" for current Minneapolis residents—and to make room for new residents.
Once a new upzoned development is approved and built, then it is used as a precedent for the next one. The next one might be on a commercial corridor or adjacent to it on a residential street. But the new "choices" provided by these developments never seem to be as affordable as the existing older ones. And existing apartment buildings and homes are being bought and flipped—and the profit-taking from each sale forces people to pay higher rents or housing costs.
The Metropolitan Council, the regional body that approves all Twin Cities comprehensive plans, states that the goal of housing policy is to "Create housing options that give people in all life stages and of all economic means viable choices for safe, stable and affordable homes."
So what is "affordable"? The Met Council defines affordable housing as 60% of Area Median Income (AMI) for the Twin Cities region—including 16 counties. The AMI, an average of all incomes for our region overall, is $93,400. This would make the housing "affordable" if renters' income was $56,580. "Deeply affordable" is defined as 30% of AMI, or an income of $28,290.
Recent census data states that the median income for black Minnesotan households is much lower than the region overall: $33,436. So even the stated goal of stimulating market forces to simply build MORE to create more "affordable" housing doesn't seem to acknowledge renters with an income less than $28,290. (At this income level, quick math makes the required hourly for a full-time position as $13.60.)
Attend a neighborhood or planning commission meeting and you will likely hear from long-term renters (as I have) having to move one or more times because their buildings have been sold to the highest bidder—making their new increased rents unaffordable. And the speculative dynamics drive rents up with each turnover to a new investor. And this all trickles down to the rest of us. A recent Star Tribune article covered seniors using section 8 vouchers to access affordable housing who were forced out of a Richfield complex and now two years later out of a Bloomington complex because the buildings they lived in were bought and "upgraded" beyond what they could afford.
Upzoning all Minneapolis residential lots for fourplexes
So is blanket upzoning the answer to create more affordable housing? The current city proposal that is part of the 2040 Comp Plan would allow fourplexes to be built on almost any residential lot in the City of Minneapolis. The argument is that more supply will eventually drive prices down. But the city of Seattle offers a cautionary tale. John V. Fox, coordinator of The Seattle Displacement Coalition, wrote a three-part series, "The Density Debate."
"More housing development coincides with more demolition of existing low-income housing. The expensive stuff that gets built adds to our total supply. In fact, since 2005, Seattle has built more than 35,000 new units and reached over 70 percent of its 20-year growth targets. But even at this level of growth, the increased inventory has not reduced prices—in fact, it's just the opposite."
In other words, not all density is created equal. In the case of demolishing existing single family or duplexes in residential neighborhoods to build fourplexes—you can only imagine the costs of tear down and reconstruction. Unlike homes that were rehabbed by middle income people to again become quality housing—the Seattle experience says that upzoning has created more speculation and teardowns of more affordable housing in favor of higher priced new construction.
Rather than preserving and enhancing affordable housing, allowing home owners to build equity while restoring well built homes that could last another hundred years, a new multi-family building would be cost prohibitive to most average income people.
This means that the folks who would be doing the building would likely be speculators simply looking for a profitable real estate project. And if the scale, as advertised, "should" match the two-story height of the surrounding homes, then the square footage would have to be quite modest. According to Apartments.com, the lowest average rent for micro-units in Minneapolis is now $1,278 for a 506-511 sq foot studio. Who does this benefit besides the developer? How do these rent levels impact the costs to renters for other larger existing apartments?
Another consideration should be how these increased property values impact residential property taxes?
But will the speculators come?
The answer is Yes, according to Colliers International. In their 2017 Year End Apartment Minneapolis/St Paul Market Report for potential investors looking for new opportunities, they noted the higher pace of flipping of existing residential properties. "What was once a fairly stable $500 million – $750 million annual sales market has doubled since 2013, without any sharp pullback in sight."
This trend has led to the current record sales levels.
"During the current investment cycle, total transaction volume has increased year-over-year at a rapid rate. 2015 set records with the highest total sales volume in Twin Cities history, hitting the $1 billion mark, which is almost double the historical average. In 2016, total sales volume surpassed $1.5 billion and is currently on pace to exceed that figure and approach $2 billion."
Other reasons that Colliers feels that real estate speculation is a good bet in the Twin Cities is because "The local workforce ranks 11th in the country in terms of education," and the average annual household income "tops the national average by 29%." So the analysis is that Twin Citians should be able to tolerate higher housing prices and subsidize the current speculative real estate frenzy. This calculus obviously leaves out the needs of a lot of low- and even middle-income people and certainly ignores the well documented racial disparities in income in Minneapolis. Then again, these people are not their target audience.
So what should the City of Minneapolis be doing in this market to "Create housing options that give people in all life stages and of all economic means viable choices for safe, stable and affordable homes," as required by the Met Council?
Mr. Fox offers up what Minneapolis elected leaders should NOT be doing.
"Simply unleashing the forces of the market by promoting more density through upzoning has only led to more displacement, higher housing costs and more inequality and human suffering in our community. And those—especially elected officials—who promote added density and rely on the myth of supply-and-demand to justify it, are guilty of abetting these trends."