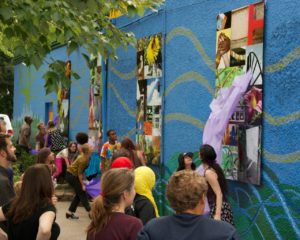 BY DEBRA KEEFER RAMAGE
Franklin Avenue in the Seward neighborhood has so much to offer: one of the oldest worker-owned co-op restaurants in the world, a bookstore with bicycle delivery, a playwrights' center, a Somali cafe, a sushi and karaoke bar. But this article is not about them. It's about two arts organizations and two slightly quirky but always dependably great restaurants. Let's start with the restaurants.
Soberfish (2627 E. Franklin) is not the only restaurant in Minneapolis (as I'm sure I've said before in another article) that has a combination of Thai food and sushi. I have been to Soberfish a number of times, with colleagues from work, with friends for dinner, or just alone on a whim. I always have the same dilemma. I love sushi and Japanese food, and I also love Thai food, but I don't think they go together in a meal. (In fact, Soberfish has them on separate menus, so they probably agree with me.) I have to choose, and invariably I go there planning to have Japanese, but end up having Thai. Then I discovered that Soberfish is available through BiteSquad, so I decided to order sushi from them and eat it at home while working on this article, so that I wouldn't be tempted by Thai. Clever, no? So now I can report that their sushi is quite excellent, which I never really doubted, but sometimes you do wonder if a restaurant is "trying to do too much." Not in their case.
Soberfish is in the spot where the beloved True Thai used to be, and opened some months after the former one closed. It has connections, via a complex mixture of co-owners, in-laws, cousins of owners, and former employees, with a Thai comfort food restaurant in Saint Paul, East Side Thai, and with a Sushi mini-chain, Sushi Tango (Uptown and Woodbury) as well as with its predecessor True Thai. For example, Head Sushi Chef Bruce Lee started his career as a dishwasher at Sushi Tango, where he later learned his sushi craft, while the FOH Manager used to be a server at True Thai, then worked at both East Side Thai and Sushi Tango in Woodbury. The owners of Soberfish are Kou and Elle Kunsawat Lee and their in-laws Pao and Kathleen Thao. Soberfish, neighbor to the Co-op Creamery Cafe, is a strong supporter of neighborhood activities, including Open Streets Franklin. In the few years it's been open, it's become an important part of the business and social community. Case in point: A lot of people have expressed curiosity about the name Soberfish. I have figured it out. Drunken Fish is a popular bar snack or small plate meal at Thai bars, which has migrated to sushi bars and thereby become a popular name for the bars themselves. In fact, before opening, this was the name they had announced. But by the actual opening, this had changed to Soberfish, undoubtedly in deference to the massive ongoing efforts toward sobriety faced by so many. Plus, this name has the added advantage of being unique and memorable.
Chef Shack Ranch (3025 E. Franklin) is already well-known to food-lovers, but somehow, I had not been there till quite recently. Chef Shack started as a single food truck in 2007, the brainchild of a two-chef partnership, Lisa Carlson and Carrie Summer. In fact, it might have been the first food truck in Minneapolis (Carlson and Summer are called the godmothers of Minneapolis food trucking), and it started out with just the mini-doughnuts. This expanded into various kinds of street foods, such as bison burgers and tacos. Then the one truck grew to a fleet of trucks. Then the pair opened two restaurants, Chef Shack Ranch, which is also the commissary kitchen for their still busy fleet of trucks, and Chef Shack Bay City, a seasonal destination only open on weekends and closed in the winter. The pairing of "chef" with "shack" indicates what this enterprise is all about. Unpretentious, comforting food, such as you would get in a barbecue shack or a fisher-folk hovel, but prepared with the skill and discernment of a chef. Chef Shack Ranch is very much the kind of place other chefs go for a meal, but it's also a neighborhood place.
Another thing Chef Shack Ranch is about is work-life balance. The dinner menu, only available Wednesday through Saturday (and Wednesday is for trivia as well, if you're into that) only has nine items on it, including the single dessert item—wait for it—mini-doughnuts! The brunch menu, only available four hours on Sunday, is even more spare, with only four items, plus of course mini-doughnuts. Even the drinks menu is simplicity's embodiment—five wines, eleven beers, one cider, mimosas but only for brunch, San Pellegrino, Driven Coffee (a local roaster)—well, you get the picture. I wasn't hungry enough to eat dessert when I went, but I had to taste these famous mini-doughnuts, so I got two orders to go, and nibbled on them over the next couple of days. They deserve the fame.
And now, on to the arts places. First we'll look at Northern Clay Center (2424 E. Franklin). Founded in 1990, it is one of the major clay art centers in the country. A lot of the others either specialize in school children, or specialize in serious adult potters, but NCC has a wide, all-encompassing mission that caters extensively to both these constituencies, plus elder adults, artists with disabilities, adult amateurs and beginners, and families. NCC runs both a full-time free exhibition gallery and a full-time gallery shop. In addition, it is a sales outlet for a very famous nonagenarian potter, Warren MacKenzie. There is also a yearly pottery festival, the American Pottery Festival in fact; this year it will happen Sept. 7 through 9. (Note: During the pottery festival, there is a small admission charge for the gallery.) NCC is known for its excellent children's summer camps, which are going on now. They award grants and prizes, including the Warren MacKenzie Advancement Award, sponsor fellowships and residencies, and even offer a certificate program in advanced pottery and ceramics, which has the charming name of MN NICE.
The NCC offers memberships, which confer benefits, some of which are mentioned below. A regular individual membership is $50 a year and there are other categories, such a family, student and senior. There are many ways to interact with the NCC. You can register for and take a class (special prices for members, but many are open to all) and if you are 55 or better, there are special programs called ART@HAND for us. NCC also has a library of books and periodicals, and another member benefit is checkout privileges, along with students and teachers. To visit, you can just drop by during open hours to see the gallery or shop the shop, but if you want to see "the works," they also do guided tours and demonstrations, which you can set up in advance by phone. The current exhibit in the gallery is City Sine Cera, featuring six ceramic artists; it closes June 24. The current featured artist, which in the shop (these change monthly) are Paul Dresang, Paul Eshelman, Butch Holden and Eric Jensen. There is also a lending program for ceramic art from the gallery shop, one week loan with a credit card, or for stylists and decorators, a 10% fee.
The other arts organization under focus is Articulture (2613 E. Franklin.) Although Articulture is mainly known for its children's programs, which are extremely accessible and affordable, they also offer programs to all ages and ranges of familiarity with art. If you're not a local parent, you may only be familiar with Articulture through its production or contribution to murals and other public art installations in the city, which is another thing they are known for. Similar to NCC, they have a wide variety of programs, some quite innovative, but they are a younger organization, having started quite small in a church basement in 2000, and moved to the present location in 2008. With their Seward-Franklin Avenue storefront, Articulture was able to add a retail component, offering an outlet for local artists, and also selling art supplies. In fact, they are actively seeking new artist-vendors for the shop, so if you're a local artist, apply to the retail committee with your details.
Articulture's educational offerings range from summer camps to pop-up workshops at art fairs or Open Streets to private instruction for adults or teens. The educational mission also encompasses lectures, including the Integrating Art Into Curriculum workshop presented by Executive Director Liz Greenbaum. They also offer summer internships for students interested in pursuing art education as a career. To keep classes affordable, Articulture offers a scholarship, which if eligible pays 60% of the class fee, and a policy of no one being turned away for inability to pay. Another great service Articulture offers is art-themed birthday parties for children. Again like NCC, Articulture also offers memberships for $35/individual or $45/family, which gets you discounts on things like birthday parties, art supplies, classes and even $10 off your Walker Art Center membership.
PHOTO CAPTION: Seward community mural by Articulture