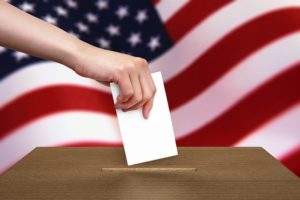 BY DAVE TILSEN
On August 14 we will have a Primary. Don't forget to vote.
We support candidates who will stand up to the administration and have shown us they DO, or who we believe WILL, put the needs of their community above their careers. Character is the most important thing. This is our best judgment.
U.S. Senator Number One – No recommendation
Amy Kloubuchar is the incumbent. She has never met a foreign intervention she doesn't support and tries too hard to be fair to Trump appointees when what we need is for our Senate to stand up and resist the evil that is being done in our name. There is no credible candidate that we can recommend.
U.S. Senator Number Two – Tina Smith
Former Lieutenant Governor Tina Smith is the replacement for the last two years of Al Franken's term. The incumbent was appointed to this seat by Governor Mark Dayton. She has the DFL endorsement.
Richard Painter is the former ethics council in the Bush administration. If the irony of that gives you cognitive dissonance it does me also. I just don't trust him. Tina isn't clean, but she is a hard person to dislike. I am inclined to give her the two years and see how she does, but we expect her to fight fight fight.
U.S. Congress 5th District – This is the replacement for Keith Ellison's seat. See Separate Article in this issue addressing our recommendation.
Governor and Lt. Governor – Erin Murphy and Erin Maye-Quade
Please help them win; another bout with Pawlenty is actually possible!
Attorney General – Keith Ellison
Yes, that Keith Ellison, need I say more?
Minnesota Legislator District 60B – Mohamud Noor
Clearly the most experienced and best candidate.
Minnesota Legislator District 62A –Hodan Hassan is my considered choice based upon her history and experience.
Karen Clark supports either Margarita Ortega (who brings a strong local Native American voice needed in the state legislature) or Jen Kader (who is a proven community-based environmental justice leader). Either one is completely prepared to carry on the challenge of the district's progressive legacy, based on their herstories of authentic progressive involvement and experience. This close contest depends on primary voter turnout.
Minnesota Legislator District 62B – Aisha Gomez
No contest. She's the current policy aide for Council Member Alondra Cano and we have high expectations.
County Commissioner District 4 – Angela Conley
Peter McLaughlin is just too comfortable. Peter did not put Hennepin County funds into US Bank stadium when asked, but he did support Target Field, Target Center and the proposal to put a soccer stadium on the farmers market site. He was a supporter of the embarrassing homeless (HHH) program, which had a goal of ending homelessness and declared success after 10 years and millions of dollars and no new housing. Ms. Conley would be a welcome addition to the county board.
Hennepin County Sheriff – Dave Hutchinson
If you need even more evidence that Rich Stanek needs to go, he sent our local deputies to North Dakota to serve the oil industry during the Standing Rock confrontation. Sheeesh.
Minneapolis School Board at Large—Rebecca Gagnon and Pot Luck
The biggest issue facing the Minneapolis Schools is the "reform" movement, which manifests itself in charter schools and attacks teachers and licensure. Rebecca Gagnon has been a stalwart and effective opponent of the reformist corporate agenda. For your second seat we are not sure if it should be Doug Mann, Sharon El-Almin, Kimberly Caprini or Josh Pauly.