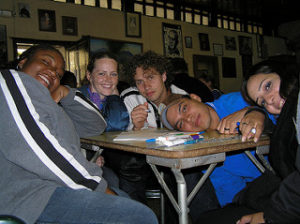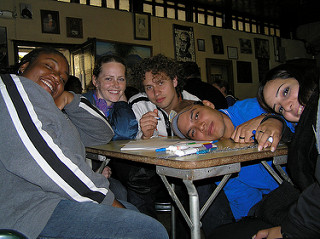 BY ELAINE  KLAASSEN
In the year 2000, the U.N. developed the United Nations' Millennium Development Goals, the MDGs, an initiative to decrease extreme world poverty, to guarantee primary education for everyone, to support equal rights for women and men, and to fight major diseases. The initiative ran until 2015 and was quite successful. U.N. reports say that now extreme poverty worldwide has been cut in half. And there are improvements in other areas, like primary education and infant mortality, too. Not that everything is perfect yet.
While the MDGs were in motion, two young African women from Sierra Leone, Mercedes Moore and Ethjel Tolsma, wrote lyrics to promote the MDGs. Their title was "The Power to Change." In their lyrics they imagined a world without poverty, without AIDS, a world where all children could go to school and a world with clean air and water.  They expressed their belief that the world of their dreams could be accomplished through cooperation, by "putting our hands together." I followed their lyrics to create this music.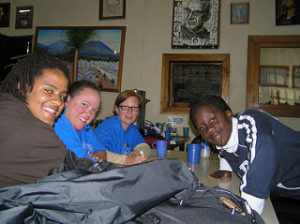 The women were part of ARK, an organization started in Minneapolis by Judy Maghakian, from the Andrew Riverside Presbyterian Church where I used to play the piano. ARK stands for Architects for Peace through Relationships and Knowledge.  Since its beginning, ARK has held six meetings in different global locations for young people from different countries to get together, make friends with each other and study about world affairs. ARK met in the summer of 2015 in New York City with participants from Minneapolis, Malawi, Lithuania, Palestine, Guatemala, Iran and Pakistan. A few older people have also been invited over the years. I went to New York in 2015, and my friend Rodin, who played drums and sang in this song, went to the ARK meeting in Palestine in 2007.
I think of this music as a peace anthem.
(If you want to know more about ARK go to arkforpeace.org. In 2019 they plan to meet in Armenia.)
I have been writing music with parallel narratives for about 30 years. I performed my third set of pieces with narratives last fall, Piano Stories III. There were 10 of them and Southside Pride is publishing one a month until they are done. This piece was recorded by Mark Klaassen and performed by Phil Stoltzfus on violin, Mary Preus on flute, Michael Patrick Coyle on percussion, Ntanga Ngando (Rodin) on congas and myself on piano. After it was recorded, Mark suggested that Rodin and I should sing the choral part and I should read the narration, so we just added it on top of everything else. Ideally it should be sung by a large group of people.  (In the live performance my friend Jim Reilly sang and narrated the spoken part.)