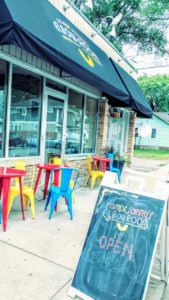 BY DEBRA KEEFER RAMAGE
The business hub around Chicago and 48th Street said good-bye to two casual restaurants this summer, then said hello to their replacements within the past month or so. Pepito's, the very long-lived Mexican family-style restaurant associated with the Parkway Theatre, closed its doors. But lovers of Mexican food in the area didn't have too long to wait before El Burrito Mercado Minneapolis opened up there in late August. The "Minneapolis" is because the original El Burrito Mercado (still very much in business) is a popular family-style Mexican place on Saint Paul's taqueria strip, Cesar Chavez Boulevard. Even though they've been on Chicago Avenue barely a month, El Burrito Mercado Minneapolis is already drawing crowds and hosting live Mexican-style music on the weekends. The other place closing, sadly, was Sum Den, a "mostly take-out" (it had two tables) Korean restaurant. (With the excellent Rabbit Hole in Midtown Global Market also closing last month, Korean restaurants in South Minneapolis are becoming quite thin on the ground.) This place has also spawned a new spot for mostly picking up food (it's a tiny venue) and is now occupied by r.a. MacSammy's, which like many up and coming eateries, began life as a wildly popular food truck. When I first heard about r.a. MacSammy's, I had the (mistaken) impression that they served Mac and Cheese IN sandwiches, but I have since heard that they serve Mac and Cheese AND sandwiches. I guess the idea of mac and cheese between two slices of bread would never catch on here in the U.S., unlike in the U.K. where a popular hangover cure or cheap lunch is the Chip Butty, which is either buttered white bread or a roll similar to a hamburger bun called a "bap" filled with fat French fries and ketchup. No, r.a. MacSammy's is a bit more sophisticated than that. To distinguish the tiny restaurant from the food truck, they have cleverly subtitled it Elbow Room. (Elbow mac—get it?) The name alone makes me want to go there. MacSammy's treats mac and cheese the way a good pizza place treats pizza; there are some pre-arranged specials, some clever new combinations, and then a build-your-own option with lots of elective inclusions, from sliced Bratwurst to seared Brussels sprouts. Their "sammy's" are equally eclectic, including things like Shrimp Po'Boy, a Maxwell Street Polish, Korean BBQ chicken sliders, or a Sloppy Joe.
Next door to the new Elbow Room is a somewhat longer-term local business, Afternoon Printing. Afternoon Printing is one of the local small businesses under the umbrella of Ian Anderson's network, the Afternoon Companies. Ian came to prominence when he founded a record company when he was barely 20, Afternoon Records, which powered on to great success. Afternoon Printing is headed up by Kristen Sassenfeld, an MCAD graduate who loves graphic design and printing. Their main business is custom screen printing, with very affordable design service, and a reputation for excellence in results. AP started in 2011 sharing a basement space on LaSalle Avenue with a comics and games store, and then grew out of that space and a couple more spaces before landing at its present location of 737 E. 48th St.
Just around the corner at 4804 Chicago Avenue is an unusual business called Pedego. They rent out, work on, and sell electric-assist bicycles. This business has a solid 5-star rating on Yelp based on six reviews, including one reviewer who wanted to give them six stars. Both first-timers who are curious and totally uneducated about electric-assist bikes, and longtime users who want a reputable and service-oriented dealer swear by Pedego and refer to its excellent customer service.
A bit north of the busy corner, at 4532 Chicago Ave., is the Minnesota Kali Group. You wouldn't know from its modest main-street self-defense studio storefront that this is the headquarters of an international school of fitness and martial arts, but it is. In addition to the frankly bewildering (to the uninitiated like me) array of styles and disciplines taught here, there is also instructor training, and studios teaching the MKG (MN Kali Group) method exist all over the country and in several countries abroad. The classes are topped off by the most recommended course, called simply Phase. This actually consists of Phase I through VI, with three level tests in the first three phases and a phase test at the end of each phase to advance to the next. It encompasses almost all of the other disciplines taught separately at MKG. These consist of (at least) Kali & Filipino Boxing, Jeet Kune Do, Brazilian Jiu Jitsu, Muay Thai, Silat, Ghost Elusive Combat, Combat Submission Wrestling, Women's Kickboxing, and Budokon Yoga. Some explanation of the lesser known styles is helpful. From the website: "Kali is an ancient word that serves as an umbrella term for all the Filipino martial arts. [It] … translates as the study of body motion … Our Kali program includes classes in the different areas of the Filipino martial arts: two Panantukan (Filipino Boxing) classes, a weaponry class and one general Kali class per week cover the spectrum of this art." Jeet Kune Do, also called JKD, is the art and philosophy of Bruce Lee's "new" mode of teaching martial arts, and emphasizes personalization, sensitivity training, and drills. Silat, also from the website: "… is a term that encompasses the arts taught in Indonesia, Malaysia and the Philippines … Similar in some ways to Yoga, it is also a highly combative group of techniques, tactics, and training methods. Because this is a very effective art, the drills in these classes will be slow and very safe." Muay Thai is simply another name for Thai Boxing, which includes kickboxing, now a popular Western discipline in its own right. And finally, Budokon (way of the warrior spirit) is a meld of "flow" style hatha yoga with martial arts and something called "animal locomotion." Launched in Miami in 2001 by founder Cameron Shayne, it focuses more on transitions between poses than the poses themselves, and if desired, the student can earn "belts" as in martial arts.
The final 48th and Chicago-node business we will spotlight is a very eclectic one indeed, and like MKG, has shown both staying power and global reach in its popularity. This is the Center for Intuitive Living at 5356 Chicago Ave., the headquarters of famous local psychic and healer Echo Bodine. In case you haven't heard of Bodine, she is one of the best-known psychics in the world. The Center is a place for classes, rare private psychic or healing sessions with Bodine, monthly guided meditations (last Friday of the month, 7 p.m.), a monthly party/fair called Aurapalooza (third Saturday of the month, 10 a.m. to 5 p.m.) and a place to buy merchandise such as Bodine's many books and CDs as well as the world-famous mirror necklaces. Bodines areas of work include more than just psychic readings and laying-on-of-hands healing; she also practices and teaches exorcism, ghostbusting, clairvoyance, clairaudience, clairsentience, clairgustance, past-life regression, knowledge of life after death, mediumship, aura reading, identifying angels and guides, numerology, astral projection, and guided meditation for healing and intuition. The Center's 16-week course in Psychic Spiritual Development began Wednesday, Sept. 5, but you can join up to the third weekly class (Sept. 19.) This costs $30 per class and is held at the Center at 7 p.m. Register by sending an inquiry email to Echo at [email protected]. For others who discover or develop "the gift," Bodine offers a PDF guide to the business called "Things I Wish I'd Known When I Got Started; A Practical Guide to Becoming a Professional Psychic," which you can download for just $8.99 from her store at echobodine.com, where you can also register for an online psychic development class, or just sign up for her weekly email.