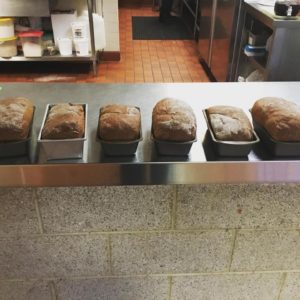 BY DEBRA KEEFER RAMAGE
Gatherings Cafe
1530 E. Franklin Ave.
Mon.– Fri. 8 a.m. to 3 p.m.
612-879-1753
The Dish has had virtual lunches from Japan to Sweden, Ethiopia to Mexico, and from Korea to the British Isles. To finish out the series, we are coming home to Minnesota, to the cuisine created by indigenous cooks and inspired by traditional and historical indigenous culture at the Gatherings Cafe, in the Minneapolis American Indian Center on Franklin Avenue. I was accompanied by my friend Jennifer. Neither she nor I are Native, but we have a shared history of solidarity under Native projects, starting in my case with being a peaceful witness against anti-spearfishing protesters in Wisconsin a couple of decades ago, under the direction of the late Ojibwe elder Bea Swanson. And probably dating even further back in Jennifer's case. I had only had coffee and toast at the cafe before, but Jennifer is practically a regular. I told her she was in for experiencing a rare sight—me eating red meat. I had a hankering to try the bison. Gatherings is open from 8 a.m. to 3 p.m. Monday through Friday. They serve a cafe-style menu with omelettes and other breakfast classics, sandwiches (melts and wraps), meal-sized salads, daily soups, tea and coffee, and a few baked goods for breakfast. The cafe in its present form has only been open a couple of years, but the Minneapolis American Indian Center (MAIC), of which it's an integral part, has been around since 1974. There have been different cafes there, but this is the first one to have a mission of promoting healthy eating through chef-created yet affordable food, showcasing Native produce such as wild rice, bison, walleye, turkey, and fruits and vegetables from local growers such as Dream of Wild Health. Almost everything is made from scratch, and there are no desserts or sweet beverages. The head chef is Austin Bartold, a classically trained chef with lots of gourmet restaurant experience. The cafe's mission goes even beyond that, though, as described on the MAIC website: "The Gatherings Café is a social enterprise of the Minneapolis American Indian Center, designed to help improve the health and well-being of the Twin Cities American Indian community by training Native community members in the culinary arts and [helping them] obtain jobs in the food service industry. Our short-term Culinary Arts Training Program [which includes Serv Safe certification] offers hands-on experience that infuses Native American cuisine ideals. Trainees learn about traditional diets, Indigenous foods and food sovereignty, and acquire practical food preparation [and meal planning] skills and learn about the business side of the food service industry."
The service is counter-service then brought to the table. I, as threatened, ordered a bison "melt," not THE Bison Melt, but the Bison and Mushroom, which was also a melt, because it comes with a medley of cheeses melted on it. They are happy to leave things off, so I left off the cheese. The chef told me he braises the bison, which could be described as pulled or in chunks (when it's been cooked that long it sort of doesn't matter) for 48 hours, so it was pretty melty even without the cheese. The mushrooms were the very fancy wild kind; I may have even detected some hen-of-the-woods in there. There were also onions or perhaps shallots which had also melted almost to nothing in the long braise. The sandwiches or melts are served on house- made wheat and wild rice bread, which is wonderfully chewy and flavorful. My melt was spread with red pepper aioli and accompanied by a perfectly fresh, perfectly dressed salad of mixed greens. (I could have chosen the other side option, fresh fruit cup and homemade pickles.) Jennifer went for the great half-and-half deal, where you can pair a half-portion of fancy composed salad with half of any sandwich. She went for the Walleye Melt, and paired it with the Wilted Kale Salad, which also includes wild rice, red cabbage, carrots, candied seeds and goat cheese. The entree salads comprise three choices; besides the Wilted Kale, there is a Roasted Beet Salad, with mixed greens, goat cheese, and craisins, or a Harvest Salad, which combines raw kale with roasted sweet potatoes, toasted pepitas, and shredded turkey. The Melts and Wraps part of the menu is dominated by bison—four bison melts, one turkey melt, plus the one walleye one, and a turkey wrap, a veggie wrap and yes, a bison wrap. The other very yummy and popular use of walleye is on the breakfast menu in the form of a Walleye "Bennie." This consists of a base of the wild rice bread topped with a slice of ham, a walleye cake, an egg, and a topping of red pepper aioli. By the way, you can also buy those loaves of the wheat and wild rice bread fresh from the oven five days a week for five bucks a loaf.
The Gatherings Cafe, as if being a major educational and cultural force along with being an eatery and bread bakery isn't enough, is also a catering company. They are part of a tiny but growing Indigenous foods movement. Its most high-profile spokesperson is probably Sean Sherman, who along with his partner, Dana Thompson, founded The Sioux Chef in 2014, first as a caterer, then as a food truck (Tatanka Truck) and last year as a James Beard award-winning cookbook by the same name. The Sioux Chef has been intending to open a brick-and-mortar fine dining restaurant of all Indigenous cuisine, but it hasn't happened yet, despite all their success and accolades. Compared to the easygoing philosophy of the Gatherings, where Native Americans' health and happiness are the main goal, The Sioux Chef is considered a major purist and an implacable campaigner against colonized cuisine. The list of ingredients that Sherman and company refuse to use is long and daunting—bacon, citrus fruits, dairy products including butter and cheese, chicken, beef, and pork, soy, wheat, sugar, and olive oil—and more. The Sioux Chef's chef de cuisine, Brian Yazzie, also runs a catering business, called Yazzie the Chef. Another well-known local caterer focusing on Indigenous foodways is Christina White, whose company is called Native Food Perspectives. She mostly caters for Native American gatherings, nonprofit events, and churches. Her philosophy falls somewhere between the purist approach of the Sioux Chef and the relaxed approach of Gatherings Cafe.
Getting back to MAIC, they are also co-hosting an amazing art exhibit called "Horse Nation of the Ochethi Sakowin" in the Two Rivers Gallery, along with All My Relations Gallery and the Minneapolis Institute of Art. Jennifer and I toured that as well as the one at All My Relations, which is just a block away. There is some wonderful stuff there—paintings, prints, metalwork, quilts, horse masks and other regalia! I highly recommend it.
Gatherings Cafe at MAIC $
Dishing it: (ratings are 1-terrible to 5-excellent)
Friendly efficient service – 5
Food taste – 5
Food quality – 5
Food selection – 4.5
Vegetarian/vegan selection – 4
Social responsibility – 5
Bathrooms – didn't evaluate
Beer and wine, etc. – N
Liquor – N
Credit Cards – Y (no checks)
Parking – own lot
Transit/bike/walk accessibility – on frequent bus line, very walkable & bikeable