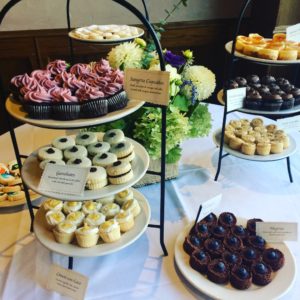 BY DEBRA KEEFER RAMAGE
Mexican-American culture is osmosing through South Minneapolis for sure, and it's in glorious evidence along 42nd Street. Just up the hill from El Colegio, a publicly supported charter high school "rooted in the Latinx experience," there are two small businesses across the street from each other near the corner with Cedar Avenue. One, Hamburguesas El Gordo, has been around since the fall of 2017, but the other, Dulceria Bakery, just opened in its new location a couple of weeks ago. Hamburguesas El Gordo started as a one-day-a-week home-based business selling just Mexican street-food-style hamburgers, then morphed into a very popular restaurant in Saint Paul's Payne-Phalen neighborhood. It was more popular with Latinx residents of Minneapolis than with Saint Paulites so the owners were keen to move across the river. They got a chance when Pupuseria La Palmera closed, and they moved into its space. Hamburguesas El Gordo sells a range of slightly Norteño-ized (but only slightly) Mexican street favorites—the El Gordo burger, an equally huge and overloaded hot dog called El Dogo, petite handmade tacos, elote, quesadillas and more. Similarly, Dulceria Bakery is a result of Mexican nostalgia catering to South Minneapolis tastes, both Latinx and non. The owner is A woman named Dulce, which of course is "sweet" in Spanish. She grew up in Mexico City, married an Anglo guy from the U.S., and ended up being a teacher and a mom in the Standish neighborhood of Minneapolis. She started baking to … well, wait, let's hear it in her own words from the website: "When I became a mom, I began to bake Mexican pastries that I couldn't find easily in Minneapolis—such as pan de muerto for Day of the Dead—to teach my kids about the tradiciones I grew up with. After a 13-year career working at a local college, I found myself looking for a new way to build comunidad, celebrate milestones, and share what Mexico has to offer. The outcome? Dulceria Bakery!" At first, too, Dulceria was a home-based business, products sold by pre-order or through the Midtown and Linden Hills Farmers Markets. Dulceria's first brick-and-mortar spot is in the little 42nd Street building that was The Original Sandwich Shop, and the Colossal Cafe before that. Dulceria uses traditional recipes, but also offers vegan and/or gluten-free versions of a lot of them. They are open Wednesday through Sunday from 7 a.m. to 1 p.m. Check out their menu on the website at https://dulceriabakery.com.
Another source of fine Mexican food in the area is the food truck Viva Mexico Taqueria, which can be found most weekdays and Saturdays from lunchtime to late afternoon along East 42nd Street. Last time we saw it, it was in the parking lot of the Hudson Hardware store at 2900 E. 42nd St., and doing a good bit of business with attendees at a Saturday afternoon football-related event at Roosevelt High School. Along with tacos, the truck sells fajitas and other popular Mexican-style fast foods. This is the same business that used to be inside Flag Foods (next door) before they got a truck. They are very popular on Yelp.
Here is a random selection of other businesses worth checking out, some of which are new, and some of which we just haven't revisited in a while. Print-n-Stitch is an independent business offering graphic design, screen printing and custom machine embroidery on a huge range of products for sports teams, corporations and charitable organizations. Although they have a storefront presence, at 2810 E. 42nd St., it's not really a showroom or a retail looking setup, so I think the thing to do is contact them via phone or website and make an appointment? The website is large and thorough and seems to cover all the bases. This business is owned by Aric Hay and has been in its location about 12 years.
Across 42nd Street, in the little strip of businesses anchored by A Baker's Wife on the corner, is a relative newcomer to the neighborhood—Hall of Fades. A "fade" in this context is where a barber shaves the edges of a buzz cut so that it fades into bare, or shaves a bare pattern into the close cut hair for an interesting effect. But they do normal buzz cuts, too, as well as beard trimming and all basic barbering. This spot has been a barbershop for years, but it used to be Buzz's Barbershop, with several older, white barbers who were getting on, but still keeping on, if you know what I mean. About a year and a half ago, a younger African-American barber, Donte, bought the business, but the older barbers still work there too, and a number of other younger African Americans have come in as chair renters. So it's now a really full-service, congenial, multigenerational and multicultural spot, under the hashtag #allhairwelcome—all textures, ages, colors and genders. Hall of Fades does not have a website, but they have a well-maintained Facebook page where you can find lots of pictures of their work and great reviews.
Down the road a piece, a business we covered a couple of years ago, The Roost, closed sometime in the past year or so. In that space is the latest hopeful, called Carousel + Folk. This shop, at 4205 31st Ave. S., sells vintage and upcycled homewares—small furniture, bric-a-brac, textiles, baskets, etc.—and a few vintage clothing items, along with folk art and potted plants. (I can see the Folk part but I'm not sure where the Carousel fits in.) It's a nice, clean, bright shop, with an obvious eye for design, and with a history of great success since 2012 on Etsy, so maybe it will stay the distance. The hours are Wednesday through Sunday, 10 a.m. to 6 p.m. The owners are Lindsey and Mike. Mike is also known as the "typewriter guy." (The Etsy store features a large selection of reconditioned vintage manual and electric typewriters to complete that Mid-Century Modern look in your abode.)
Nearby is a much more unusual storefront that has been around a while (at least 10 years), and that we just briefly mentioned a couple of years ago—Southside Kettlebell. In case you don't know what a kettlebell is, it's a kind of hand-weight for working out with. It's a cast iron weight in the shape of a bell, roughly, but with a loop handle at the top like an old-fashioned kettle. Kettlebells were brought to the U.S. by a Russian "Master of Sport" named Pavel Tsatsouline in 2001. Southside Kettlebell LLC has three instructors, all certified by RKC (Russian Kettlebell Challenge): Joe, Lynda and Hiromi. Joe has a sports background, and Lynda and Hiromi both came to kettlebells via martial arts supplementary training. Southside Kettlebells is an old-school training facility that primarily uses kettlebell workouts as a method. It is membership based, with a free first class offered to check it out, and then a basic membership cost of $120 a month, which then goes down as you stick with the training and gain longevity. You can also purchase a punch card for eight classes, or, if you don't like to commit but don't mind spending money, single walk-in classes are $20 after the first free one. Southside Kettlebells doesn't have any fancy equipment, just kettlebells and knowledge and little else. But they do offer Functional Movement Screen, a screening that can also be had (probably for a lot more money) at sports medicine and physical therapy clinics, as well as at a few other training facilities. Check out the calendar at http://southsidekettlebells.com/schedule if you want to try that free class.
PHOTO CAPTION: Dulceria treats