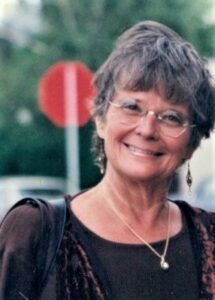 Obituary at Willwerscheid Funeral Home & Cremation Service, written by her children:
After 85 years of a courageously led life, the world lost a beautiful and well-loved person. On February 21, 2023, our mom Patty died peacefully at her home in St. Paul, a place from which, despite otherwise gentle encouragement from us, she never wanted to move.
Her life was committed to progressive causes. From establishing the first La Leche League in her small Indiana hometown, starting an intergenerational reading program with seniors and young people after moving the family to St. Paul in 1973, hosting weekly conversational salons at a tea house on West 7th Street for almost 10 years – which brought friends and community members together to enjoy poetry, music, educational videos, and simply to explore and discuss the important issues of the day – Patty wanted the world to be a better educated, more loving, caring place. She was a longtime and active member of Women Against Military Madness founded by her beloved late friend Polly Mann, was active in Tackling Torture at the Top, and for the last several years has spent almost every Monday night (even in the cold) in front of the governor's mansion protesting the oil pipeline in northern Minnesota.
Patty recently sent her grandkids this message in her annual Christmas card: "There's only one rule that I know of, babies – 'God damn it, you've got to be kind.'" – Kurt Vonnegut.