BY DEBRA KEEFER RAMAGE
Stuffed full of culture – Minneapolis's Cedar-Riverside (the West Bank)
With numerous theaters, music venues and more, Cedar Avenue's northern stretch from Washington Avenue to Franklin Avenue is a cultural corridor like no other.
There's Minneapolis's oldest community theater, Theatre in the Round, at 245 Cedar Ave. By the time you read this, the 71st season will have concluded with the last performance of "Sherwood" on July 2. Season tickets are on sale and auditions will begin soon for the 72nd season which runs eight plays in 10 months, from Sept. 9, 2023, to July 14, 2024. With a mix including the usual combo of light and dark, funny and tragic, classic and new, the season includes "She Kills Monsters" by Qui Nguyen, co-produced with FAIR School for Arts (a Minneapolis public school) and featuring a cast of students from the school. Another theater on the West Bank is Mixed Blood Theatre, at 1501 S. 4th St. They have a performance festival coming up on Aug. 19 and 20. Check their respective websites for details and tickets.
At 301 Cedar Ave., in the space vacated by the bike co-op in 2020, is the Afghan Cultural Society, a newcomer to the West Bank. They have a very exciting summer program for youth 12 to 20 years old that includes things like tours of science labs with hands-on experiences, a kayak expedition, a play at the Guthrie, a field trip to Como Zoo, and exploratory tours of five local colleges, including the U.
For music offerings, two near neighbors on Cedar Avenue are the most popular. One is the Cedar Cultural Center. Notable performances in the coming weeks are the Minnesota Orchestra's International Day of Music on July 15 and "An Evening with Holly Near" on July 19. The other is Palmer's Bar, with its weekly occurrence of The Church of Cornbread featuring Cornbread Harris. (In case you didn't know, Harris is a singer, songwriter and pianist who co-wrote and performed on the first rock and roll record produced in Minnesota, and also plays blues and jazz. Father to Jimmy Jam and mentor to Cadillac Kolstad, he is 96 years young.)
"When we fight, we win" against environmental racism
On Sunday, June 18, the mood was celebratory at Cedar Field Park. The day-long festival was planned by collaborating groups to celebrate their recent win in what came to be known as the Roof Depot struggle. Although the coalition was headed by the East Phillips Neighborhood Institute (EPNI), another key player in the last year of the struggle has been the Little Earth Housing Association, one of the only all-Native American, multi-tribal public housing projects in the U.S.
Just six weeks earlier, activists were relying on an injunction to prevent the planned demolition of the Roof Depot building, just a few blocks from Little Earth, an action which would have spelled the end of their hopes to build an indoor urban farm in the building and prevent the tract of land's use by the city of Minneapolis as a "water yard" and maintenance
equipment depot. Now, thanks partly to intervention by the Minnesota Legislature, the city has walked away from its plans and is set to sell the property to EPNI, and the state has made a grant of the earnest money for the transaction. See the piece in Sahan Journal (sahanjournal.com) from May 22 for details on how the coalition won.
42nd Street redesign negatively affects small businesses
The Neighborhood Chat – Standish-Ericsson Group on Facebook had a sad testimony from Susan Calvit, who, with her husband, owns Southside Vintage, near the corner of Cedar Avenue and 42nd Street. Speaking on behalf of her store and other small businesses as well as neighbors, Calvit had this to say about the recent major upgrade of 42nd Street: "There was a very minimal effort made to inform us in fall 2020 about a construction plan slated to start 2+ years later. Unfortunately for all of the businesses at 42nd and Cedar the plans did not mention or factor in the resulting loss of 60-70 parking spaces for the customers and delivery vehicles that need access to our businesses and the alarming effect it would have on us all. In addition many residents are now not able to park in front of their own homes."
It appears that a lot of great businesses in the area are struggling now, and it would help if neighbors made a special effort to patronize the Cedar Inn, Southside Vintage, Groovy's, Northern Fires Pizza, Hamburguesas El Gordo, and Hilda's Hair Hut, among other businesses in the area affected. They have formed a group and met with city and county officials to seek a solution.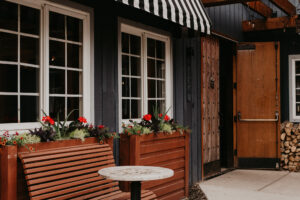 Cedar and 48th – a nice little hub
In case you might forget that it's there, let me remind you of the corner of East 48th Street and Cedar Avenue. There is a really nice Lunds & Byerlys there with its own sheltered free parking. There is a small but well-curated wine shop, Cork Dork. There's Carbone's Pizza and Pub, a neighborhood favorite with a lovely, large patio for outdoor dining and weekly live music, as well as trivia nights and other fun events. Carbone's offers old-school Italian-American food, including pizza, pasta, hoagies, salads, burgers and more. Across the street, there's ie Italian Eatery, with a menu "stirred by Italian dining traditions" that includes dishes like bucatini, baked garganelli (wild boar meatballs), and Calabrian cauliflower. The Cedar-48th Street hub also offers ice cream and sorbet at Grand Ole Creamery, popcorn at Tom's Popcorn, and your choice of corporate coffee drinks at Caribou or Starbucks. There's even a pretty decent nail bar called Nailish, which I have tried out, and a dentist called Lakeshore Dental, which I have not, yet. I recommend it as your local go-to shopping and dining hub.
New eatery at Lake Nokomis
The new lakeside eatery, The Painted Turtle, has been open for its first season since June 12, in the pavilion near Lake Nokomis. There has been a little hiccup about the beer and wine license, which has resulted in The Painted Turtle's service being alcohol-free for now. They may be able to get by with a series of temporary permits until they can build the requisite structure of "three walls and a roof" in time for the 2024 season.
Meanwhile, come for the food, and drink LaCroix or a milkshake. Among the yummy-sounding food offerings are a vegan picnic board, chipotle duck wings, a beer-battered walleye basket, and scoops, sundaes, root beer floats, and the aforementioned shakes, featuring La La Homemade Ice Cream.