BY STEPHANIE FOX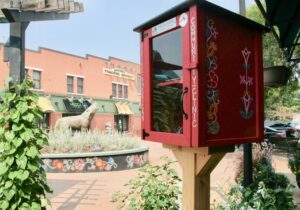 In a Franklin Avenue strip mall devoted to serving members of the Minnesota Native American community is a quiet, shaded patio with a new addition – a Little Free Library. This particular library is unique to Minneapolis, filled with books written by Native American authors or with themes about American Indians and their culture. The idea behind this little library is to give mostly younger Native readers a chance to see themselves in stories.
The library is part of the Little Free Library's Indigenous Library Program, which is part of the national Reach Out and Read program. The long view of this project is that by giving easy access to books, especially for children, literacy rates will improve, strengthening Minnesota Native American communities.
For years, staff members from the Native American Community Clinic (NACC) just steps from the new library provided books to young kids ages birth to five years old during well-child visits. But for older kids and adults, the new little library will expand that access.
"Sometimes, there are barriers for a lot of people to get access to quality books, especially culturally relevant books," said NACC Operations Manager Ashlee Jallen, who organized the Aug. 10 installation celebration and who, with Talia Miracle, program manager at Little Free Library's Indigenous Library Program, made this a reality.
"My job is to seek out potential recipients," said Miracle. "We know that there are a lot of book access needs in many communities. I got connected to Ashlee a couple of months ago and asked her to apply."
"We had a lot of donated books, so I jumped at the opportunity," Jallen said.
They contacted Natchez Beaulieu, a local community artist and a member of the White Earth Nation of Ojibwe, who decorated it with traditional Ojibwe and Dakota floral designs.
People are encouraged to sit on the nearby patio benches and read, or even take a book home. Then, kids (and their adults) can later return to share a book they've read and enjoyed. While there is a public library across the street from the mall, this will allow readers, some of whom have few books at home, to have books they can call their very own.
"Books have been flying off the shelf. We even had one child come take a book right after our opening," said Miracle.
The Little Free Library organization provided the first 50 books, but they are hoping that members of the local and larger community will bring more books to share. "I hope it encourages more families to read. We also want to give Native authors a chance to get their books into the community," said Jallen. "Sometimes there are barriers in getting access to books, especially culturally relevant books like these."
The library seems to be popular. Just a week after the installation celebration, the little library was almost empty. The hope is that more people will soon come and donate more books.
While books about American Indian culture and by Native authors are preferred, anyone can donate. Books of all kinds, especially books for young readers, will be welcome. If you want to donate, bring new and used books to the strip mall at 12th and Franklin Avenues. Look for the patio near the west end of the mall, by the large wolf statue. Just leave books and if a book catches your eye, feel free to take one home.