BY DEBRA KEEFER RAMAGE
Here's your yearly update on how things are going at Midtown Global Market and its nearby environs. I visited the Market in mid-September, and I hate to start out on a sad note, but it was partly to say goodbye to two businesses I heard were leaving. The first one is the Eastlake Craft Brewery. Unlike Dangerous Man in Northeast, Eastlake is not just closing the taproom and moving brewing to a cheaper location, they are quitting full-stop. This is a minor tragedy, not only for the Market but for the whole neighborhood. Their quitting announcement was widely reported in the papers.
The second business is another favorite of mine, Grass Roots Gourmet, and I heard about their closing from a friend. When I stopped by, their stock was somewhat sparse, so I asked whether it was true they were closing, and if so, when, and would they be having a sale? The owner confirmed that it's true, they will be closing, but don't have a date yet. There may be a sale when the closing date is certain.
I bought lunch. I got a grain bowl from the Indigenous Food Lab Market, one of the major new things since last year. (It was announced here last year but didn't open
until many months later.) I got my usual drink from Eastlake, an almond milk stout, and kept the beer mat as a keepsake. I shopped a bit at Grass Roots Gourmet too – a maple cocktail syrup from Tapped with an infusion of cherry bark-vanilla bitters from Bittercube, a jar of fig and black tea jam, and two packs of pistachio shortbread.
But I don't want to gloss over the Indigenous Food Lab (IFL) Market! It's one of the great things at MGM, and buying their products both supports Indigenous producers and supports NATIFS, the educational and advocacy nonprofit behind the IFL. They have a small but outstanding menu of ready-to-eat or drink items, plus a selection of grocery, apothecary and educational items to buy. Their offerings range from chocolate oat milk and coffee beans to Indigenous medicine soaps and salves, from CBD cream to tepary beans and wild rice, from silver jewelry to frozen wild game meat to games that teach you Ojibwe or Lakota.
Last year I mentioned the new redesign that was just beginning. Most parts of that – IFL's retail space, Momo Dosa, Slice pizza, the expanded and relocated Art Shoppe, and the Cultural Wellness Center across the Midtown Exchange lobby from the Market – have been fully realized. The beauty node is coming along. As of mid-September, the barber shop was open and doing business, and there was a "coming soon" sign for the hair salon. For the nail bar, the allocated space is empty, with no signage.
The enlarged Art Shoppe, also moved to a prime location near the entrance, is doing well. In July I stopped in and bought a few cool Minnesota things to bring to my relatives in Atlanta when I visited there in September. I was taken by Susan Gainen's little art books about fictitious llamas and possibly fictitious or maybe just exaggerated backyard roosters of St. Paul. These can appeal to children and adults alike and make great gifts.
Another thing they have at The Art Shoppe is the Midtown Global Market Cookbook, with 23 recipe contributions from numerous vendors and chefs associated with MGM. You (or your giftee) can make a hominy and bison grain bowl with blueberry wojapi from acclaimed "Sioux Chef" Sean Sherman or a vegan tamale recipe from the owner of Salsa a la Salsa. Non-food vendors contributed some of the most interesting recipes: Kookoo Sabzi, a sort of Persian frittata, from the owner of Leila's Brow Art; flan from a Mexican jewelry store owner; and two sweet cereal-based snack foods from members of The Art Shoppe collective. You can also buy the cookbook online from Friends of Global Market, but if you buy it at the Art Shoppe, you save the $10 shipping cost. Not available in bookstores!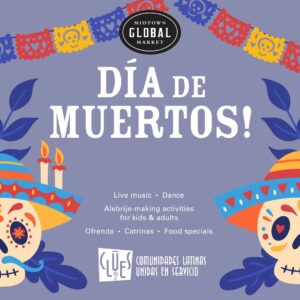 Midtown Global Market is an event space as well as a hub for retail, dining and services. On Oct. 14, MGM will host Barriletes Kite Festival featuring traditional Guatemalan kite art, accompanied by the regular Saturday Sounds concert by Ina Yukka. Then, on Oct. 28, celebrate Dia de Muertos with alebrije-making, catrinas, an ofrenda, live music and food specials. (Alebrijes, in case you didn't know, are mythical or fantastical animals.) Another popular holiday, this one from India – Diwali – will be celebrated at the Market on Nov. 4.
MGM also has several series of recurring events. Open Mic is held on the fourth Friday of every month (Oct. 27, Nov. 24, and Dec. 22) from 6 to 8 p.m. On the second Friday of each month, during the day, the Market hosts a Community Resource Fair. If you have or are associated with a nonprofit or free service provider, see if your group qualifies to participate and register in advance via the MGM website (midtownglobalmarket.org.) And most Saturdays, from noon to 2 p.m., you can have an interesting lunch while listening to Saturday Sounds, a series of short free concerts from local musicians and bands.
In the last couple of years, a few new restaurant booths (in addition to the IFL Market) have arrived at MGM. Try pizza by the slice from Slice, a New York-style slice shop that has taken the town by storm. Another very popular concept, launched at Malcolm Yards before it moved into MGM, is Momo Dosa, where you can have a choice of two delicious street foods from the Indian subcontinent, momos or a dosa. (I have tasted both and can highly recommended them, but, hot tip, only get the dosas to eat right away, as they don't travel well.) You can accompany that with a mango lassi or a masala chai. And don't forget the Oasis Mediterranean Grill, which serves Middle Eastern food, including favorites like falafel and chicken shawarma.