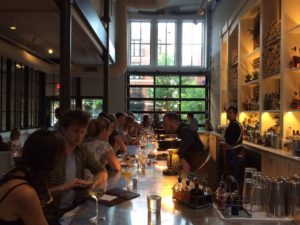 BY CARLA WALDEMAR
Spoon and Stable
211 North First Street
612-224-9850
www.spoonandstable.com
Inquiring minds want to know—inquiring foodies, anyway. The first time I wrote about the Warehouse District's Spoon and Stable was soon after its opening in 2014. I loved Chef/Patron Gavin Kayson's emphasis on cold-weather comfort food—his granny's pot roast, his famed roast chicken (as did everyone in the zip code, according to the month-out reservation list).
That was then. This is summer, and the menu has shifted accordingly. This round, we snagged stools in front of the open kitchen, watching preps of smoked whitefish and scallop crudo. That "Chilled" section of the menu still highlights my fave, a tartare of ruddy bison, served with a peppy harissa aioli.
This time, we opted for the seasonal white asparagus chowder ($11), a jubilant bowl of that premium vegetable in a light cream base mingled with leeks and Yukon Gold potatoes, all brought to attention by smoked shards of lake trout and the slightly briny, slightly salty accents of bursting bubbles of roe. Ideal. Oh, and before it, a pair of arancini arrived: quick-fried rice balls, compliments of the kitchen. And pulls of those hardy rolls that serve so well, especially when lathered with Minnesota's own Hope Creamery butter.
Next, from the pasta list (order half or entrée portions, $14-16/$21-23), a plate of firm-ish, bouncy garganelli, tossed with a light hand in a tasty ragu of shredded rabbit meat and bites of nicely chewy sweetbreads, along with English peas, a pinch of Parm, and mint to brighten all that richness. (Or order the wild nettle gnocchi or spaghetti nero—black—with scads of seafood.)
Speaking of seafood: As entrée ($27-30), I ordered the Mediterranean sea bream—tender, pearly-white and mild in flavor, accompanied by more of spring's asparagus (green, this time) plus a panisse ("porridge") of wild rice, pureed, seasoned and sliced, along with smoked butter and again an accent of lightly fishy roe. My companion went for the cod, dressed in slender scallops of potato and sided with charred broccolini and a puddle of chorizo sabayon to wake up the elegant dish.
Were we in the mood for meat, we'd both eyed the leg of lamb, served with hay-smoked rib, cranberry beans, rhubarb, tasso ham and green garlic. Or go for the pork chop or duck breast.
Dessert is ruled by pastry doyenne Diane Yang, whom we watched complete her presentations in front of our stools. Choose—I dare you—between treats such as these, all $10: cherry chocolate ice cream terrine with vanilla root beer espume and hibiscus; blackberry and beeswax crème with sesame brittle, blackberry sorbet and bee pollen; our choice, a lemon and olive oil cake served with sweet roasted rhubarb and marcona almonds, good for sharing; or the decidedly decadent chocolate opera cake with espresso buttercream and coffee sherbet. Can't go wrong.
Service is an art form here—friendly and informative but never intrusive. No wonder the room was packed—packed! Packed!—on this "ordinary" Wednesday night.