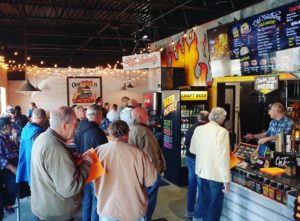 BY CARLA WALDEMAR
Old Southern BBQ
4501 France Ave. S.
612-236-4877
Love BBQ? Love Famous Dave? Me too. And I'm sweet on Dave himself. Dave Anderson, of "Famous" fame, ceded control of the company he founded when it went public a few years back, serving it today as a consultant. But you can't keep a good man out of the pit, turns out.
He's back with a new venture, Old Southern BBQ, launched—just like the original operation—in his hometown of Hayward, Wis. But that's a long hike for a rack of bones. Fortunately, he's recently opened a South Minneapolis outpost too, to save us gas and patience. The shack at 4501 France Ave. S. (not quite in Edina, but I'm told they make rib runs over the border) looks properly shack-y: walls of bare pine boards, cement beneath your feet, heavy wooden tables in colors of the flag, twangy music floating through the perfumed air. A carry-out counter and outdoor seating too, for those who opt to linger.
These are new recipes, Dave attests about his smokehouse fare. The menu is diverse—BBQ bowls (for heaven's sake!) and BBQ tacos (ditto) as well as traditional sandwiches and pitmaster platters. Kids' menu too. Here's how those platters shake out.
I skipped the chicken (or, here, chik'n) to concentrate on the whole hog. Winner was the pulled pork—sweet, plenty juicy and wafting a nice little hit of smoke. The brisket proved mild and meaty, tender as you please. The robust sausage was likewise fine—a bit of sweet, a bit of heat and medium in texture—an almost-Polish type. All = yum. Bring on the napkins.
But the ribs?
Sorry, not the best in town. Meaty, sure, juicy and pork-y too. Also fatty and far from crisp on their exterior, never mind beguiling us with a hint of char and steeped with smoke. To spice them up, choose from sauces that are either sweet and fruity with a nice, little hit of heat, or a deeper, hotter version that lingers longer on your tongue.
Platters, which include one side dish, a sweet cornbread muffin top and pickled garnish (missing on my order), range from $9.49 for three ribs to $16 for six. The Memphis Combo gets you the most bang for your 12 bucks, with tastes of several of the above.
Sides? A long list of the usual suspects plus a few outliers. Coleslaw comes in two styles, creamy or tangy. I chose the former (most popular said my server), and it proved just like it should be: cabbage in a mild and creamy dressing. Next time, I'd opt for the peppier style. The potato salad proved simply boring: hunks of baby reds, barely noticeable snippets of celery and a short-on-flavor dill dressing. Needs onion, black pepper, something. I'm eager to try the broccoli salad, which promises florets, sunflower seeds and cranberries. And the mac and cheese. And Jimmie beans.
Plenty of local beers lie waiting in the cooler, as well as sweet tea (of course: Can't open a BBQ joint without it), lemonade and more.
Good luck, Dave—nice to see you back in the saddle—er, pit.