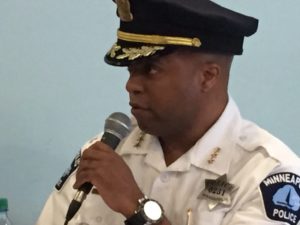 BY ED FELIEN
Council Member Alondra Cano hosted a public meeting at Mercado Central to meet the new police chief, Madaria Arradondo, on Tuesday, Aug. 29.
Mercado Central is on Bloomington and Lake, a major intersection for drugs and prostitution.  Cano has been trying to increase police presence on Bloomington and Lake, "We don't need these people coming in here from somewhere else hurting our community."
The chief brought with him the leadership and patrol officers from the Third Precinct.  Inspector Johnson, the head of the precinct, talked about how her patrol officers were finding out where people were stashing their dope and, thereby, interrupting sales. Occasionally they busted someone for dealing heroin.  The officers always ask the dealer, "How did this heroin get here?"  [Please see Editor's Note at the end of this article.]
Margarita Ortega, Cano's aide, is working on the problem: "The heroin epidemic hits our community very hard.  Where is it coming from?"  She said there was a big drug bust on 26th and Bloomington.  Ortega works with a group trying to keep each other off drugs and sober: "Hate the drug not the addict.  We love them to help them," she says.
Cano announced that the city is making available as much as $3 million to fund neighborhood initiatives to fight crime.  Some of that money could be available to pay block club leaders to inform their neighbors about city and county programs and educational options.
Chief Arradondo said, "Culture change is something we are working on.  It's not going to happen overnight.  We have to look at every aspect.  But we have to realize as soon as we lose our credibility we're lost."
I had the opportunity to ask him one question, but, before I began, I said he should be commended for the brave actions that he and four other black MPD officers took years ago when they sued Chief Dolan and Lt. Bob Kroll for racist discriminatory promotion practices.  I asked, "Would you please ask the deputy chief of internal affairs, Henry Halvorson, to review the police reports on the deaths of Jamar Clark and Terrance Franklin.  Then, would he please ask the city attorney attached to the Minneapolis Civil Rights Commission to review the files to determine if the civil rights of Jamar Clark or Terrance Franklin had been violated by arresting officers.  If it is the opinion of the city attorney that arresting officers violated the civil rights of the victims, then can we assume you will discipline the officers?"
I couldn't quite follow his response.  I went up to him afterwards to get an answer to my question.  He said he would like to talk to me about it.  He gave me his card.
I wrote him the next morning, "It was a genuine pleasure meeting you yesterday.  I have great hopes for the future of the MPD with you in charge.
"You asked me to contact you to set up a meeting to discuss the possibility of police misconduct in the deaths of Jamar Clark and Terrance Franklin.  I am available almost anytime, but I would appreciate an appointment to discuss this with you at your earliest possible convenience.  Do you have time today or tomorrow?"
I haven't heard back, yet.
I'm still hopeful.
[Update:  Chief Arrandondo has appointed a woman to the Senior Leadership group. Commander Melissa Chiodo will now be in charge of the MPD's Internal Affairs Division (IAD).  This is good news on two fronts: that a woman has risen through the ranks and that the chief considers Internal Affairs important enough to have its own deputy chief.]
[Editor's Note: "How did this heroin get here?"  We know that 90% of the world's heroin comes from Afghanistan, shipped through Russia's Turkmenistan on to Istanbul, Europe and America.  The U.N. says Afghan opium is worth $6 billion a year.  Anyone who's a part of the action gets 10%.  Trump cut himself in by appointing Flynn and then McMaster to be his national security advisor.  They both had tours in Kabul where they got to know all the players in the opium trade.  Trump announces his intention to join the table by dropping a MOAB (Mother Of All Bombs)—the world's biggest non-nuclear device—in the drug dealer's backyard.  The principal head of the opium trade in Afghanistan is Hamid Karzai's brother, and the only person who complained about the Afghan government not protesting this bombing was former President Hamid Karzai.  But the bombing and the 5,000 new troops he's sending in should be enough for Trump to assert his authority as top gang boss of the heroin trade in Afghanistan.  The CIA set up the government in Afghanistan.  They organized the opium warlords, armed them, backed them up with American troops and defeated the Taliban, who had six months before received hundreds of thousands of dollars from Secretary of State Colin Powell for eliminating opium production in Afghanistan.  The CIA likes to deal with drug dealers.  At its beginning, when it was still the OSS (Office of Secret Services) it organized a very safe Allied invasion of Sicily by supplying the Sicilian Mafia with arms and military support to overthrow Mussolini's fascists who had put them out of business.  This set up the heroin link between the Mafia and the CIA.  So, the answer to the question: "How did this heroin get here?" is that it gets here through the conscientious work of the U.S. government and the leadership of Donald Trump, the Capo del Capi.]