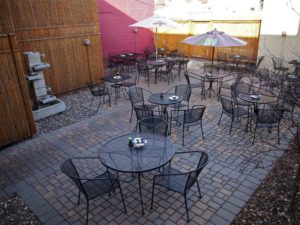 BY DEBRA KEEFER RAMAGE
The shopping and dining node around Chicago Avenue and 48th Street is one of the best in South Minneapolis, with lots of choices in food, drink, merchandise and services. To tell of all your dining, drinking and recreation options here would take more space than we have, so we will concentrate on a handful that offer something out of the ordinary.
We'll start with a couple of restaurants that offer Asian fare beyond the usual egg rolls and stir fry (not that there's anything wrong with either of those). Sum Dem Korean BBQ is already out of the ordinary since among the various nationalities of Asian food, such as Thai, Vietnamese, Japanese and of course Chinese, Korean is something of a rarity in the Twin Cities.
Compared to the other well-known South Minneapolis Korean place (The Rabbit Hole in the Midtown Exchange—a horse of a different color, a very hip dining establishment, with prices to show for it, and a full bar) Sum Dem is more your "authentic" (and I put that in quotes not to knock any Asian restaurants, most of which I adore, but because, really, what does that even mean?) Korean neighborhood joint. It's thoroughly unpretentious—it only has two tables! If you've never tried Korean food, here are some dishes available at Sum Dem. There's the very basic, yet perhaps unfamiliar, Korean dish bulgoki, a spiced and seared beef that's used in everything from salads to "burgers." And, in more than a nod to the vegetarians, in this otherwise typically meat-heavy cuisine, they also have a tofu bulgoki option. There are also the kimchi pancakes, normal everyday Korean food, and if you like that kind of thing, they are the best. They're sort of similar to Mu Shu pancakes in Chinese cuisine, but with loads of Kim Chi, the fiery and seductive "sauerkraut" of Korean origin. Last but not least, and very basic to Korean culture, they serve kim bop, their version of sushi, except without the raw fish. These are rice rolls with a seaweed wrapping, but the filling is cooked meats and pickled vegetables, never raw fish. I have seen them with hamburger and even Spam as a filling, but here they are bulgoki and cooked veggies, plain and simple.  As you would expect in a spot with only two tables, you can also get it to-go, or you can order their menu delivered to your home or office via either Bite Squad or Amazon.
The second Asian restaurant we're calling to your attention is Bagu Thai and Sushi. There is at least one other Thai and sushi restaurant in South Minneapolis too—Seward's Soberfish. But here again, Bagu is smaller and more selective and perhaps all the better for it. Bagu is only open for dinner, at 5 p.m. They also offer delivery via Bite Squad, and like almost all Asian cuisine, to-go is a popular option.
I am never sure what's going on with a Thai plus sushi restaurant. It never occurs to me to eat the two in the same meal—a sushi appetizer, followed by Pad Thai or a green curry? I mean, you could, but it just doesn't seem right to me. So I would either fill up with an orgy of sushi and nigiri and maybe a bowl of miso soup or a salad, or else I would go all Thai all the way. But that's just me. Bagu also has a beer and wine license, with a Japanese-leaning selection that includes various sakes.
Another special restaurant, also ethnic, within the 48th and Chicago node, is the gem called Pepitos. Yes, yes, it's been there for decades, far longer than any of the trendier establishments. But maybe it's worth a revisit. After all, they make everything from scratch there, including some recipes from Mama Lupe (now passed on, sadly) the mother of founder and owner, Joe. What other Mexican restaurant gives you the choice of two very different kinds of nachos—Nachos Lupitas or Nachos Conchitas?
The same family that owns and runs Pepitos also runs the Parkway Theater, so besides being a great place for casual dining (or brunch) it's also good for entertainment, from classic movies to rock and roll extravaganzas, from world music of all sorts to the monthly Doctor Who Meetup. Later this month, on Sept. 24, you could experience Kaiju Buffet, a new series to be held the last Sunday of every month. You get a trip to the Mexican buffet next door at Pepitos and a mystery giant monster movie for just a flat $8.
The Town Hall Tap, a wholly-owned gastropub of the Town Hall Brewery on the West Bank, one of the earliest and strongest of the local artisan brewers, is a must-stop for those who enjoy locally brewed beer, Go there for the constantly rotating roster of Town Hall's own excellent ales, be amused by the "Vintage Wall" (vintage brewery ads and beer posters, that is) and stay for the food, which is a cut above, considering the enterprise's main raison d'etre is to sell beer. (If you're the sober kind, they also make a wonderful root beer.) This is another meat-heavy menu, with their Pig Poutine, their Seward Co-op Onion Beer Bratwurst and their Bison Burger that is half beef, but they do have Walleye Tacos and a Black Bean Burger that can be vegan if you leave off the cheese (I think). I have to say though, everything I have ever had there was mighty tasty.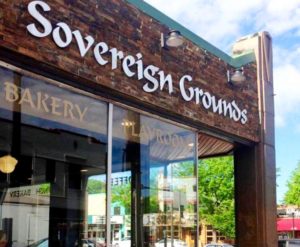 The final spotlighted establishment is another drinking place—but it's coffee, not beer or booze. Sovereign Grounds has been around here a while—since 1995 to be exact. The owner, Hakan Sezer, is an environmental engineer by education, but is thoroughly dedicated to coffee roasting, coffee culture, good food, and providing a family-friendly community environment. He is so dedicated to this last element that Sovereign Grounds has a specially designed indoor playground. This is not just a little corner of the shop with a few toys and a little table, either. It's a big deal, and a big draw in this family-oriented neighborhood. But even if you don't have kids, you'll find something to like at Sovereign Grounds. The coffee is all ethically sourced, and roasted right there. You can buy the beans to take home of course. The food is excellent too—all home baked cakes, cookies and pastries, substantial salads and sandwiches and the signature lunch of spinach pie with hummus. It's one of the coziest and tastiest coffee shops in a town that's bursting with coffee shops.