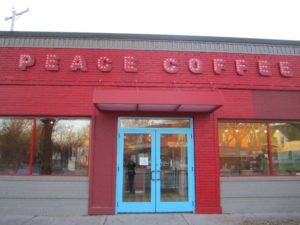 BY DEBRA KEEFER RAMAGE
Am I the only person who has this dilemma? You wake up one morning to realize that you just don't have enough food in the house for a proper breakfast, but you have a super-busy killer day ahead of you. You jump in your car and drive to what you assumed was your go-to breakfast place, only to find that it's either not open yet, or there is a line of people waiting for seats. So you zip over (except it's not really zippy at this point) to your second choice and it's the same or worse. And so it goes, as you get hungrier, tenser and later getting started, and maybe you end up settling for something less than ideal and feeling like your day is ruined before it started. There are dozens of excellent breakfast spots in South Minneapolis, to be sure, but unfortunately, some of them are just too good, and therefore too popular. Where do you strike that perfect balance of a quite good breakfast that hasn't been discovered yet, or else has long lost the shine of newness and can now seat you and feed you right away?
There are several possible solutions to this conundrum, varying according to what time of morning you are looking at, and how much breakfast you need, and whether you have other special requirements, so we'll try to include lots of data here about hours, types of food on offer, parking, location, bus accessibility and, of course, price. (We did say "cheap.") And I am assuming that, like me, you don't really consider McDonalds or the Holiday Superstore to be an option.
If you don't require a full American breakfast, but kinda need more than just a cup of Joe, there are a plethora of coffee shop options. Some of the best coffee shops, including some local roasters, unfortunately don't have enough food. Angry Catfish, for example, which has almost no food (but has the Baker's Wife next door), or Blackeye Roasting, which has doughnuts, or the recently opened Botany Coffee on East 38th Street, which has a tiny selection of rather forbidding-looking pastries. But there are coffee shops with home-baked or locally-supplied items that make a good continental breakfast or quick morning pit stop. A very old favorite is MayDay Cafe, 3440 Bloomington Ave. For more than 30 years they have been serving croissants, muffins, scones and more, all baked in the store. They have loads of vegan options, and a selection of breakfast sandwiches and burritos for heartier fare. On the downside, the place is so tiny that it's not that quick, even if you're just getting something to go. There is only street parking and it's pretty tight. It's on the #14 bus line. Expect to queue any time from about 7:30 (they open at 6:30 so for early risers there is hope) to, well, lunchtime, frankly. But the upside is the selection, the quality, and the old-fashioned prices, probably the cheapest option in this article, all of which lead to a high recommendation.
A pretty old favorite is Peace Coffee, which has been around in their Wonderland Park spot at 3262 Minnehaha Ave. for 21 years. They are a local artisanal roaster, which pre-dates the artisanal roasting explosion by nearly a decade. Yet they manage to combine seriousness about coffee with lots of good food offerings, including croissants, bagels with spreads, artisanal granola and much more. They have a larger, more welcoming space than May Day Cafe, and although they also only have street parking, it's not quite as limited on Minnehaha. (Also they are right next door to Moon Palace Books, so if you're breakfasting on your own but forgot to bring reading material, you can go there.) The third coffee shop option is not a new coffee shop but it's in a new location and a new configuration. Sisters' Sludge has re-opened at its new location on the NW corner of 23rd Avenue and East 38th Street, and it's now a wine bar as well as a coffee shop. But for breakfast purposes, the wine bar is just an extra, and extra-cozy, place to sit. Sisters' Sludge, which opens at 6 a.m. on weekdays and 7 a.m. weekends, features a great local roaster—Up Roasters in nearby NE Minneapolis. As for food offerings, they have two kinds of breakfast sandwiches, one with bacon and one with sausage, and muffins and cookies baked in the store from a mix also made nearby, and scones from a local supplier, and something called Nordic waffles, which they describe as a cross between a waffle and a crepe. These are filled with savory (bacon, egg and cheese) or sweet (Nutella(™) or cream cheese and berries) fillings and served warm, folded over like a crepe. Hot oatmeal pots and yogurt are also available, along with a good selection of coffee, tea and bottled juices. The real upside of Sisters' Sludge is the friendly vibe. Two days after opening, at 8 in the morning, a whole bunch of old geezers were greeting each other by first name and settling into comfy chairs in the wine bar as if they had been doing it for decades. How very Minnesotan.
But what if coffee shop fare is not enough for breakfast today? In an ideal world, you would walk into a super popular breakfast spot like Modern Times (3200 Chicago Avenue) and order your Hashbrowns Ranchero or you would go to the Colossal Cafe in its new(ish) location of 2403 E. 38th St. and get a Colossal Breakfast and you'd still make it to work on time. In reality, the chances of that are pretty slim. The more popular the restaurant, the longer the wait for your breakfast, if not to get seated, then to order and to have it actually arrive at the table. So what we recommend, if you absolutely positively have to have it in an hour or less, is to choose a place that's been around so long that the popularity has been slightly superseded, but the quality still holds. Two places in my own neck of the woods satisfy the criteria. The first is maybe a bit of a drive when not caffeinated, but there is usually a space in its small parking lot at any time on a weekday morning: The French Meadow at 2610 Lyndale Ave. This is a place of which a lot of people say, "Oh yeah, I used to go there all the time." But you still should! Or maybe not, because then I couldn't get my excellent breakfast so quickly. For me, breakfast is based on bread, so the better quality the bread, the better the meal. And what better quality than French Meadow bread? Their coffee is organic, and excellent, their baked goods are superb, and there is a good selection of breakfast entrees, including at least one vegan one, cleverly titled "Classic Vegan Breakfast," so you won't have any doubts. This is a good option for both early and late risers as the entire breakfast and lunch menu is served from 6:30 a.m. to 2 p.m. Very civilized.
The other even older favorite (more than 40 years old, in fact) is the Seward Cafe, 2129 E. Franklin Ave. Yeah, it looks kind of scruffy and run down, but it always did. Fear not, though, the natives there are more friendly than they look, and it's actually quite clean (I know this; I used to be a volunteer). Again, excellent coffee; well, I wouldn't even discuss a breakfast place that didn't have at least excellent coffee. After all these years of searching, I have never found hashbrowns I like better than the Seward Cafe's. Although you can get the hashbrown-based Earth Breakfast with tofu instead of eggs, I don't think it would be vegan because I seem to recall there is butter in the hash browns. (Correct me if I'm wrong, Seward folks.) However, there are many vegan options here, including either vegan or righteous pancakes; they go way back with this stuff, too, putting tahini instead of butter on toast and making lattes with soy milk long before most other establishments. And it's pretty quick on a weekday, it's open at 7 a.m., it's on the #2 bus line, and it has its own parking lot.
We won't include the table of stats for these survey reviews, except that I do want to say a word about the French Meadow's rest room. I have always loved it, and it's the reason why I realized, with a jolt of recognition, that the quality of the restroom can have a major impact on the overall restaurant experience. One of the things I loved was the cow on the wall, and they foolishly painted over it some years ago, but then realized the error of their ways, and hired an artist to come in and do a full restoration of the wall painting, cow and all. It's lovely; check it out. Also, we reserve the right to revisit any of the establishments mentioned here to review them in more depth. Next month will be the Weekend Brunch edition, where we will do the same treatment—balancing quality of experience with easy, speedy service and good prices—but on the Saturday or Sunday brunch.