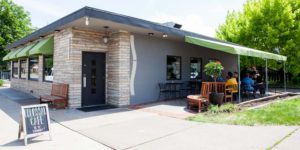 BY DEBRA KEEFER RAMAGE
Saturday and Sunday Brunch. For some people they are a special occasion, for others they're just a way of life. Especially if you're in the second category, you probably won't want to spend a lot of time waiting, or spend more money than you need to. So here are some tips on where in South Minneapolis and environs to go for that most American of meals, the weekend brunch. Although in some cases, it's more about when to go.
Starting closest to home, there is the Colossal Cafe. We visited the one in its newest space, at the corner of 24th Avenue and East 38th Street. In the five-plus years I have been in the Standish neighborhood, two successive ambitious restaurant concepts have failed in this space; first the Citizens Cafe, then Pilgrimage. Colossal Cafe is a tried and true deal, with two other locations in Saint Paul, and a long successful history at its ironically tiny old home on East 42nd Street (now The Original on 42nd, an upscale sandwich shop, open 11 a.m. to 8 p.m.) And besides, the Colossal closes at 3 p.m., and I suspect it was trying to be a dinner destination that did for the other two. They open at 7 a.m. seven days a week, and the breakfast is served all day, so it's perfect for brunch any day. But if you're an early bird, try it in the first hour on a weekend for a spot in the parking lot and no waiting to be served. Or if you're a late bird, after 12:30 up to closing. Highlights: the "Flappers," the TrueStone coffee drinks, house smoked trout, all baked goods made from scratch. They have both a Breakfast Burger and a Breakfast Burrito. It's all good. (If you're there right at closing, you may get offered some free day-old pastries as they change over today's baked goods for tomorrow.)
The next suggestion is not somewhere that comes to mind immediately for brunch—it's Pizza Luce in Seward. They serve brunch only on weekends, from 8 a.m. to 2 p.m. Here again, if you want to avoid the rush and get faster service, either the first or last hour of the service is probably your safest bet. Pizza Luce has a good variety of foods, and of course, beer and wine and beer-or-wine-based cocktails, too, so you can perk your brunch up if you're inclined that way. There is only one Breakfast Pizza, but it sounds like a good one if you like your breakfasts meat-heavy. There are both waffles and French toast in the sweet meal category (as well as pancakes), which I find to be a rarity these days; it's usually one or the other. But I think the best reason to go to Pizza Luce for brunch is the selection of "Benedicts." I had the salmon cake with dill Hollandaise (the menu says lemon-dill, but if you know what Hollandaise is, the word lemon is superfluous.) It was perfect in every way. There are at least two hearty vegan options: the Buckaroo Breakfast Burrito and the ubiquitous Tofu Scramble. Downsides—parking can be a problem. Upsides—Peace Coffee, free-range eggs, and if you mess up and there's a long wait, you can bail and take your chances at the Seward Cafe, just kitty-corner.
Having featured a (sort of) French option in the weekday breakfast review last month, this month I have a real French restaurant suggestion for weekend brunch, and that is Barbette. Barbette serves breakfast 8 a.m. to 2 p.m. daily and brunch 11 a.m. to 5 p.m. daily, so if you go between 11 and 2, you can order off both menus. They are usually not overcrowded for breakfast, especially if you go in the first hour or two. Part of the Kim Bartmann restaurant family, Barbette is in the location of her original cafe, Cafe Wyrd, a fact that's memorialized in the name of the coffee blend by B+W roasters that is served here. The menu is quite French. There are unexpected juxtapositions, like truffled scrambled eggs with green salad, or buckwheat crepes with Brie and eggs and apple compote, or waffles with dark chocolate and bacon. After 11 a.m., there are such nice things as Salade Nicoise, Smoked Salmon Tartine, and a Royale with Cheese. There are also lots of normal things—croque sandwiches, omelettes, croissants, fresh house-made lemonade. It's very cultured, very civilized.
Finally, a very popular place that is new to us, i.e., we just tried it for the first time for this article. We went to Hola Arepa at Nicollet Avenue and 35th Street. And success! Got a parking spot in the lot, and were seated immediately at a little past 11:30 a.m. on a Sunday. And we got absolutely full to the can't-finish-it point for less than $20 per person, and that included a drink and a mini-churro to take home for later. Yes, it's true, I had to leave a few bites of my Fried Egg Arepa with added Guac and four plump yucca fries on the side unfinished. But that was because it's a generous serving and very filling and satisfying food. For the uninitiated, arepas are corn cakes, or maybe buns would be more precise. They are about the size of an English muffin, and like that beloved bread are split with a top and a bottom. They have more of a bread-like taste than either gringo cornbread or tortillas, because they are made of a special type of "arepa flour" which is in turn made of a special kind of corn—white, fat and full of starch (rather like me). Then the flour is highly refined (also like me). Arepa flour and the products made from it are naturally gluten-free.
Arepas are also the name of the sandwich-like dishes made with an arepa and a filling. Fillings are usually pork, chicken or beef products, but Hola Arepa can veganize a few and make vegetarian about half of their entrees, including brunch entrees. Filled Arepas are open on one side, rather like a taco, but you can (and I did) open it out all the way and either eat it like a sloppy hamburger or take a knife and fork to it. Arepas are not Mexican (I'm sure they're served there, but as a foreign food) but come from Venezuela, Colombia or Puerto Rico. The Hola Arepa variety is Venezuelan, although the owners, Birk Grudem and Christina Nguyen, are none of the above. We got a perfect small table on the enclosed patio, still comfortable in late November. Definite thumbs up to the Lemonade of the Day which was passion fruit and the yucca fries with spicy aioli. They have a wonderful cocktail menu but I wasn't in the mood, and I also didn't have a chance to check out the restrooms. I'll do that on a return visit, of which I'm sure there will be several.