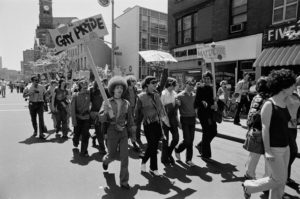 BY ED FELIEN
It happened in less than a minute.
I got on the elevator at City Hall on the third floor to go down to the parking garage. Jack Baker got on with me. Jack had been president of the university student association, a very out gay. He'd just married his partner by managing to get a marriage license in Mankato.
He told me the City Council should amend the Civil Rights Ordinance to include sexual preference as a protected class—along with race, gender and age.
I said sexual preference should already be protected under the freedom of association clause in the Bill of Rights.
He said that's true but so should all the other classes (race, gender and age) be protected. And people can't afford to go all the way to the Supreme Court when they've been discriminated against in hiring. Right across the street from City Hall, the phone company has on its job application form, "Are you a homosexual?"
I said, "OK. I'll work on it," and got off the elevator.
I talked it over with other members of the City Council. None of them wanted to touch it. They all agreed discrimination against gays was wrong, but I could introduce it as an amendment to the Civil Rights Ordinance only if it would be referred to my committee, Health and Social Services, for a public hearing. I thought that was an odd committee to hold a hearing on an amendment to the Civil Rights Ordinance, but if that was the only way it would happen, then I'd do it.
The public hearing was a circus. It seemed like every right-wing evangelical minister in the city came to denounce me as the devil incarnate. I alternated testimony: someone talking about how they'd been discriminated against, then someone talking about how God's wrath would strike us dead.
In the end, it passed the council unanimously. No one wanted to talk about it. But no one could vote against it, either.
Ten years later the state legislature amended the State Civil Rights Code to include sexual preference, and it was celebrated as a great victory.
When I ran for re-election that was one of the issues my opponent used to hammer me with in the more conservative areas. He campaigned with the police chief (in uniform) from the 3rd Precinct (our district) and complained that I was more concerned about gay rights than I was about police protection. The fire chief piled on by closing the fire station at 42nd and Cedar for a couple of days—saying it was my fault for not providing enough funding. He concluded his statement to the press by saying City Council members come and go like autumn leaves.
I had underestimated the durability of the deep state in city government.