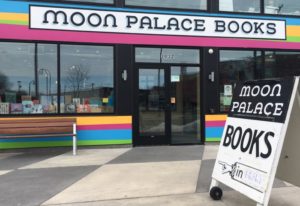 BY DEBRA KEEFER RAMAGE
When it comes to Minnehaha Avenue, the antique stores get most of the attention. That's not right, because this area is rich with other innovative businesses and cultural resources for enlightenment and entertainment. So here we're going to focus on some of the other players in Downtown Longfellow and Seward, including some you may not have even heard of.
One of the most interesting businesses is nestled in among the antique stores and is surprisingly low profile considering what they do. This is The Fix Studio. The Fix is a combination of a bike shop and a fitness studio, but besides the synergy of these two common functions in the same place, it offers some unique services of interest to the aspiring (or accomplished) endurance athlete, whether their sport is running or cycling. Founded by Larry Foss and Sophie St.-Jacques, the Fix Studio, according to its website, "is designed for everyday champions just like you." They further state:
"We believe there's a champion inside everyone. Some champions are everyday athletes, others are hard-working moms and dads juggling careers and family. Some of these everyday champions might be signed up for their first triathlon, marathon, Gran Fondo, just started mountain biking or simply want to get in shape for their weekly group run. We don't discriminate. We help to build champions of all kinds."
Besides many classes and coaching and personal training, The Fix offers massage therapy and functional movement analysis, which can be combined with a specialized bike fitting to match both your body dimensions and your movement patterns. They also do regular bike tune-ups and customizations, and offer classes in bike maintenance.
The biggest good news on Minnehaha Avenue is what has happened to Moon Palace Books! If you haven't visited them since they were at 33rd and Minnehaha (or worse still, have never visited them) you should go now and see what a wonder we have in our neighborhood. In the original space, they were tiny, but I always marveled at the amount of excellent book-y goodness they could cram into the space. Now there is a space as big as any Barnes and Nobles of yore, but still informed more by a selection of excellence, quirkiness and counterculture sensibilities than by prominence of best-sellers. And that's not all. A grand and evolving community space, more events scheduled than ever before, and the in-store Geek Love Cafe with beer and wine and handmade pizza and other goodies just add to the appeal. The "new" location is 3032 Minnehaha Ave. and the hours are 9 a.m. to 9 p.m., seven days a week.
Now that they have space to spare and even a beer and wine license, Moon Palace is hosting events of their own, as well as being available for rental for community groups' events. Some upcoming events include a pay-what-you-can community swap to benefit Women's Prison Book Project, Sunday, May 27, 10 a.m. to 3 p.m., a release show from Superheater for 21+ only on Friday, June 8, and a couple of interesting sounding all ages shows, Monday, June 4, and Tuesday, June 5. All three music events are $5 – $10 sliding scale and start at 8:30 p.m. There are also Moon Palace's great selection of book clubs, writers' groups, book launches, readings and other literary/cultural events, including Storytime with Mama Ray for children at 10:30 a.m. alternate Mondays (the next one is June 4). For more details, pick up an event flyer at the bookstore or visit the Events page on the website www.moonpalacebooks.com.
The biggest sad news, just off Minnehaha and just south of Franklin, is the imminent closing of Barton Player Pianos (after 33 years in business). Well, not that imminent; they will be around until October or so. If you have never visited there, you should drop by to see and hear something rare and getting rarer. In order to prepare for closing down, there is a mega-sale going on, starting May 26, 10 a.m. to 4 p.m. There are other player piano experts, rebuilders and dealers around the world, but (not surprisingly) not that many of them. Having only just learned of the existence of this place right in my own neighborhood almost, I had to go have a poke around. I caught the artisan/proprietor Don Barton just returning from an errand and he gave me a little educational tour. Barton's is in that small light industrial enclave tucked in between Cedar, north Minnehaha Avenue, Snelling Avenue and 22nd Street. It in fact shares a building with Bees Kneez. You just open the door and walk into a small, very crowded showroom containing an assortment of player pianos and piano players, and cabinets full of piano rolls. Through a wide open doorway is a much larger but equally crowded workroom, where Don and his assistant are at work on up to four instruments simultaneously. Others sit around either waiting their turn to be rebuilt, or waiting to be sold with a custom rebuild, or just because there isn't room in the showroom.
So, yes, piano players, that's a thing. Slightly pre-dating player pianos, these were a mechanism that was parked in front of a piano and used the same technology of foot pumps, tubes, tiny bellows and tabs that push the keys to play the piano. They are also known by the German name vorsetzer, which means a sitter-in-front-of. Player pianos, also known as pianolas, came into being when piano manufacturers began to integrate the player mechanism into a piano. At the height of the popularity of player pianos, roughly 1890 – 1920, they were operated with the feet, but when the second wave of interest came along, in the 1950s, they were operated via an electric motor, which could just be switched on. This was the second generation of player pianos. A third generation came along on the heels of CD technology, and they use CDs instead of paper rolls. But there are plenty of folks in the world who still have their original paper roll player pianos, some of which are very serious instruments, made by the likes of Steinway. There was also a high quality player piano maker and dealer in downtown Saint Paul, called the Raudenbush Piano Factory. I saw a gorgeous Raudenbush upright in the showroom. There are also souped up items available such as the reproducing player piano, which has a recording of a famous musician's performance with all the timings and volume control of the original player. A mandolin effect can be added to create the "rinky-tink" sound of the ragtime era, or you can go all out and buy a Nickelodeon (which actually takes quarters rather than nickels) with xylophone, mandolin, tambourine, drums and cymbals added to the piano music.
Another much loved cultural business on Minnehaha Avenue has also moved recently. Ricardo Levins Morales' Art Studio moved a few blocks north to its new location of 3260 Minnehaha Ave., and if that location sounds familiar, it's because that was Moon Palace's last location. So everybody wins! RLM Studios is now open on Saturdays 1 to 5 p.m. in addition to its old weekday hours, but as ever, you are advised to phone first to check, because Levins Morales has a lot of other irons in the fire and so the store is occasionally closed during normal hours. Besides Peace Coffee, the other business that shares the small complex at the corner of 33rd Street and Minnehaha is the Trylon Cinema, formerly the Trylon Microcinema. It remodeled last summer, reopening in September 2017 without the "micro" because of double the seating capacity. It's still quirky though. And the entrance is now around the corner, yep, where the original Moon Palace was. In June the theme being presented is "Remembering 1968." Five films will be shown: "The Battle of Algiers," "The Spook Who Sat by the Door," "La Chinoise," "If …" and "The Sparrow." "The Spook Who Sat by the Door" is an interesting item. Here is an excerpt from the program notes: "Freeman (Lawrence Cook), the first African American in the CIA, uses guerrilla-warfare techniques to train black young people to overthrow the government. Pulled from theaters by the FBI soon after its release, the film shows how black radicalism was silenced in the late 1960s. This rare collector's print can only be played three times." Wow. The brief showing starts Sunday, June 10. Check the Trylon website for more details.