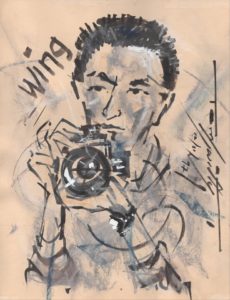 BY DEBRA KEEFER RAMAGE
I finally visited StevenBe. As I mentioned in a previous article, "crafting," especially needlecrafts, has not really been my thing. Too busy reading, writing and organizing, which are plenty creative endeavors in themselves. But I know a lot of crafters do it more as a form of relaxation, sort of the way I do Sudoku and other solitary play. So I have been thinking of integrating something—maybe crochet, which I learned as a teenager but haven't done since then—into my post-retirement but still awfully busy life. One thing that stops me is my wool allergy, which encompasses angora, alpaca, cashmere, pretty much any animal fibers. This has also kept me away from StevenBe—I just doubted they would have anything I could buy, and the fact that it was all beautiful and alluring would just make it worse. I'm glad I overcame that. A visit to StevenBe should be scheduled with plenty of time allotted. It's sort of Tardis-like (from "Dr. Who"), and larger than you expect. Larger and broader in products, and densely and cleverly displayed. You could spend Ikea-type time in there. So many colors, so many crafts, so many kits, so many classes. There is also tea. And various finished products like shawls, hats, stuffed critters and socks. You enter from the back, through a sweet little patio and then an anteroom. There is a lot to see and do in the anteroom, then you pass into the main retail space, which is about the size of a small auditorium. Somehow, even though the shop is packed with products, it doesn't lose the feeling of space and light.
StevenBe is the brand of Steven Berg, a knitter and designer as well as an entrepreneur. A few of the product lines are his own brand—principally books and tea. The earlier books are straight knitting pattern books; his latest one, "Legendary," is a personal journal and story collection with knitting patterns included. As for the main product line, yarn, StevenBe has many suppliers, some local, some global. And yes, the vast majority of these beautiful yarns are either 100% wool or mostly wool. Something called superwash merino is very popular, sometimes mixed with other luxury fabrics like cashmere or silk, or mixed with nylon for practicality. But there are some lovely organic cotton yarns, or yarns blending cotton with rayon, or linen. There are even 100% silk yarns. All the needs of knitters and crocheters are catered for here, from needles and gauges to carrying bags, kits and patterns. If you need instruction, StevenBe offers a huge range of classes and groups for knitting, crochet, spinning, dyeing, felting and weaving. Examples: Minneapolis Men's Stitch and Bitch happens on two Wednesday evenings in September, the 12th and the 26th, at 6 p.m. This event, like the Open Knitting and the Open Crochet and many others, is free. Beginning Crochet with Julie is offered Sept. 15 at 1 p.m. for $19 (except it's full so there's a waitlist) and Beginning Knitting with Judith and Ken is offered on various Sundays (the next one is Sept. 16 at 1 p.m.) for the same price. For a more serious investment into yourself as a fiber artist, consider the seven-hour workshop on Sept. 22 at 10 a.m. with "dyer extraordinaire" Nicole Frost, whose exquisite products are also for sale in the currently ongoing trunk show. This costs $280 but also includes four skeins of fancy merino and all supplies, plus other goodies to take home, so quite a bargain, really.
The only thing I personally saw at StevenBe that I wanted to buy was socks. Oh, they have some truly great socks! I bought two pairs. One has little birds on it, carrying signs with exclamation marks, and a slogan "This is my protest sock." The other has lovely cartoonish yet abstract designs and a slogan "Carpe the f*** out of this diem!" (although since it's a sock and not journalism, it spells out the f-word).
Diagonally across from StevenBe is the Pillsbury House. Pillsbury United Communities is a multi-program social service agency, and originally the theater there was just another neighborhood cultural enrichment program. But Powderhorn Park is such a rich-in-talents neighborhood that over the years, the theater has grown to be an award-winning and much respected institution that somewhat overshadows its nonprofit parent organization. As a "neighborhood theater" it punches way above its weight. Even though there are valuable social services in Pillsbury House, such as early learning resources and an integrative health clinic, the official name of the building now is Pillbury House + Theatre, and when you walk in the front door, the theater is all you see. In addition to the mainstage production season, Pillsbury House Theatre also is renowned for Naked Stages, one of whose major mentors was the late Laurie Carlos, who was also associated with Penumbra Theatre and the Guthrie Theatre. (Laurie Carlos passed away in late December 2016. Her last performance was as the narrator in "Queen," an In the Heart of the Beast original production about gun violence and policing in black communities.) The 2018-19 Naked Stages series will feature A. P. Looze with "Mom Material"; Anat Shinar with "Kitchen/Window"; and Chitra Vairavan with a dance performance called "cloth and body," all mentored by Sharon Bridgforth. Another program at Pillsbury House Theatre is Late Nite at Mama Laurie's, which used to be curated by Carlos. It goes on with the same name, but the new curator is e.g. bailey. Late Nite is a series of cutting edge interdisciplinary performances by noted artists, preceded by a meal and mingling.
The 2018 mainstage season finishes up with a one-month run starting Sept. 14 of "West of Central," a new play by Christina Ham, directed by Hayley Finn. "The year is 1966 and the remnants of the Watts Riots are still smoldering against the backdrop of South Central Los Angeles. When a mysterious woman stumbles into the office of private eye Thelma Higgins (Austene Van) looking to warn her husband (Harry Waters Jr.) that his life might be in danger, she soon discovers that the man she's been married to for 10 years is not who he claims to be. … This fast-paced noir explores the racial tensions that arose from the ashes of the Riots and the local political treachery that creates the racial fissures that fracture us."
A final project of Pillsbury House Theatre (final that we will cover here, but not an exhaustive list!) is Art Blocks. And this segues into another prominent artist on Chicago Avenue, Wing Young Huie, photographer and more. The penultimate Art Blocks event just occurred on Aug. 30 in a one-night exhibit that culminates his project "Shifting Identities." WYH on the invitation to the event explains it all:"Are you different depending on where you are, who you are with, what you are eating, what you are thinking, or in other ways? Do you act, dress, walk, or talk differently? When are you what others want you to be? When are you the most you?
"Photographer Wing Young Huie photographed five people in the neighborhoods connected by 38th & Chicago that show their shifting identities. Backstories are included that will complicate and challenge perceptions. A zine (mini-magazine) of the project will be distributed in Little Free Libraries.
"There will be a one-night exhibition at Wing's Third Place Gallery where the prints will be displayed and then given to the five people who are a part of this project."
Wing Young Huie has owned and run Third Place Gallery at 3730 Chicago Avenue for almost a decade. It's more than just a gallery for his own work; it's also a performance space, an artists' salon, and more, as indicated by the name. Between private space and public space there is another kind of space, which he calls the Third Place. Oh, and by the way, Wing Young Huie just won 2018's ultra-prestigious McKnight Distinguished Artist Award.
Just next door to the Third Place is a very new art space called Lacuna Gallery. Just opened in late 2017, founded by neighborhood friends and artists Erin Paradis and Brittany Trushin, Lacuna is also more than just a gallery, and its name indicates it is a perfect neighbor for the Third Place, as they named it Lacuna, meaning a hole or a gap, because they believed they were filling a gap experienced by beginning artists in fields like ceramics and sculpture. Besides gallery space for its rotating exhibits, Lacuna provides communal or individual project space for short term rental and four long-term rental working studios. The current exhibit in the gallery is "In Pieces" and features three artists: Katie Coughlin, Allison Rose Craver and Cat Mailloux.
PHOTO CAPTION: Wing Young Huie self-portrait sketch