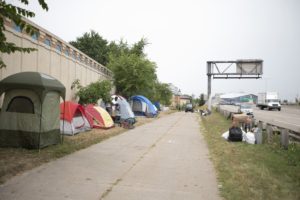 BY ED FELIEN
That's what they call it.
The people living in tents along the sound-wall along Hiawatha from Franklin to 22nd Street call their village "The Wall of Forgotten Natives.
FDR in a radio address in 1932 introduced his New Deal programs to help "the forgotten man at the bottom of the economic pyramid."
We live in the richest and most technologically advanced civilization in the history of the world, but there are many people being left behind and forgotten.
Terrance Franklin, Jamar Clark, Thurman Blevins were forgotten men. The world had passed them by and they could find no way to catch up with it. They numbed themselves with alcohol and drugs, committed violent and desperate acts and in a final attempt to achieve martyrdom and meaning they committed suicide by cop.
Alissa Rose Skipintheday, a 26 year-old Ojibwe vulnerable adult, died at the entrance to the camp on Sept. 8 from an athsma attack. She should have had medical attention. She should have had someone looking out for her. Her grandmother had cared for her, but her grandmother died a year ago and, since then, Alissa Rose Skipintheday had been homeless, lost and forgotten.
There are now more than 300 people living in The Wall of Forgotten Natives. More arrive every day. Someone told them there was a Wall, and if you stand against it, someone will help you find shelter, food and medical care. Someone will know your name.
Mayor Frey is trying to find permanent housing for the village before the frost.
There are a great many vacant and unused public buildings in Minneapolis that have to be heated in the winter so the water pipes won't freeze. Willard School in North Minneapolis and Cooper School in South Minneapolis are unused and vacant. Why can't the village move to one of those sites? And aren't there other public buildings owned by the State of Minnesota, or Hennepin County, or the City of Minneapolis that are not being used this winter?
The following is a statement from Metropolitan Urban Indian Directors, the Native leadership that is organizing assistance to The Wall of Forgotten Natives:
"Minneapolis is on Dakota Land in Mni Sota Makoce (Land where the water reflects the sky) and is now home to many Native people from across the state and across the country. The water, trees, and all living things growing out of the ground carry with them the spirit of the original Dakota inhabitants because this ground is quite literally saturated with the DNA of our Indigenous ancestors. These ancestors lived here for millennia before Minneapolis even became a City. This land continues to be sacred land for many of the Urban Native population.
"Despite hundreds of years of trauma and genocidal actions against us in this country, Native people are still here. We are resourceful, resilient, and committed to our community, families, and our cultures and traditions. However, we still face many challenges. Homelessness, chemical dependency, mental and physical health struggles, vulnerability to exploitation and violence are all byproducts of the generations of trauma experienced by our relatives. Though we are less than 2% of the population, we experience disproportionate rates of all these effects.
"In recent weeks many of our relatives have come together and moved into tents in the area along a sound-wall on the east side of Highway 55. This community has become known as the Franklin/Hiawatha Encampment, or for some, the Wall of Forgotten Natives. Our community faces significant challenges to housing and many have been "forgotten" and erased by those systems that were set up to assist them. These relatives face many barriers to finding safe and affordable housing, which is a long-standing problem in Minneapolis. Housing shortages, rigid landlords, policies that create lifetime bans based on survival behaviors; these are just some of the things that affect these individuals and have created the environment for the Encampment.
"In response, a broad coalition of government, nonprofit and community partners and stakeholders are coming together to address the short-term, mid-term and long-term barriers to housing for the residents of this camp, as well as those in other camps not so visible. Working together, we hope to find housing options for the camp's population by the end of September, certainly before the weather turns cold.
"The Metropolitan Urban Indian Directors (MUID) is helping to coordinate this effort. MUID is a collation of leadership of Minneapolis Native organizations and urban Tribal offices and embassies. Membership represents a wide range of nonprofits including direct health services, education, housing, economic development and more. Established over 40 years ago, MUID is a partner with the groundbreaking Memo of Understanding with City of Minneapolis, which establishes a framework for the City's engagement with the Native community.
"MUID seeks to support and connect the tireless work of grassroots groups like Natives Against Heroin (NAH), the public and private sector organizations that have stepped forward to help, and the many individuals who seek to band together to create long-term solutions to homelessness in the Native and broader communities. To do this we must build a sustainable, long-term, coordinated effort that acknowledges the indigenous history that frames this struggle.
"We invite all to join us in this work:
"Join with your friends, family or other community members to collect non-perishable food, water and juice. Non-perishable food items should be taken to Gichitwaa Kateri Catholic Church at 3045 Park Ave., Minneapolis 55407.
"Create personal care kits for campers. Kits should be in individual zip lock bags and include tooth brush, toothpaste, comb, shampoo, hand towel, soap, fingernail clipper, deodorant, hand sanitizer. Please deliver to MN Indian Women's Resource Center at 2300 S. 15th Ave., Minneapolis 55404.
"Help sort and package donation of clothes, etc., to be delivered to residents at the encampment. The activity will take place at MN Indian Women's Resource Center at 2300 S. 15th Ave., Minneapolis 55404.
"Help wash, sort and shelve blankets, sleeping bags and towels. The activity will take place at MN Indian Women's Resource Center at 2300 S. 15th Ave., Minneapolis."