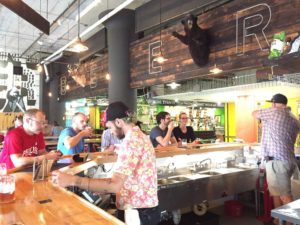 BY DEBRA KEEFER RAMAGE
Midtown Global Market is coming into its 14th year of existence. There are a few businesses that were there at the very start and are still there. Pham's Deli is one of them. Although I have been going to MGM for shopping or a quick meal pretty steadily since I came back to the Cities in 2012, until last week I had never eaten at Pham's. I decided to put together my own fusion meal from three close-by food stalls, and I had read on Yelp that Pham's banh mi was the best value for money on their menu. So my lunch consisted of a Mock Duck Banh Mi (hold the pork pate) from Pham's, an order of Spicy Salmon Roll from Intown Sushi, and a proper sweet (iced) tea from Mama D's. The banh mi was an absolute steal at $4.95, even without the pate. It's on a full size—about 8 inches long—French roll, unlike a lot of more expensive but more petite banh mis out there, with about 10 whole stalks of very fresh cilantro, a couple of fresh cucumber spears, some mild green chili slices, a massive amount of mock duck, and a thick layer of pickled radish and carrots. It would be plenty for lunch all on its own. (In fact, I took half of each entree home for another meal.) Note that Pham's is also available via Bite Squad delivery.
The other two contributors to my meal are relatively recent tenants at MGM, and I have sampled the fare at each of them before. Mama D's has been at its location about eight months and Intown Sushi about six months. I have sampled Mama D's catfish, collard greens, baked beans and cornbread. They were all very good, some of the most authentic southern soul food I have had up north. Their "sweet tea," though, is the real deal. Tastes like homemade, sweetened just right, served with crushed ice, which you don't see much anymore. "Mama D" is founder and chef Destiny Brown. Check out the dinner menu, served after 2 p.m., on the website at http://www.mamadskitchenmn.com/menu-1/ for the other things they serve, including the ubiquitous and popular chicken and waffles, shrimp and grits, Carolina rice, and black-eyed peas. Also notable offerings—gluten-free mac and cheese, hush puppies (have them with the catfish) and fried okra. Intown Sushi is definitely American-style sushi (not necessarily a bad thing—this is America, after all), with lots of emulsified sauce, avocado, and crunchy things, but it's a cut above supermarket (including co-op) sushi, especially if you choose one not in the fridge case and they have to make it from scratch. I like that they mostly (not exclusively) stick to sushi and nigiri and don't try to do a little of everything. I haven't tried either their poke bowls or their spring rolls yet, but neither of those is greatly far afield from sushi, so it's probably good.
There is a small but significant set of businesses that came into MGM in the tumultuous years of 2015-16, but we somehow missed covering them at the time. Chief among these in terms of popularity are two eateries and the only brewery more in what I consider the back of the food hall, i,e,. the locations along Lake Street and toward the corner of 10th and Lake. These are Moroccan Flavors, TacoCat and East Lake Craft Brewery. East Lake is an actual brewery and taproom right there in the market. It has cleverly named ales (e.g. the Kirby Pucker for a sour) in the styles now so popular—hoppy, high ABV types, a few sours, a Belgian, a saison, a couple of IPAs and a choice of two darker ales. Its unique offering is kombucha, and serving a drink that combines beer and kombucha. The only food they have there is bison jerky and pretzels, but, in a clever move of vendor solidarity, they list food pairings—all foods available at neighboring spots in the market—with most of their beverages, and you can bring food into their taproom/dining room from anywhere in the market. This makes it a very popular spot for after-work socials, or office lunches if you're one of the few remaining people on the planet who can have even one beer with lunch. East Lake Craft Brewery has been a real leader in hosting community type events and anchoring things like Open Streets. Their beers are good too.
TacoCat started as a hobby of two young men who met at Jimmy Johns and later became roommates. Both were part of the relatively rootless biking and fast-food working community and one day they wanted to have tacos delivered to their apartment, but found that, inexplicably, such a service did not exist anywhere in the Twin Cities. They started delivering tacos by bicycle only in the inner midtown-uptown area, but it was so popular that gradually, they hired more help, found a space at the shared kitchen incubator at MGM and sort of fell into being a business. When they became so popular they needed their own space so they could operate six days a week they moved, in 2016, to their present spot and started selling in the market as well as for delivery. One partner does the cooking and runs the kitchen and the other runs the bike squad and all the business part. Eventually, they even had to quit their day jobs, so there was no going back after that. TacoCat's tacos (also nachos and burritos now) are somewhat divisive—people either love them or hate them. The great majority love them. You should check out their website, especially the FAQ, which is very funny. http://www.tacocatmn.com. Incidentally, TacoCat also has a food truck now, in a reversal of the usual sequence.
Moroccan Flavors is very focused on Moroccan food—tagines of chicken, vegetable, lamb or beef, couscous, turmeric rice, olives, vegetables. Mint tea with everything. Pastries or orange slices with rosewater for dessert. Owner and chef Hassan Ziadi was the son of a well-to-do diplomat who fell in love with America due to a holiday visit to Disneyland. Told by his father that he had to "learn a trade" because his grades were not good enough for diplomacy or law, he chose the hospitality trade and worked his way up to the pinnacle of fine hotels and restaurants all around the world. Then he moved to the U.S. with $500 to his name and determined to start over at the bottom and work until he had his own American restaurant. For now, that restaurant is Moroccan Flavors, but it soon may widen in scope. This brings us to the "goings" part of the comings and goings in the market. Sadly, the beloved Korean (ish) restaurant The Rabbit Hole closed at the end of June. Co-owner Thomas Kim announced that Hassan Ziadi would be opening a new full-service restaurant with cocktails in the space this fall. (It doesn't look very near ready to open yet, so let's say late fall.) This has the potential to be exciting, given Ziadi's vast international experience and the small but intense success of his modest enterprise inside the market. Also, it will include cocktails, the menu for which is being designed by—Thomas Kim! I can't wait to see what they come up with.
A few random MGM-related items to finish up with:
• Michael's HipHop, selling clothing and shoes for men, women and children including plus sizes up to 8X, lost their Lake Street store in the Roberts Shoes Building fire and they are now located at the Midtown Global Market.
• Wee Wednesdays are a MGM program held every Wednesday, 10:30 – 11:30 a.m., for kids ages 5 and under, including snacks, dance, music, stories, art and other activities.
• Diwali Celebration and Fall Market will happen at the market on Oct. 13. See the event on their Facebook page for details.
PHOTO CAPTION: East Lake Craft Brewery