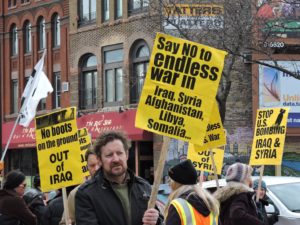 BY MICHAEL LIVINGSTON
The students in my college classes do not remember a time when the U.S. was not at war in the Middle East. Born in 1999, they were two years old when the U.S. invaded Afghanistan and four when the U.S. invaded Iraq. All they know is endless war; it is part of the background of their existence. Oct. 7 marks the 17th anniversary of the U.S. invasion of Afghanistan. This past March 20 marked the 15th anniversary of the U.S. invasion of Iraq. Within four months, the Afghan war will be the longest in U.S. history, surpassing the combined French-U.S. War in Vietnam. The U.S. started a third war on ISIS in 2014. Three wars at one time is a record, even for an imperialist power such as the U.S. But wait! There is more. In addition to the three active wars in Afghanistan, Iraq and Syria, the CIA is engaged in covert operations in a number of countries, including Yemen. Pakistan and Somalia. Meanwhile, according to the New York Times, the Pentagon has met with Venezuelan military leaders to plan a coup against that country's government.
Antiwar activists in the Twin Cities have been organizing against these wars since the very beginning. This year, the Minnesota Peace Action Coalition, a coalition of many of the antiwar groups in town, will be holding a rally and protest march on Sunday, Oct. 21. The rally will begin at 1:30 p.m. in front of Mayday Bookstore, at the corner of 3rd Street and Cedar Avenue on the West Bank. At 2 p.m. the march will start in the neighborhood and end up at the starting point. The Minneapolis march is in solidarity with the national Women's March on the Pentagon which will take place the same weekend.
The wars in the Middle East are not, and have never been, about preventing terrorism, saving lives or protecting America. They are and have always been about power and profit for the 1%. These wars are classic examples of imperial wars fought for economic and geopolitical advantage, and they come with a heavy price. The price is not paid by those who benefit, the 1% who send us to war. The price is paid by the rest of us, the 99%. We pay it with our taxes, our crumbling infrastructure, our poor schools, and our injured brothers and sisters. Now is the time to stand against endless wars! Join the antiwar rally and protest on Oct. 21 at 1:30 p.m. Say no to endless wars and interventions! Say yes to funds for housing, education and our environment.
For further information call 612-827-5364 or 612-275-2720.